Is the chair antique or simply a fantasy?
Q:  Our family bought this chair years ago at an estate sale for Hinky Dink Kenna, a crooked alderman in Chicago. The chair dimensions are as follows: back height is 40 inches, seat height is 17 ½ inches, seat width is 21 inches, the back support is 22 inches.
A:  I would first like to give a bit of information on Hinky Dink Kenna. Since I was young I have had this strange fascination with all things mobster related, including the graft and corruption of politicians. Maybe I was a gangster moll in a previous life.
Chicago was the home base for the well-known gangster Al Capone. That is why Chicago is on my radar. In the 1890s, Hinky Dink "Michael" Kenna and Bathouse John Coughlin created a powerhouse political machine in Chicago's first ward district "based on graft and protection money from the saloons, brothels, and gambling halls of the Levee district." ** The Levee district was called "The Wickedest Place in the USA," with streets named "Satan's Mile," and a bar named "Bucket of Blood." This website has a couple of great maps of the Levee area, www.myalcaponemuseum.com. Hinky Dink owned a couple of saloons in the Levee district and was known to be a very smart, quiet man; those are usually the ones you need to watch out for. He passed away in 1946. Al Capone knew and worked with both of these men but was particularly fond of Hinky Dink.
Now, on to your chair. This is what I call a fantasy piece. Your accent chair is fairly contemporary — probably made in the late 1940s or 1950s, if not later. It does not depict a particular known style such as Queen Anne, George III, or other older furniture styles.
Upon close inspection, on the ends of the top rail, you can see a clear line attaching the edges of the top rail to the back uprights. This is also visible on the back. In an older piece, these attachments would be virtually invisible, and in a chair that is hand-carved, the top rail would be one continuous piece.
There are no stretcher bars attached to the legs. These are a necessity in chairs that are solid wood and heavy. The front legs are in the Queen Anne style, more or less; the claw feet are a bit overdone with three rows of "claws," and the back legs should show a tiny outward curve, yet they are straight legs.
The carved ladies fit, more or less, into the Art Nouveau style, but the rest of the chair does not echo that period. Design Tuscano used to make and sell fantasy pieces, but a search of their furniture did not show your accent chair.
With that being said, I adore this accent chair and I'm sure that Hinky Dink did as well. Even though your chair is not a piece that you can sell and retire on the proceeds, I still put a resale value of $500 to $650 on it. This price depends on the venue through which you sell it and the area, be it rural, suburbs, or large metro city.
Just a little side note, it is not uncommon for people who conduct estate sales to bring in pieces from other estates. Also, we don't know when the estate sale was held. Hinky Dink died in 1946, but it could have been several years before his belongings were sold. We really don't have a clear provenance on this particular accent chair.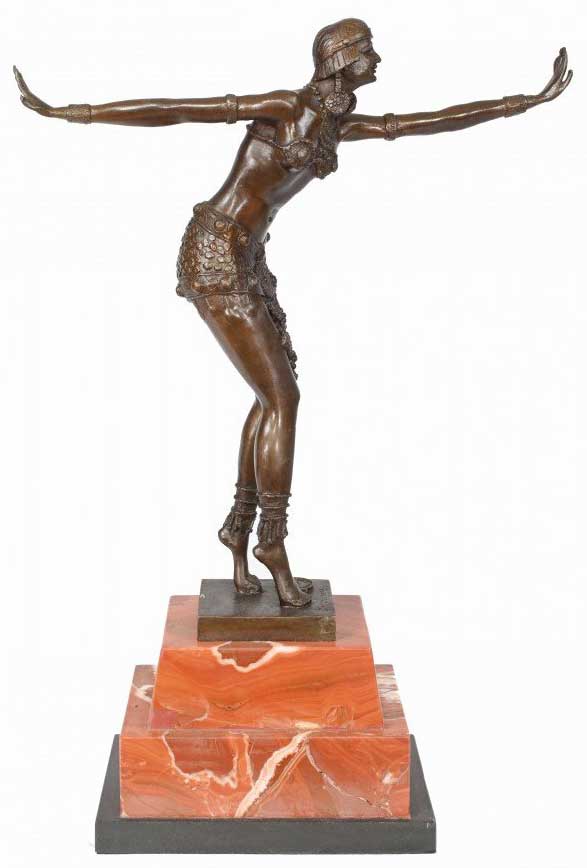 Art Deco Bronze Flapper
The Art Deco Bronze Flapper Figurine by Chiparus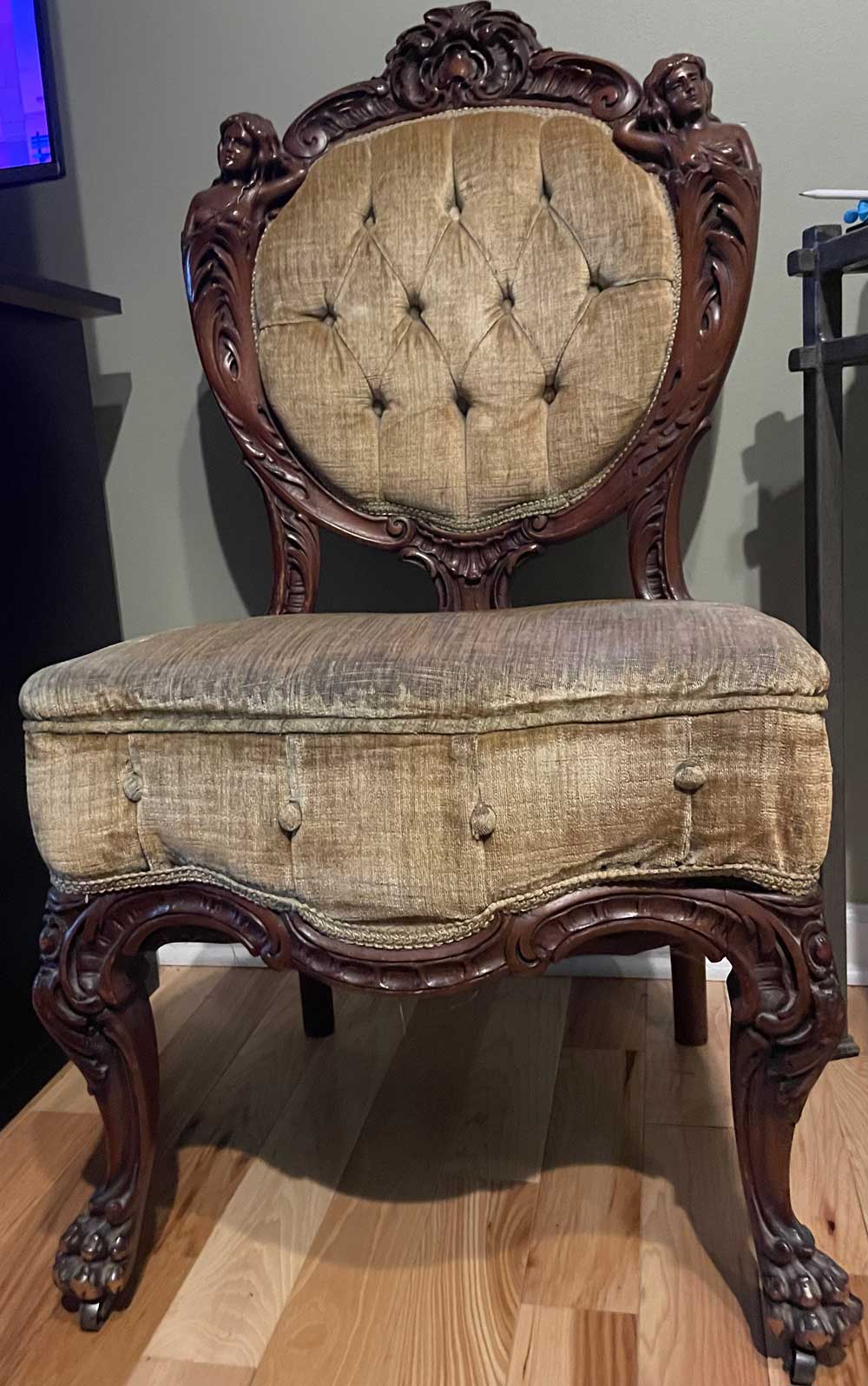 Art Nouveau style chair
This chair, bought at an estate sale for the late Hinky Dink Kenna, is a fantasy piece, likely no more than 80 years old. (Images courtesy of the question submitter)
Art Nouveau and Art Deco
I want to quickly address the Art Nouveau and Art Deco periods. I get a number of questions about the difference between the two.
These two styles were the most defining movements of the 20th century. Art Nouveau is the more organic style, while Art Deco tends to be more polished.
Art Nouveau first appeared toward the latter half of the 19th century. It prevailed between 1890 and 1914. Art Nouveau, or 'new art' is often considered the first modern art style. Art Nouveau came at a time of industrialization, when Europe's modern identity was defined by an industrial attitude and an ever-growing increase in mass production. It embraced and reacted against the Industrial Revolution, celebrating craftsmanship and the skill of the artist while incorporating the stylized forms of automation and industrialization. Europe was also moving away from the constraints of the Victorian period. What happened in Europe quickly made its way to America.
Art Nouveau consists of flowing lines, draws inspiration from nature, and organic designs.
When it comes to Art Deco, fun, eclectic, decadent, and luxurious come to mind. The movement grew out of the Exposition Internationales des Arts Décoratifs et Industriels Modernes that took place in 1925 in Paris. The heyday for Art Deco was the 1920s and 1930s. The Great Depression brought it crashing down.
Think of the Roaring Twenties and the movie "The Great Gatsby," the original movie featuring Robert Redford — this was the height of the Art Deco movement. Art Deco styling is very evident in the movie; the period is well known for a luxurious style, and artisans of the time used exotic woods, geometric patterns, lots of curves, and smooth lines in their creations.
Another excellent example of the Art Deco movement is evident in the Chrysler Building in New York.
I am particularly fond of the Art Deco style. From the beautiful glass car hood ornaments, radiator caps, stylish figurines, lamps, luxurious furniture, and clothing, I am hooked. One has to be extremely careful when purchasing Art Deco items because they have been extensively reproduced which makes it easy to pay a lot of money for a reproduction but the upside is that you can get the Art Deco look without the expensive price tag. I have always wanted a Lalique glass "Spirit of the Wind" car mascot hood ornament on my vehicle. These can be had for upwards of $1,500 or a reproduction for less than $100.
The Art Deco Bronze Flapper Figurine by Chiparus sells for $900 USD. Anything created by Nancy Daum will set you back a pretty penny such as the Art Deco vase, $8,500 and the Art Nouveau vase approximately $10,000.
Do you have a design period that you would love to learn more about? Please email me and let me know what your interest is.
*gallerease.com/en/magazine/articles
**www.encyclopedia.chicagohistory.org
*All prices given are for sale in a private sale, antique shop, or other resale outlets. Price is also dependent upon the geographic area in which you are selling. Auction value, selling to a dealer or pawn shop prices are about ½ or less of resale value.
Michelle Staley is a Lenexa, KS-based dealer and researcher with 35 years of experience in the antique trade.
Send questions with photos to Michelle at michelle@discovervintage.com or TXSmichelle@gmail.com. Please keep queries to one question; questions without photos of the item may not be answered. There is no guarantee that your question will be answered or published.
Michelle is also available for consulting and extensive research work beyond this column. If you would like an appraisal on an antique or collectible please go to www.michellesantiqueappraisals.com for a one-on-one appraisal. Please note new web address.
August 2022Michelle Knows Antiques Raise a glass to collectible beer cansby Michelle Staley Here we are, inching toward the end of another summer. There are several items that are iconic Americana, such as apple pie, hot dogs, baseball, and beer. I have written about...
read more