Dolls, dolls, and more dolls
Q: Since my wife passed away, I've been cleaning out our house and donating much of the "old stuff" to charity, but my wife's doll collection has me wondering if it should be handled differently.
The first doll is regally dressed, and a Spanish mantilla, la. She is positioned on a stand and measures 10 inches in height.
The black doll resembles a French Creole, with blue eyes and "pigtail braid" and wearing a daring flowing lace gown. She has a tag that reads "La Bamboli di Ariana." Also on a doll stand and measuring 11 inches in height.
Small cloth doll with printed features looks like it may be from Latin America, and a small tag reads "Hecho en Mexico." Measures 5 inches tall in sitting position.
Cloth doll representing a black girl wearing a burlap sun-hat. Designed to represent a doll owned by an enslaved black child, the doll probably was purchased at a plantation gift shop. 9 inches tall.
The next two dolls are actually one. Flip the full skirt of the blonde lady dressed in pink and white, and a black lady appears, looking like Aunt Jemima, with red dress, white apron, red scarf and gold earrings. About 10 inches total height.
Appreciate any suggestions.
Best regards, Ken W
A:  The first doll looks like a Spanish Flamenco dancer. She reminds me of a Klumpe doll, a pressed felt doll. I noticed her hard plastic lower arm and the shape of her eyebrows which are uncharacteristic to Klumpe or similar press felt dolls but I can say that she is in the style of a Klumpe. She was more than likely purchased in Spain as a souvenir and would resell for $20 – $25.
The "La Bamboli di Ariana" doll took a bit of research. She is a beautiful doll. She was made in Italy at the company's plant located in Taormina. The clothing is hand crafted by artisans in the plant. She is made of bisque porcelain with amazing blue glass eyes. These dolls were made in limited editions, with a value of $200-$225.
The "plantation doll" falls into the $10-$15 area and the contemporary little black rag doll has a value of $15-$20. Antique rag dolls were made from a variety of scraps of cloth, old button eyes and if they had hair it was usually made with wool yarn. They were stuffed with straw, hay or excelsior.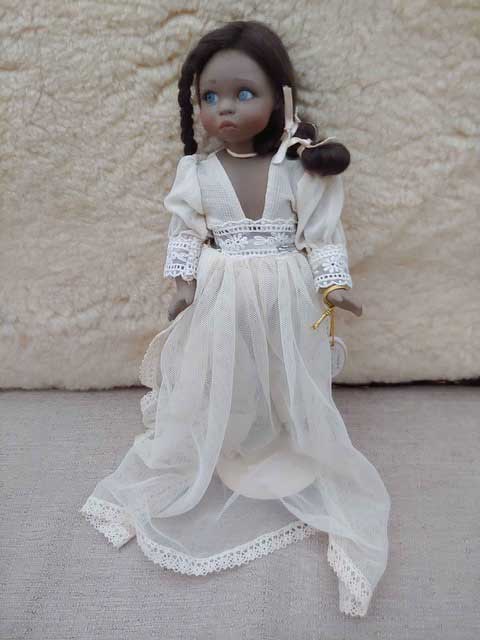 La Bamboli di Ariana doll
La Bamboli di Ariana doll (Images courtesy of the submitter)
The Topsy Turvy doll is a contemporary version of an older doll. Topsy Turvy dolls date back to the slave era. The general consensus is that these dolls were primarily for African-American enslaved children, but the purpose of the dolls is not clearly understood nor agreed upon. It is argued that they were designed so that black slave children could play with forbidden white dolls, while being able to hide this fact from white people. One side of the doll is a white girl and when you flip the skirt it becomes an African- American girl, thus hiding the white girl under the skirt from any dangerous eyes. The resale value is $30 – $35.
The little Mexican doll is adorable and is dressed in the stereotypical serape and large straw sombrero. I think that he is adorable. Hecho en Mexico translates in to Made in Mexico. The resale value is $15-$25.
I would donate all of the dolls with the exception of the Italian doll and take the tax write off. The "La Bamboli di Ariana" would sell well on Facebook marketplace.
Cheers, Michelle
*All prices given are for sale in a private sale, antique shop, or other resale outlets. Price is also dependent upon the geographic area in which you are selling. Auction value, selling to a dealer or pawn shop prices are about ½ or less of resale value.
Michelle Staley is a Lenexa, KS-based dealer and researcher with 35 years of experience in the antique trade.
Send questions with photos to Michelle at michelle@discovervintage.com or TXSmichelle@gmail.com. Please keep queries to one question; questions without photos of the item may not be answered. There is no guarantee that your question will be answered or published.
Michelle is also available for consulting and extensive research work beyond this column. If you would like an appraisal on an antique or collectible please go to www.michellesantiqueappraisals.com for a one-on-one appraisal. Please note new web address.