La Belle Époque brings late 19th century Paris to life
Over the holidays, my granddaughter, a true thespian, and I were watching the movie "Moulin Rouge." Out of the blue she said, "Granny, is the Moulin Rouge a real place and what era is being depicted?" Yes, she spent many hours in her younger years listening to me talk about time periods and items specific to those times.
The Moulin Rouge is a real location, and the cabaret is still thriving with daily shows. Moulin Rouge translates into "Red Mill" and the building still sports a red windmill. It was the birthplace of the can-can dance. The dance was originally performed as a seductive dance by the working ladies to lure in clients and over time transformed into a high stepping, raucous dance revue that spread throughout Europe and inspired the opening of numerous cabarets. The interior of the Moulin Rouge cabaret is still decorated much as it was when it first opened.
It was established in Paris by two gentlemen in October 1889 and embodied The Belle Époque period. The open garden at the Moulin Rouge allowed for people of all walks of life to mingle, enjoy popular entertainers of the day, and participate in evening champagne events. It was a popular spot for artists of the time and Toulouse-Lautrec was a regular. The Moulin Rouge with its neon lights was the first fully electric building in Paris.
he Belle Époque or La Belle Époque is a period of French and European history, usually considered to have begun around 1871-1880 and ended with the outbreak of World War I in 1914. Belle Époque literally means "Beautiful Age." Paris saw a lot of destruction of important landmarks during the Franco-Prussian war and the Paris Commune, a short-lived revolutionary government. Despite this slight setback, Paris hosted two iconic international exhibitions, the World's Fair of 1889 and 1900. During this period, the Eiffel Tower was built along with several other buildings of great importance.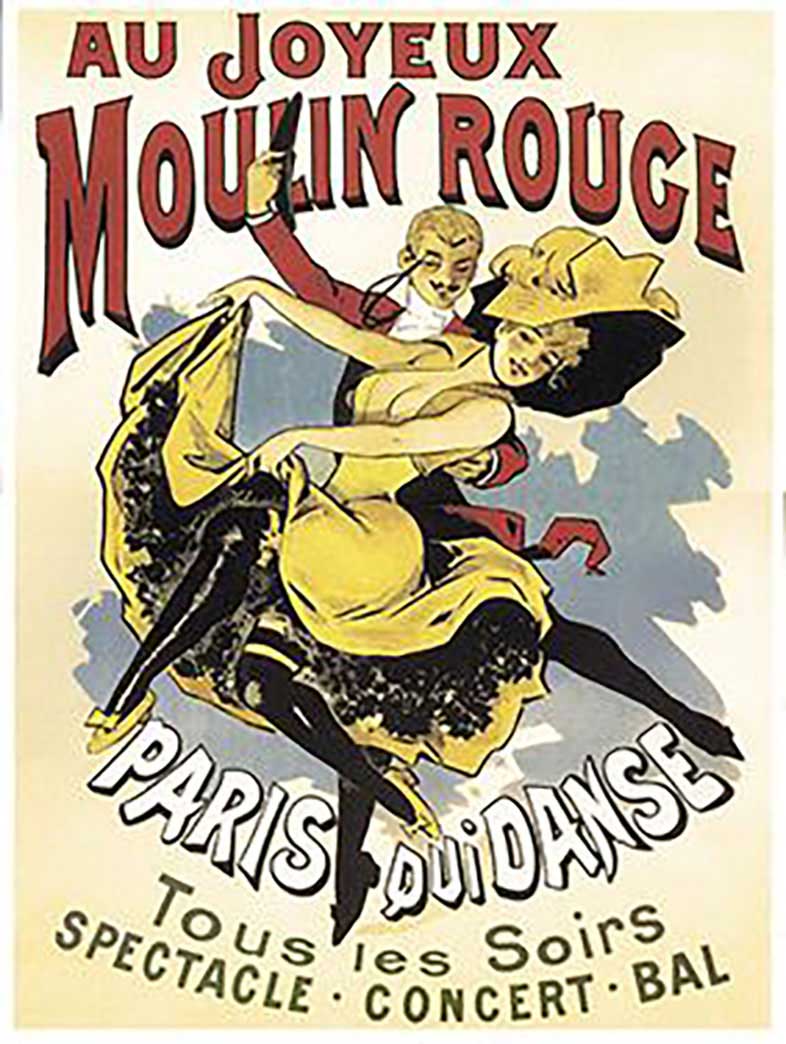 Moulin Rouge Poster
An advertising poster of the Moulin Rouge by Alfred Choubrac, 1896. (Image courtesy of Wikimedia)
The Belle Époque
The Belle Époque was an era characterized by optimism, economic prosperity, and technological and scientific progress in both Europe and the United States, but its primary center was Paris. In this prosperous climate, artistic freedom flourished; the middle and lower classes were afforded luxuries previously not available to them. Every aspect of life was touched during The Belle Époque. Fashion brought about mutton sleeves and got rid of the bustle, department stores began popping up, the art scene changed from Realism to Impressionist. La Belle Époque was truly a time to be alive for many Parisians and people around the world.
*All prices given are for sale in a private sale, antique shop, or other resale outlets. Price is also dependent upon the geographic area in which you are selling. Auction value, selling to a dealer or pawn shop prices are about ½ or less of resale value.
Michelle Staley is a Lenexa, KS-based dealer and researcher with 35 years of experience in the antique trade.
Send questions with photos to Michelle at michelle@discovervintage.com or TXSmichelle@gmail.com. Please keep queries to one question; questions without photos of the item may not be answered. There is no guarantee that your question will be answered or published.
Michelle is also available for consulting and extensive research work beyond this column. If you would like an appraisal on an antique or collectible please go to www.michellesantiqueappraisals.com for a one-on-one appraisal. Please note new web address.