Happy 'kitschy' Anniversary
Q: I inherited a stack of 50th anniversary plates and have no idea what to do with them or if they are worth the time and effort to put them up for sale. Can you please help me?
A: Ah, the anniversary plates. Someone in your family celebrated a 50th wedding anniversary and instead of beautiful items made of gold (it is the golden anniversary), they were given anniversary plates. There are plates, cups, and a wide assortment of kitsch items for every anniversary milestone. A single plate is nice, but to have a stack of them is a bit much. You cannot eat off of the majority of these decorative plates for several reasons. Older plates may contain lead in the paint or the decoration is not fired, which causes it to come off of the plate quite easily.
Other milestone occasions are often celebrated, such as time with a company. Generally, one does not receive a plate to mark this milestone; usually, a watch or other symbolic item is given.
The value of these plates is less than $5. There are a few exceptions, such as high-quality pieces marked 'Wedgewood' or a similar known pottery or glass plates with intricate, hand-painted details.
What is kitsch? Kitsch can be defined as a low-brow style of mass-produced art or design using popular or cultural icons. However, it can also be defined as art, decorative objects or design considered by many people to be ugly. Lacking in style, kitsch items are often comical in one way or another.
'Kitsch' is a German word that is generally used to describe objects that are considered tasteless or common while aspiring to high art. The word 'kitsch' roughly translates to the English "tacky." For many people, kitsch decor is overly bold and garish; there are others who find it a fun and attractive style.
If you want to create authentic kitsch-style decor, it's important to use a wide range of bright colors. While the most popular are yellow, magenta, fuchsia, turquoise, bright green, purple, or any other bright color or strange style.
TV lamps are often seen as kitschy. I agree that some are a bit over the top, but I love them anyway. It is a running joke in my family. Some TV lamps can sell for well over $100, and I have found that the more kitsch the lamp, the bigger the payday. Here are a few for your enjoyment. www.collectorsweekly.com/lamps/tv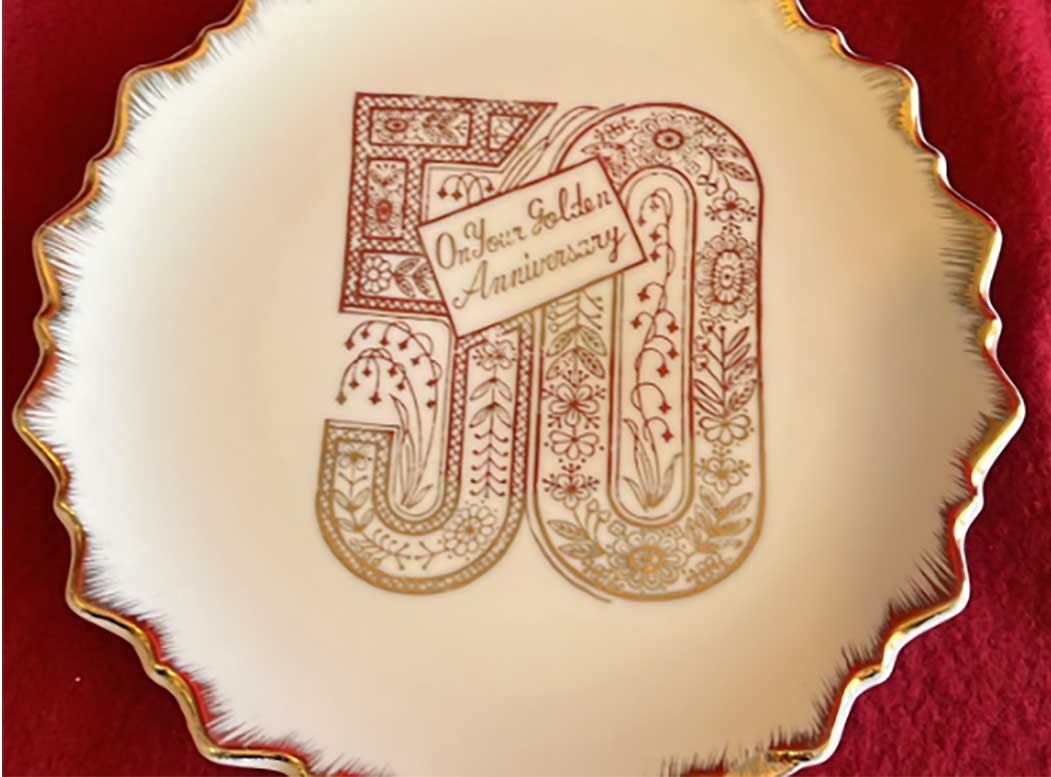 "Kitschy" Anniversary Plate
Detail of a 50th anniversary dinner plate. (Images courtesy of the author)
* Note from the publisher: As you may know, this year is a special anniversay for Discover Vintage America. Fifty years ago, in July 1973, Ken Weyand published the first edition of Discover, calling it, "Discover North." We will be celebrating all year and have a special issue in the planning for August with the history and background of this niche publication. We may have to find one of these kitchy anniversay plates to commemorate the occasion!
– Patti Klinge
*All prices given are for sale in a private sale, antique shop, or other resale outlets. Price is also dependent upon the geographic area in which you are selling. Auction value, selling to a dealer or pawn shop prices are about ½ or less of resale value.
Michelle Staley is a Lenexa, KS-based dealer and researcher with 35 years of experience in the antique trade.
Send questions with photos to Michelle at michelle@discovervintage.com or TXSmichelle@gmail.com. Please keep queries to one question; questions without photos of the item may not be answered. There is no guarantee that your question will be answered or published.
Michelle is also available for consulting and extensive research work beyond this column. If you would like an appraisal on an antique or collectible please go to www.michellesantiqueappraisals.com for a one-on-one appraisal. Please note new web address.