French Star or American Star revisited
​
One of my all-time favorite antique quilt patterns is the French Star. I love sharing information about the block and hope to uncover more antique quilts featuring this design. I heartily applaud that daring early 1800s quilter who first combined two blocks named for famous Frenchmen: the eight-pointed LeMoyne star and Lafayette Orange Peel ovals to create this graphic new pattern.
In 1931, quilt designer Ruby McKim appropriately named it 'French Star' and noted it was a "Canadian pattern varying the eight-pointed star of diamond-shaped blocks by introducing small melon-shaped pieces (that) in turn form a wreath and may divide the star into two colors." McKim's pattern was followed precisely to create a French Star in my collection made in the cheery 1930s palette.
The pattern can be constructed with different methods and different pattern pieces but resulting in a similar look. The melons can be hand appliquéd over the center of each diamond piece or fussily curved pieces. Centers can be sewn in eight cone pieces, giving them the appearance of a two-color pinwheel. Or following the McKim pattern, the centers would be made of four duck foot shapes. Note: other pattern names include Winding Walk (Ladies Art Co., 1898), Gleaming Sun and Flaming Sun (Nancy Cabot, 1936), and Fox Chase and Biloxi (Hearth and Home, 1902).
The Biloxi pattern has more intricate piecing and coloring than French Star and is even rarer. I have only found two or three quilts made from the pattern. Biloxi refers to a small Native American tribe that was first encountered by Europeans near Biloxi, MS. The tribe was forced westward to Louisiana and that is where their culture was surveyed by anthropologist Owen Dorsey in 1892 and 1893. Dorsey received three quilt patterns that "were drawn for him by a Biloxi Indian from quilts pieced by his Indian wife." Dorsey shared the patterns with Fanny Bergen, who included the pattern along with many others in her detailed quilt history article, "The Tapestry of the New World" in Scribner's Magazine in 1894. She noted that quilting has "been taken up by some of the least nomadic of our American Indians," referring to the Biloxi tribe. More than 130 years later, there is still an existing tribe with 951 members tallied in the 2015 census. It is unclear whether the pattern is truly a Native American-created design or copied from a French or Canadian quilt that migrated to Louisiana.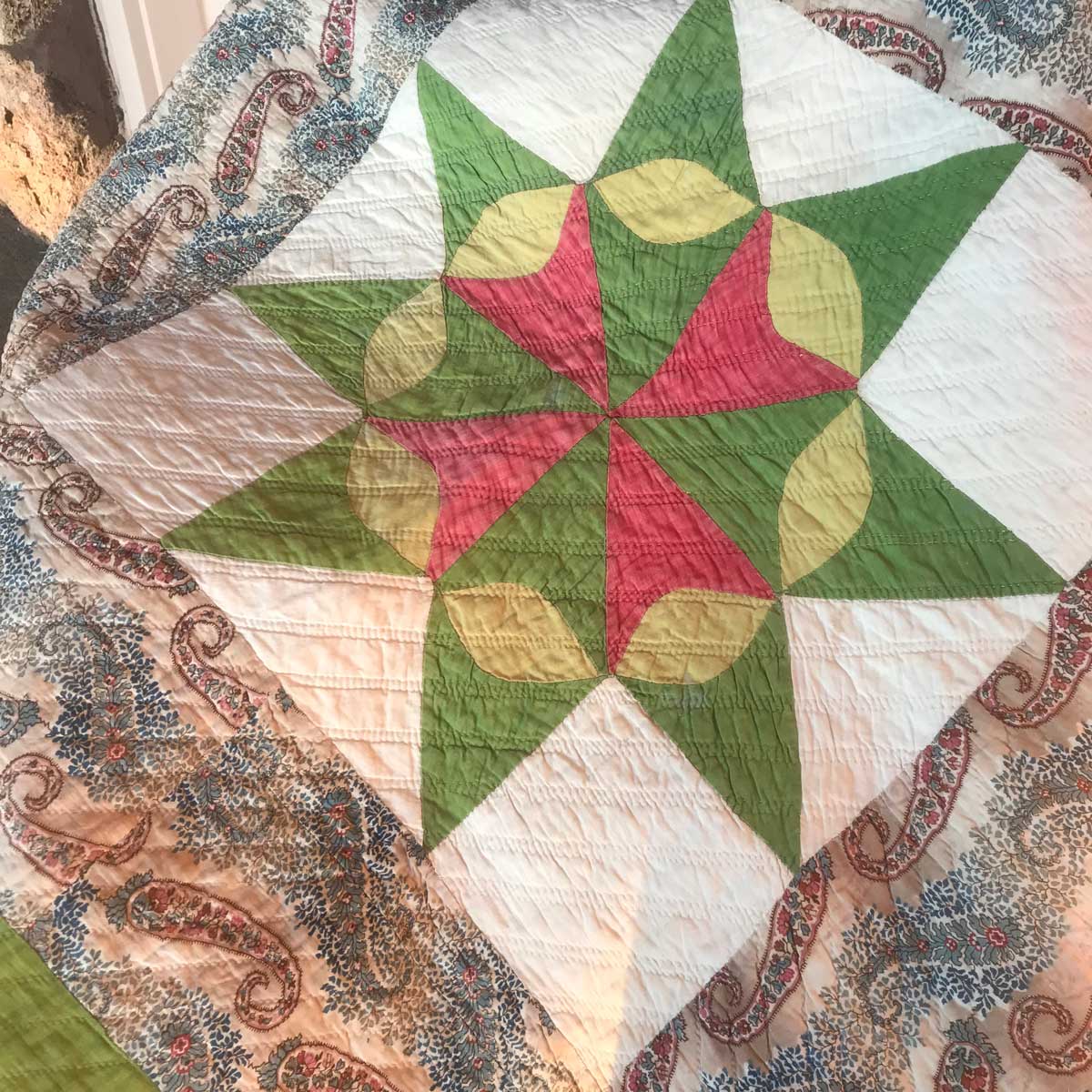 A French Star
A French Star, Circa 1850, from the Starley Quilt Collection. (Image courtesy of the author)
The French (French Canadian) Star and its Biloxi variation appear to have links to France and that most French of states, Louisiana. Learning more about the development of the patterns and their true origins would be a worthy research project. Examples of French Star, Biloxi and their variations appear to be rare. I hope that more antique or vintage versions will surface and be shared and that current quilters will be inspired to create their own. French Star/Biloxi is a challenging pattern but well worth the effort. It can be adjusted to your skill level by adding or subtracting a few seams and choosing your favorite technique. You can sew it all by hand, all by machine or in honor of the pairing of patterns, sew the main pieces by machine and hand appliqué the elliptical melons. Try a traditional color scheme as illustrated or go modern with a white background, grey points, and a rainbow of orange peels. If you have an antique or vintage version of this pattern, please send me a photograph so we can all increase our collective knowledge.
Sandra Starley is nationally certified quilt appraiser, quilt historian, and avid antique quilt collector. She travels throughout the U.S. presenting talks on antique quilt history, fabric dating classes and trunk shows as well as quilting classes. Learn more at utahquiltappraiser.blogspot.com. Send your comments and quilt questions to SandraStarley@outlook.com
August 2023Covering Quilts Still crazy after all these years! Crazy Quilts - Part II ​by Sandra Starley Crazy Quilts have been an iconic part of quilt history since the 1800s. Similarly, Discover Vintage America has been a sustained force in antiques and history since...
read more