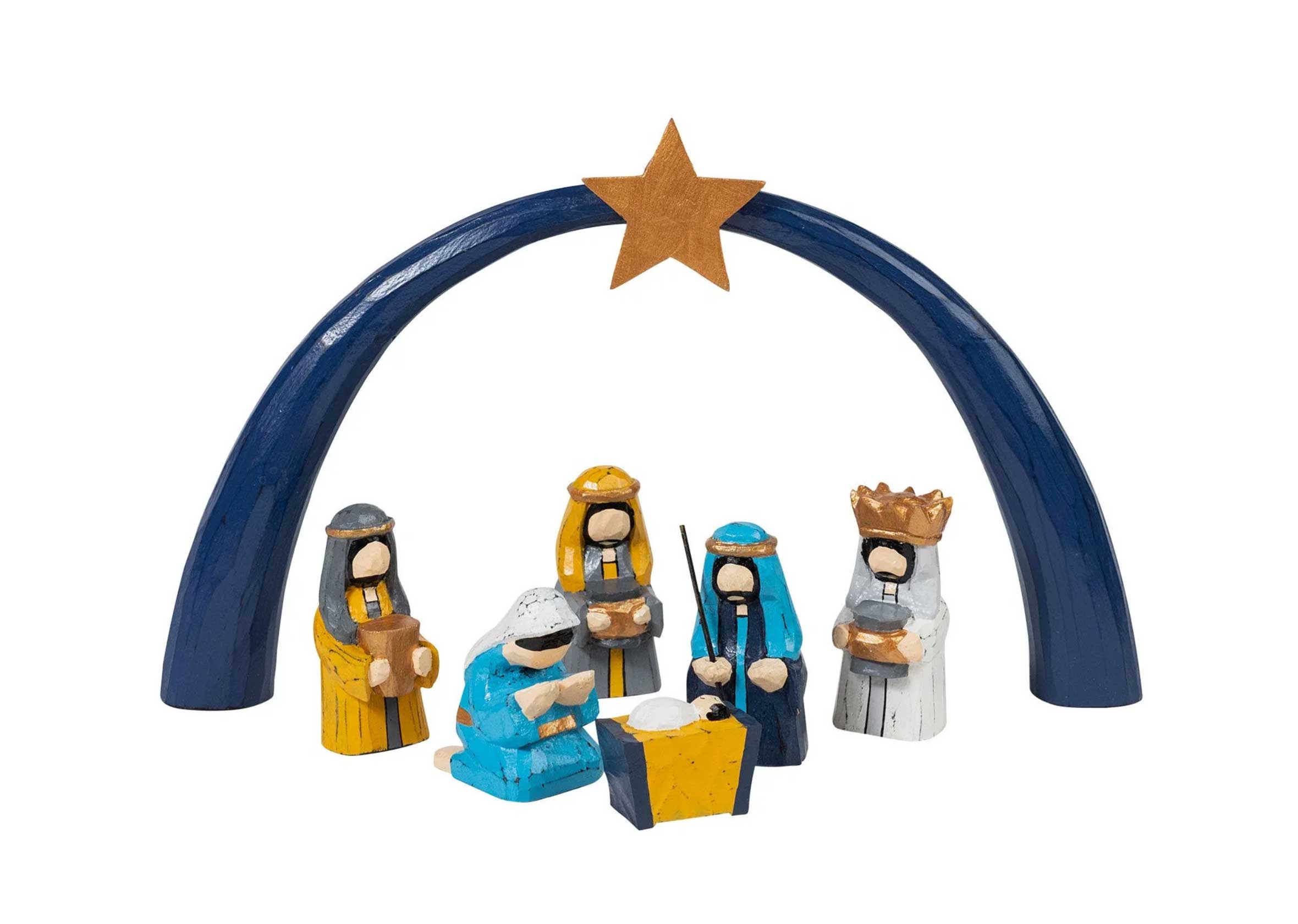 The Night Arch Nativity is beautifully hand-carved and painted by artisans in Indonesia. (image courtesy of TenThousandVillages.com)
The Reason for the Season
Nativity scenes from around the world depict birth of Christ
For centuries, the birth of Jesus has been depicted by cultures and countries on nearly every continent.
In fact, 2023 marks 800 years since the very first nativity scene was created in a small village in Italy. According to the National Catholic Register, St. Francis of Assisi, one of the world's most beloved saints, created the nativity scene in 1223, likely inspired by time he spent in Jerusalem between 1219 and 1220.
"Seeing the holy sites of Christ's birth, life, death and resurrection made them feel all the more real," according to a December 2022 article by Hannah Brockhaus, "and he wanted to recreate that experience."
Since then, other cultures have followed suit, with each nativity scene bearing its own special details that make it unique from others.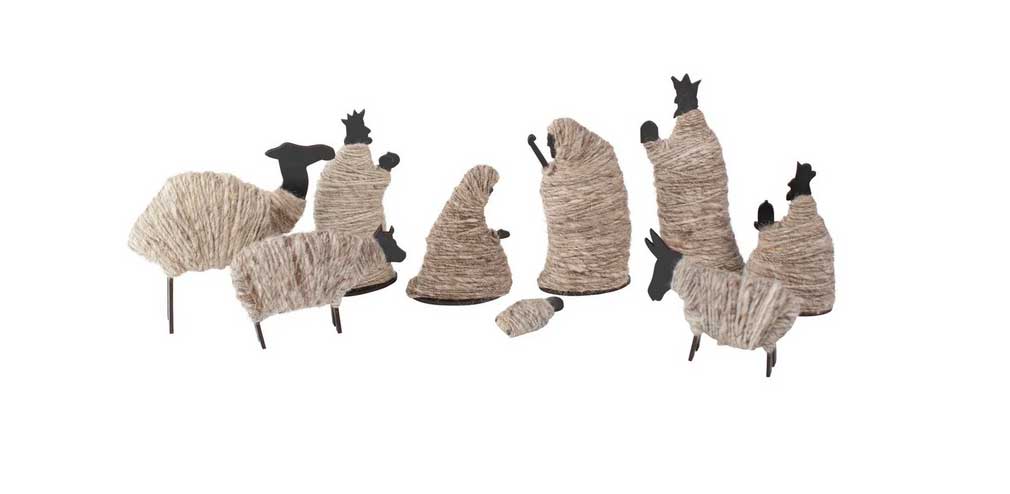 Simple wrapped wool Nativity
This simple wrapped wool Nativity, handcrafted in the West Bank, is the perfect piece for a minimalist.
A centuries-old art
Every nativity set's basic components are the same – figurines of Joseph, the Christ child's Earthly father; Mary, his mother; and the newborn Christ. Beyond that, most sets include other figures from the story of Jesus' birth, such as the three wise men bearing their gifts of gold, frankincense, and myrrh; barnyard animals (though none are mentioned in the Bible, one can assume some were present); and an angel only referred to in the Bible as "an angel of the Lord." These figurines may be standing in a space designed to act as the manger in which Jesus was born.
One prominent vendor that has sold handmade nativity sets for nearly three decades is Pennsylvania-based Yonder Star (www.yonderstar.com). The merchant sells a variety of sets in many different styles, from cherry wood sets to those made of aluminum, from those smaller sets one can display in their home to larger outdoor sets that can be viewed by passersby.
The tradition of live nativity scenes, in which participants pose as Joseph, Mary, and the wise men, has existed in churches for decades and been a draw for houses of worship throughout the country.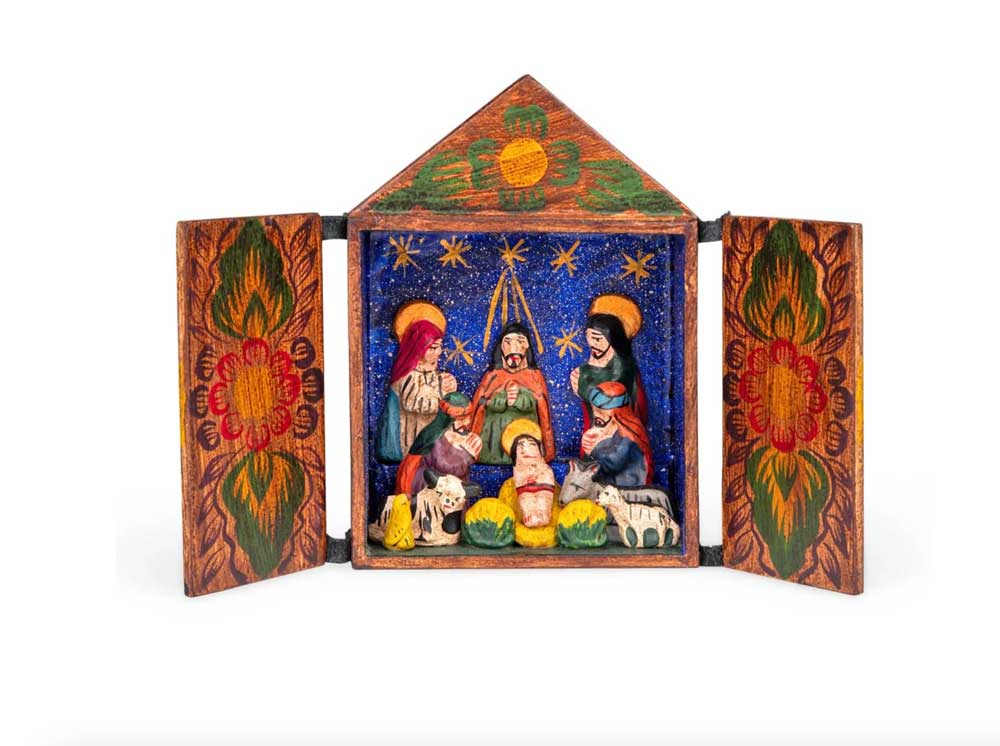 Retablos, or image boxes
Retablos, or image boxes, portraying scenes of faith and daily life, were originally brought to Peru from Spain.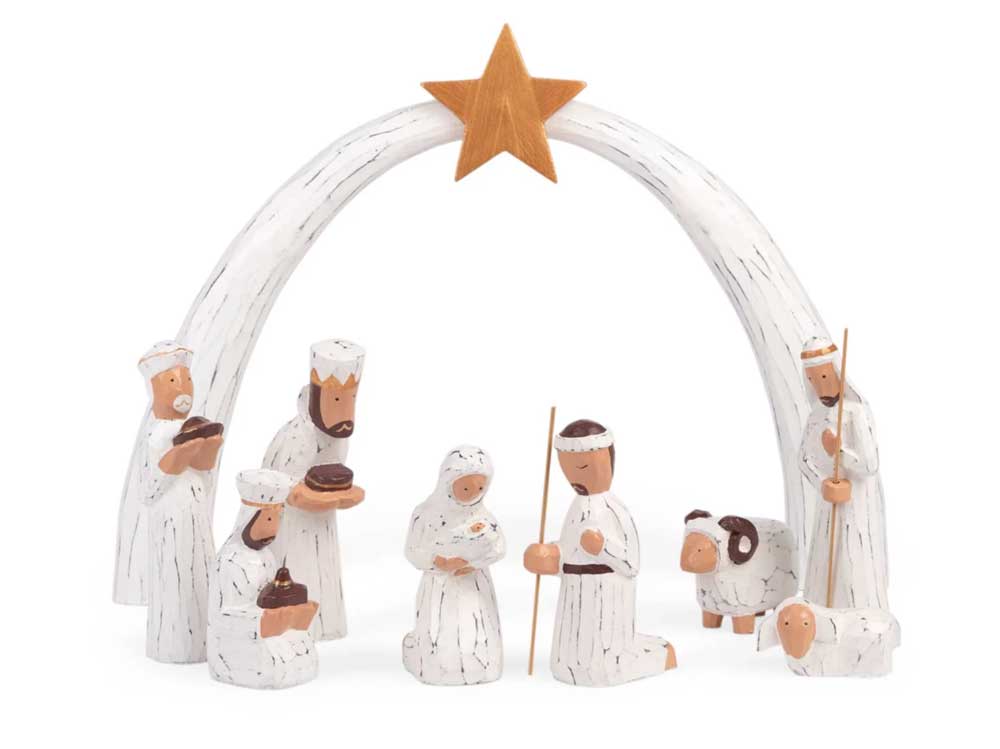 Albesia Wood Nativity
Albesia Wood Nativity is bright and beautifully handcarved from sustainably grown albesia trees by artisans in Indonesia.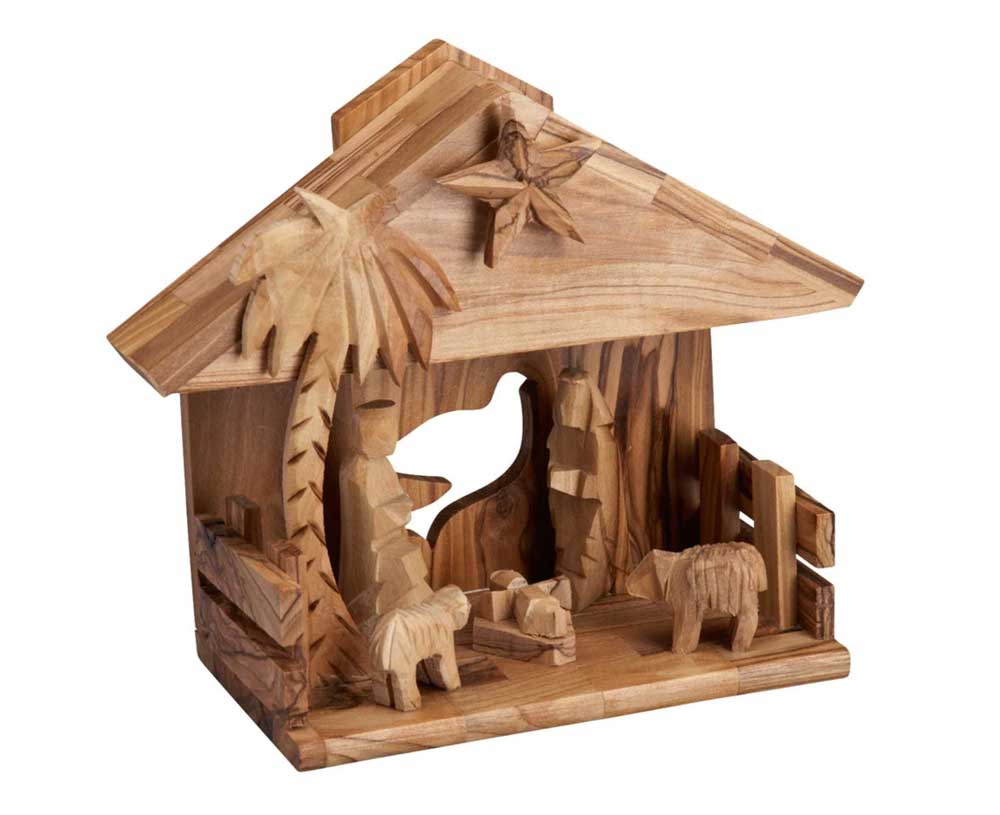 Olive wood nativity
This olive wood nativity playing "Silent Night" was handcarved in eit Sahour.
A way to honor the artisans
Fair-trade merchants such as Pennsylvania-based Ten Thousand Villages make it their mission to highlight the handmade crafts created by artisans in developing countries.
"As a pioneer of fair trade, we do business differently, putting people and planet first," according to the company's website. "That means you can trust that every purchase and donation you make directly impacts the life and community of its maker in an under-resourced community. Together we break the cycle of generational poverty and ignite social change."
Nativity sets from African, Central, and South American countries are both colorful and creative, crafted with a variety of materials and in a variety of styles. In early November, the Overland Park location had a variety of nativity scenes on display.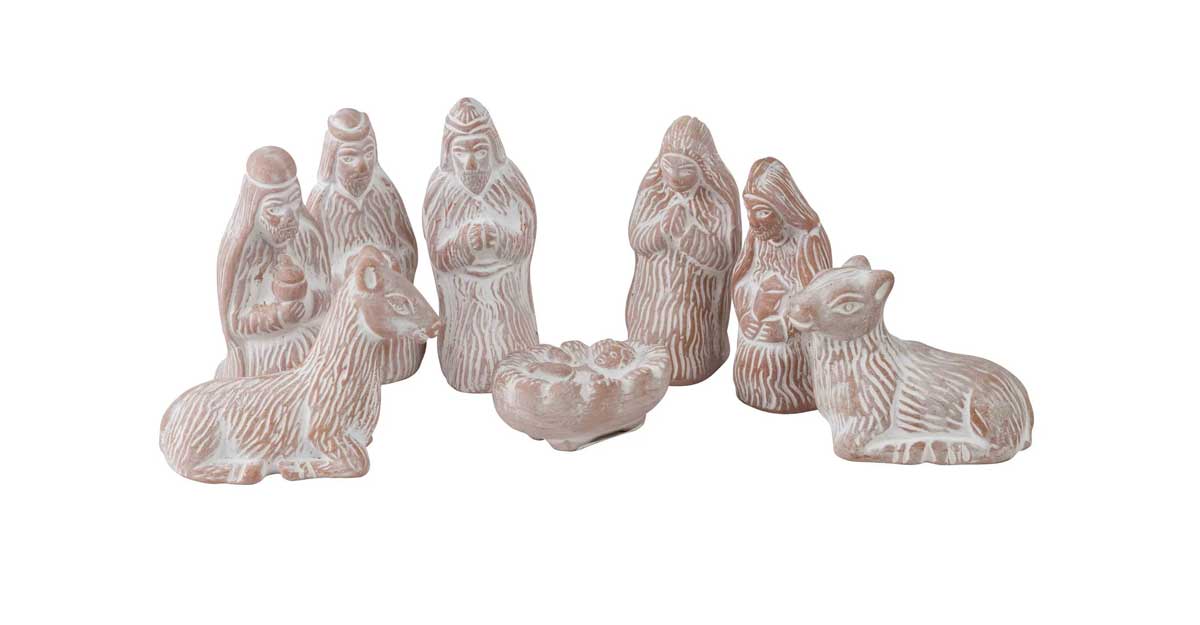 Silent Night Terracotta Nativity
Silent Night Terracotta Nativity, handcrafted in Bangladesh. Whitewashed natural terracotta figures of Mary, Joseph and
baby Jesus in a manger with the three Wisemen and their gifts of Frankincense, Gold and Myrrh with two goats sitting by.
(All limages are courtesty of TenThousandVillages.com)
Among the most popular makers of Nativity scenes – Fontanini Gifts, based out of Italy, where Nativity sets are a large part of the culture. The family-run company, which has been making these sets for more than a century, sells Nativity scenes of all sizes, they're considered exquisite works of art. As such, the sets can be expensive and thus slow to sell.
The original creator, Emanuel Fontanini, marked each piece he produced with a spider underneath; beginning in the 1980s, the pieces that make up each Nativity set bear a special fountain mark on the base.
Master sculptor Elio Simmonetti designed many sets made of papier mache between the 1940s and 1960s. After this time, sets were constructed using a nearly indestructible polymer resin; Fontanini Nativities are especially popular in American and European markets. The most rare Fontanini items bear the signature in ink of a Fontanini family member. Modern Fontaninis will come with a story card, unlike the older versions.
Collecting for a cause
Though nonprofit organizations and fair-trade businesses are known to sell nativities made in developing countries, one family is doing their part to support the artists who craft these pieces as well. In Utah, the Hyde family collects Nativity sets made in African, Asian, and Latin American countries. They sell some of the Nativities on their website, www.worldnativity.com.
"While contemplating what we could do as a family project to teach our children about charity and serving others, we had a very inspired thought," Garrick and Ginger Hyde explain on the website. "We started buying Nativity scenes from artisans in developing countries as a means of helping the artisans generate income in a way that preserved their dignity. We thought we might buy a few Nativities, but now we have many."
What started as a small project quickly grew into a business designed to help lift up those artisans, with the Hyde family selling Nativity scenes on their site.
"Along the way, we started buying extra Nativities from artisans around the world," Garrick and Ginger write. "We sold the extras to our interested friends. We thought it would be a small project, but the response has been so high that we have sold more than 10,000 nativities from hundreds of artisans since 2005. Profits are given 100 percent to humanitarian ​causes and micro-credit projects in developing countries that benefit children and low-income adults. … The lives of these artisans are dramatically improved from the additional income."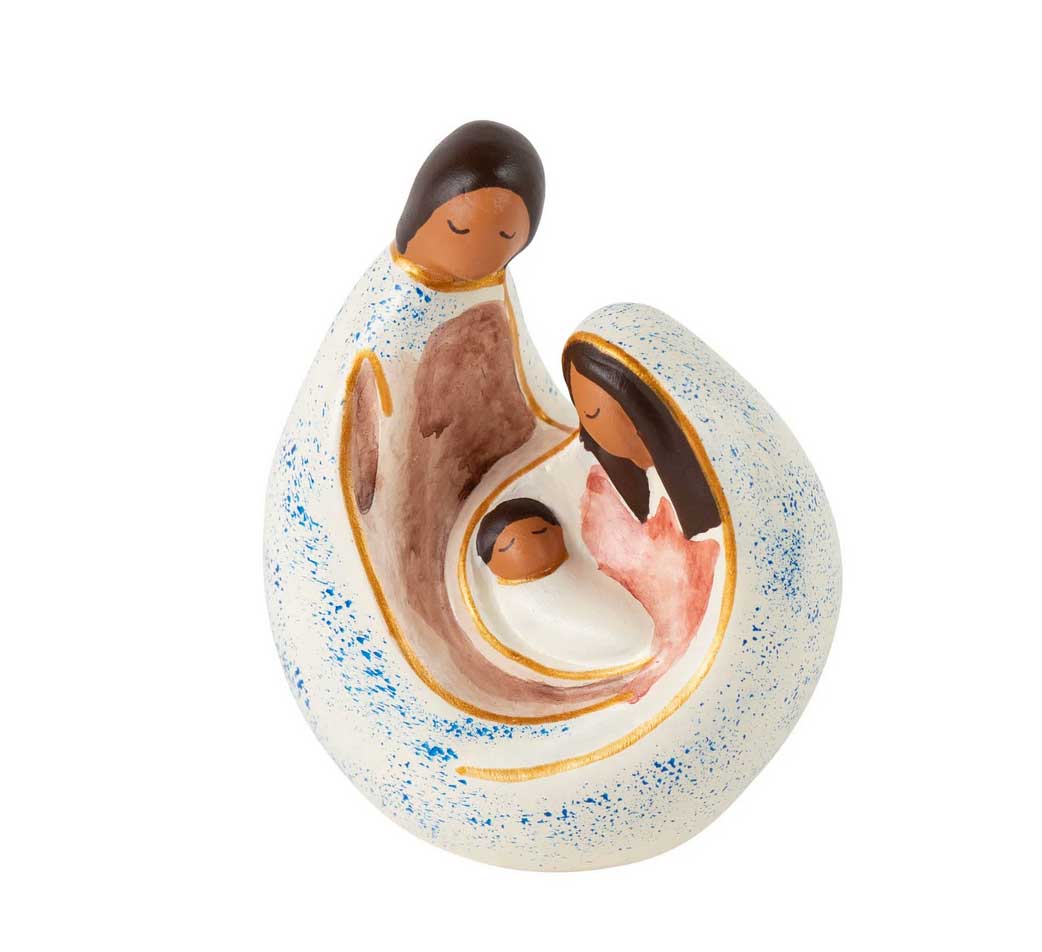 Ceramic sculpture
Celebrating the arrival, this ceramic sculpture is beautifully handcrafted by artisans in Peru.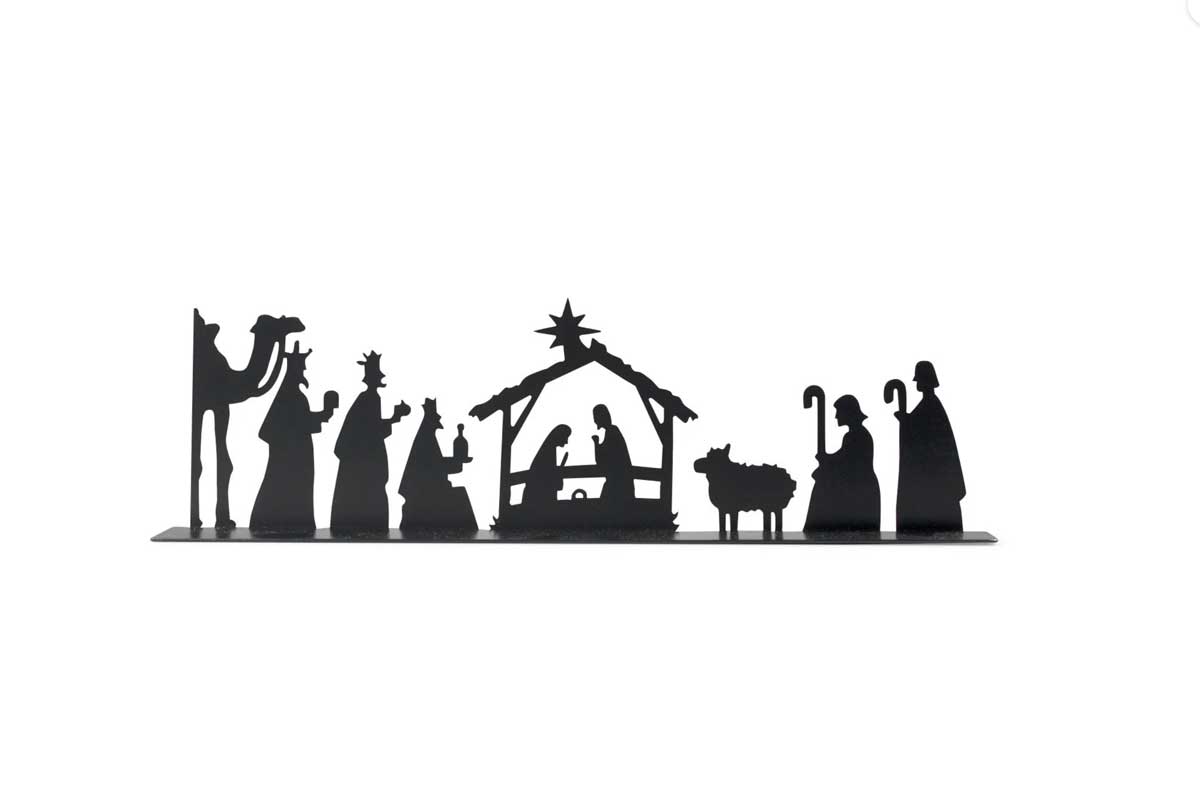 Iron Silhouette Nativity
Simple and sophisticated, this iron Silhouette Nativity is handcrafted in India.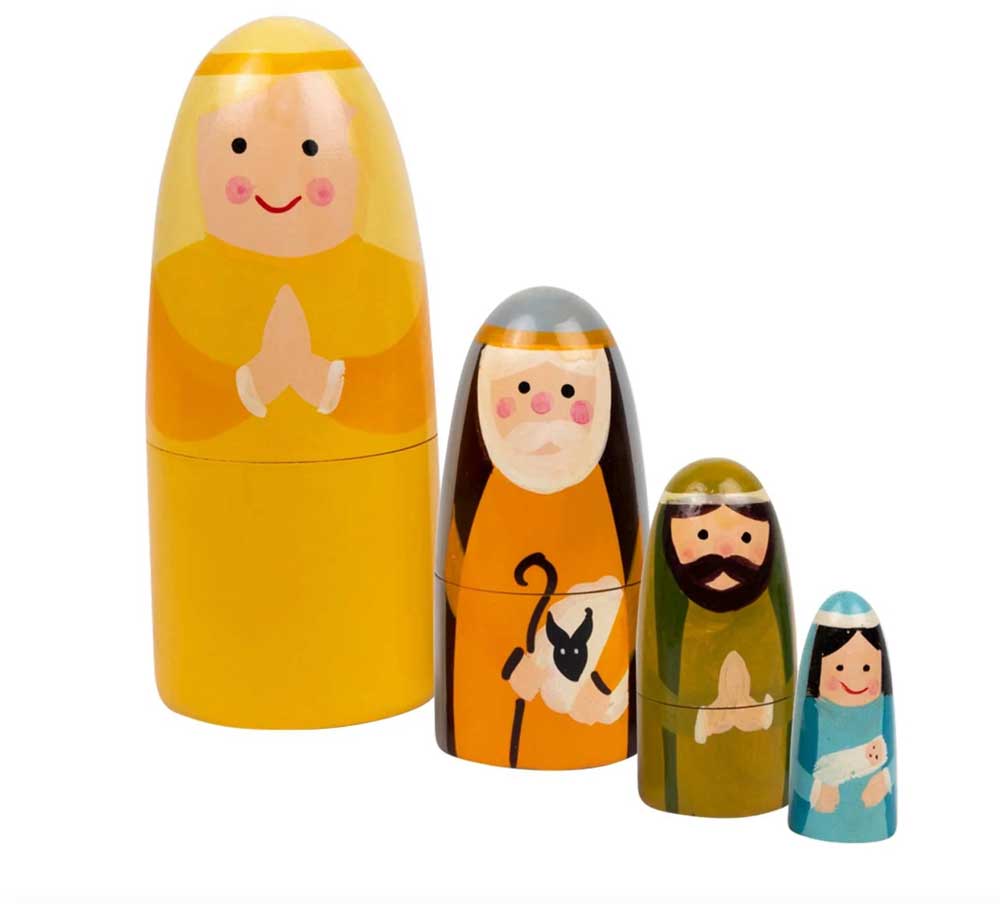 Nesting Doll Nativity
Nesting Doll Nativity, handcrafted in India.
The true meaning of Christmas
Such a story embodies the meaning of the season – helping your fellow man by engaging in charitable acts and thus becoming closer to God.
"The Nativity scene has always captivated people around the world," explains the Franco family, another Italian merchant that specializes in Nativity sets. "Jesus was born by a simple woman and as son of a poor family. The poverty and the natural birth of God's son enabled people to feel that he was one of them. They could identify with him."
And according to Wellspring Christian Ministries, no matter the country in which a Nativity set is made, no matter their differences, the meaning behind each of these works of art is the same.
"In spite of the discrepancies depicted in most nativities and the Biblical account, the most important thing about a nativity is its message to the world," the site states. "Because our sin requires a perfect sacrifice before a holy and just God, our Heavenly Father sent His own Son to earth as a man so that He could become that sacrifice.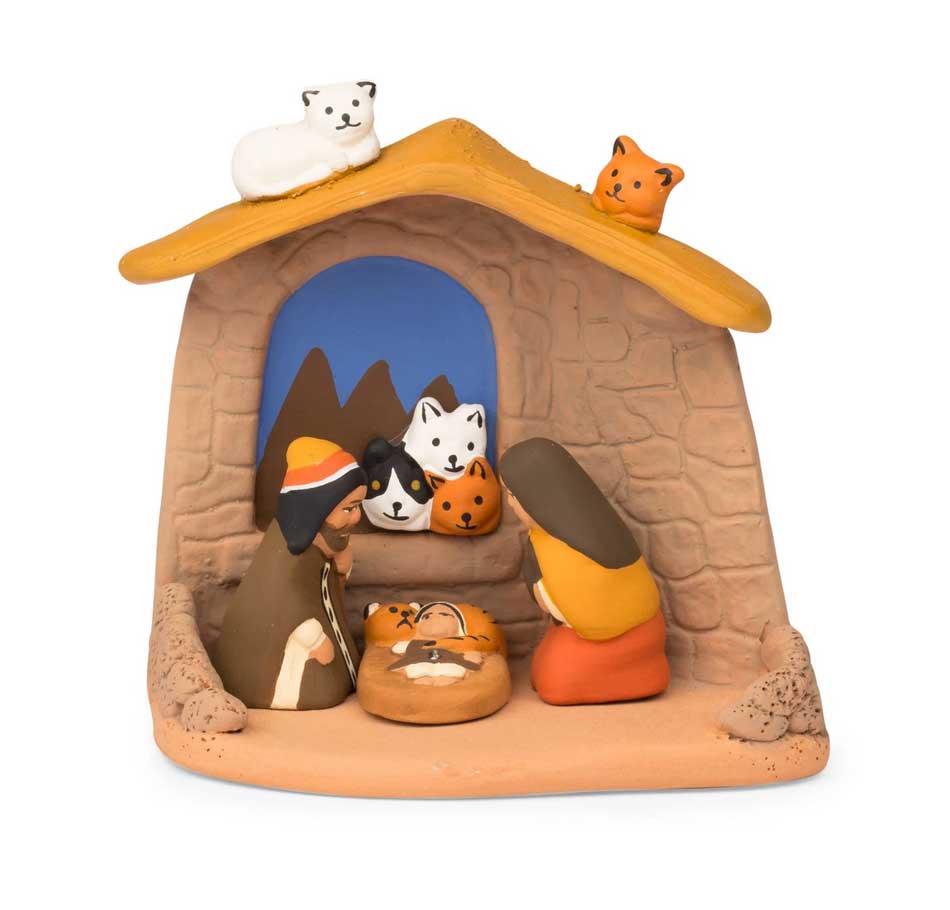 Cat lover's ceramic Nativity
Handpainted cat lover's ceramic Nativity from Peru.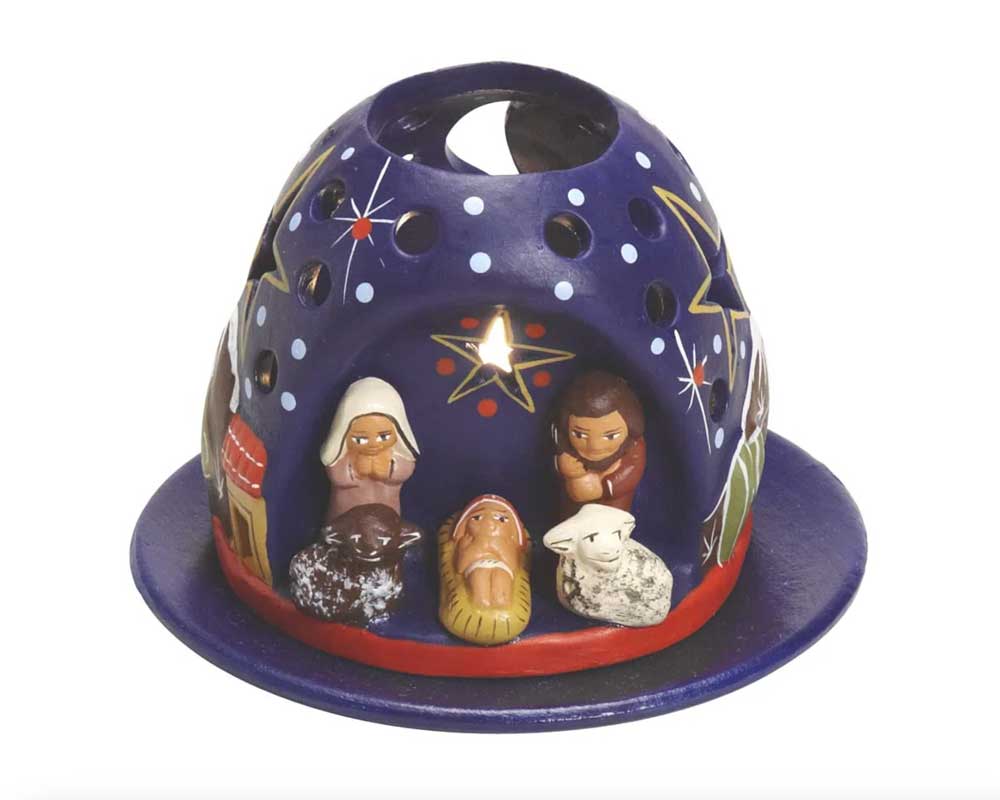 Mountain Tea Light Nativity
Mountain Tea Light Nativity, handcrafted in Peru.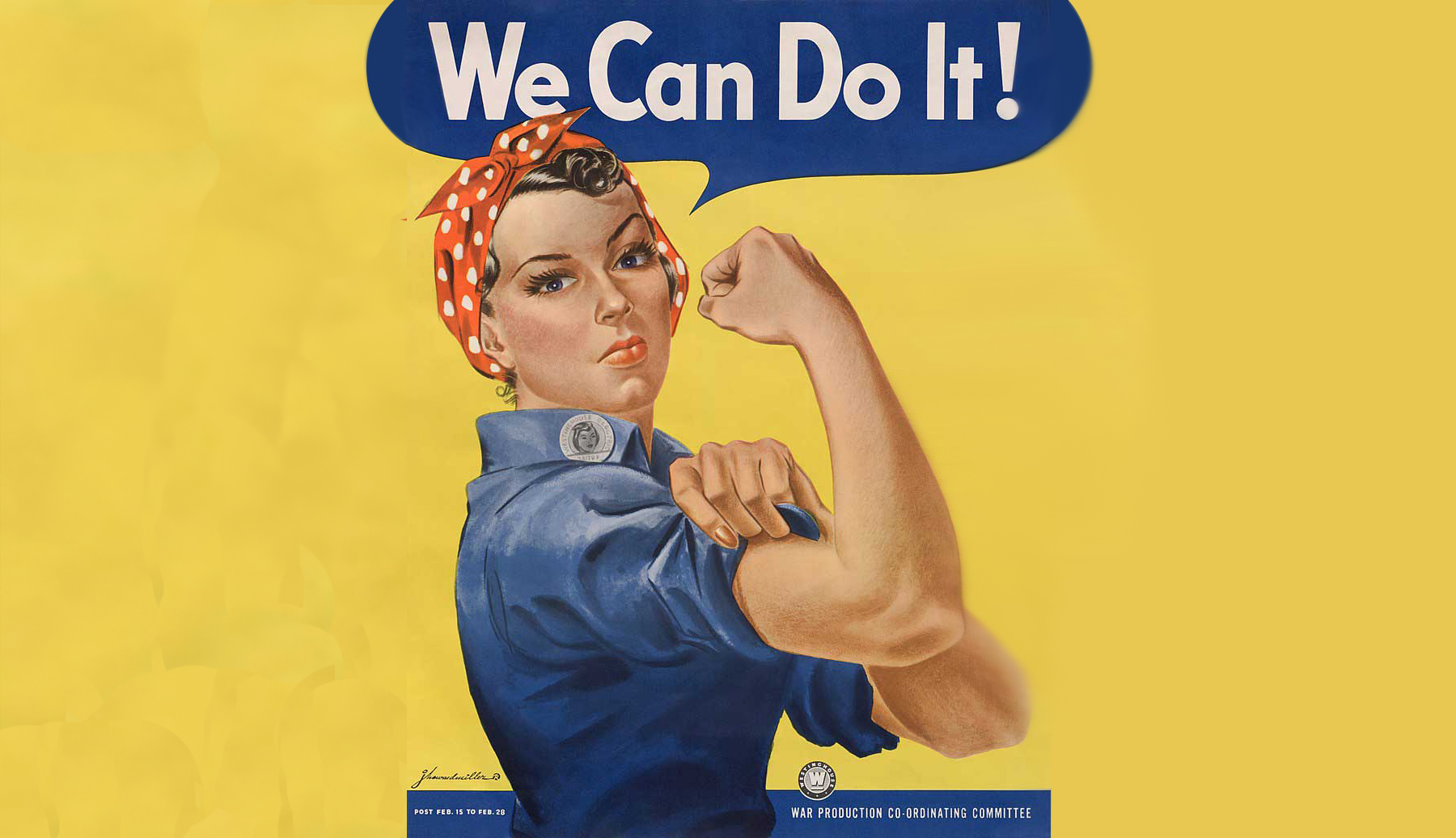 J. Howard Miller's "We can do it!" poster was designed to boost morale among American women who went to work in factories and in shipyards during the labor shortage created by World War II. (Image courtesy of 1st Dibs)November 2023Cover Story Posters' Persuasive Power...