Happy October and a ghoulishly good Halloween
It is hard to believe that October is upon us. The garden has been cleared of withered stalks and vines that provided excellent produce throughout the spring and summer, with the exception of the tomatoes. I have planted seeds and bulbs that should show their lovely heads in the spring. The garden tools have been cleaned and put away, waiting for next year. The nip in the air makes sitting outside around the fire pit a bit more enjoyable and the mosquitoes have gone to wherever the little blood suckers go when the temperature drops.
Halloween is coming soon and I can't wait. We enjoy seeing the little ones dressed up as their favorite superhero, there are always princesses, characters from the latest popular kid's movie or TV show. Halloween allows young and old to be fantastical or just dress up and pretend to be someone else for a few hours. I have two boxes of clothes accumulated from estate and garage sales as well as thrift stores so that my adult girls can put together some amazing costumes.
Several years ago I purchased a big, heavy velvet cape with a hood; it is pretty awesome and doesn't require much adornment other than some wicked makeup.
Several weeks ago I was going through some photos and papers that my mom accumulated through her genealogy research. These are very distant relatives, so I don't know any of them personally. Then I came across random people dressed for Halloween and a few pages from a wholesale Halloween costume company dating to around the 1960s. I think some of her estate sale purchases got mixed in with the family tree.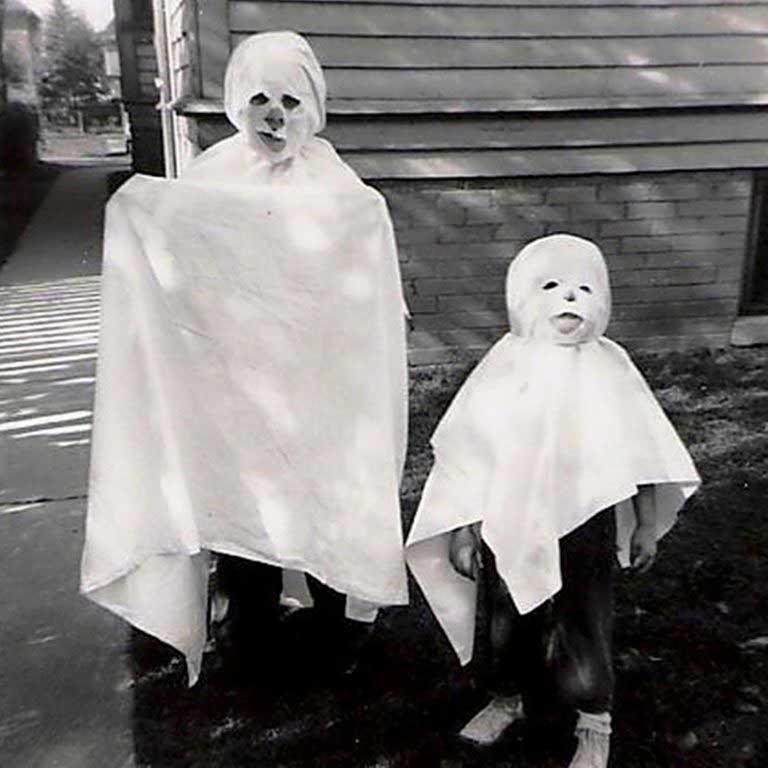 Classic vintage ghost costumes made from bed sheets. (Photo provided by the author)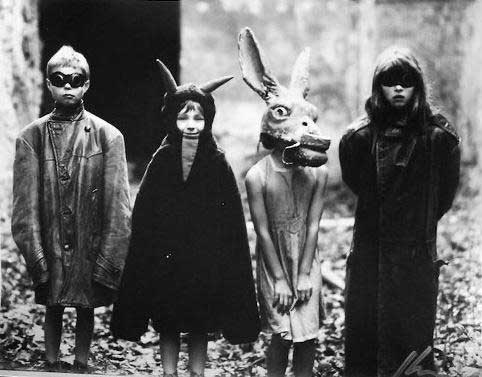 Creepy kids
Creepy homemade costumes were the norm for Halloween trick-or-treating in years past. (Photo provided by the author)
My mom was the queen of creating really fun Halloween costumes for my brother, me, and the grandkids. We would wait with bated breath on Halloween to see what she made for us. Then came the ghost year. My brother and I were bouncing on our toes waiting for our costumes, and mom comes out with two white sheets, drapes them over us, marks where our eyes should be and then cuts out eyeholes. That was it, the end of fabulous costumes for us. We were reduced to store-bought, hard plastic masks with eye holes so small that you couldn't see in either direction and "suits" made of rayon. Oh, but once grandbabies hit the scene, she was sewing costumes or buying expensive pieces. My youngest was given a beautiful ladybug costume that ended up being worn by several family members.
What is Halloween without a bit of scary and unknown thrown in? I am a paranormal investigator; this was born out of sharing my extremely haunted antique shop with energy I didn't get to see very often. The activity was pretty well documented and certainly changed my view on the afterlife. I learned how to deal with objects that had spirit attachments.
My gift to you in this month in which the veil between life and death is at its thinnest, is a link to a blog I put up showing a few of the investigations at the shop – hauntedantiqueshop.blogspot.com or if you would like to listen to a recent two-part podcast interview by a dear friend to get a shot of paranormal – search on Youtube for: The Haunting of Granny's Attic with lots of great EVPs, ghost stories and haunted antiques (parts 1 and 2). Like many, I don't like hearing my recorded voice and I promise I had not been drinking prior to the interview. My Southern drawl is on full display. Enjoy!
*All prices given are for sale in a private sale, antique shop, or other resale outlets. Price is also dependent upon the geographic area in which you are selling. Auction value, selling to a dealer or pawn shop prices are about ½ or less of resale value.
Michelle Staley is a Lenexa, KS-based dealer and researcher with 35 years of experience in the antique trade.
Send questions with photos to Michelle at michelle@discovervintage.com or TXSmichelle@gmail.com. Please keep queries to one question; questions without photos of the item may not be answered. There is no guarantee that your question will be answered or published.
Michelle is also available for consulting and extensive research work beyond this column. If you would like an appraisal on an antique or collectible please go to www.michellesantiqueappraisals.com for a one-on-one appraisal. Please note new web address.