Thanksgiving-themed items hold their value over the years
Cute little figural Candles
Question: These cute little figural candles have been in my family for years. I don't want to burn them because they are so adorable. One still has a label on the bottom that says "Gurley." Can you tell me anything about them? Thank you.
Answer: You are right. These Gurley candles are precious and becoming very hard to find in good, unused condition.
The Gurley Novelty Co. began life in 1939 as the W&F Mfg. Co. owned by candlemaker Franklin Gurley. Mr. Gurley worked with The Socony-Vacuum Oil Co. to reuse the paraffin byproduct from oil production to create a number of wax products, including candle figures. The first candles were marketed under the name "Tavern." In 1949 Mr. Gurley purchased the rights to the Tavern name and changed the company name to the Gurley Novelty Co., where production focused on candle figurines for just about every holiday. Sales were excellent until the 1970s and the company eventually closed.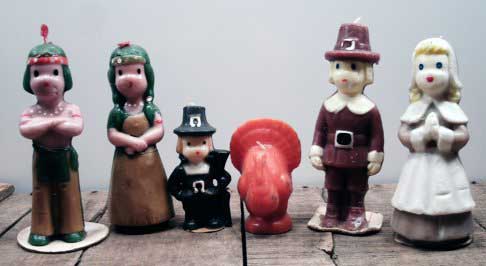 Gurley Novelty Co. candles
Grouping of the original Gurley Novelty Co. candles. (photo courtesy of the author)
The Vermont Country Store purchased the Gurley molds and is producing the candles. Since many of the Gurley candles lost the label on the bottom you need to learn the difference between the original Gurley's and the contemporary pieces.
You have a wonderful grouping of the original Gurley Novelty Co. candles. I notice that you are missing the small Pilgrim girl, but this set would still fetch a nice price of $45-$50.
Turkey Platter
Question: My mom had this platter for years and only used it on Thanksgiving, we had ham for Christmas. I think it is about the ugliest platter I have ever seen, but if it is worth anything I might just keep it. Can you tell me how much it is worth?
Answer: Turkey platters abound and as a matter of fact it is a collecting genre all of its own.
With the British economy struggling after the Revolutionary War, British potteries began targeting the American market by crafting dinnerware that would sell well in the USA. Transferware and flow blue items soon flooded the market depicting patriotic scenes, historical landmarks, and the Westward expansion. Abraham Lincoln declared the fourth Thursday of November to be the nation's official Thanksgiving Day in 1863. Around 1870, English potters began producing turkey-themed wares for the American market in honor of the newly declared day of Thanksgiving. Even companies such as Wedgwood jumped on the turkey-themed wagon with stunning pieces.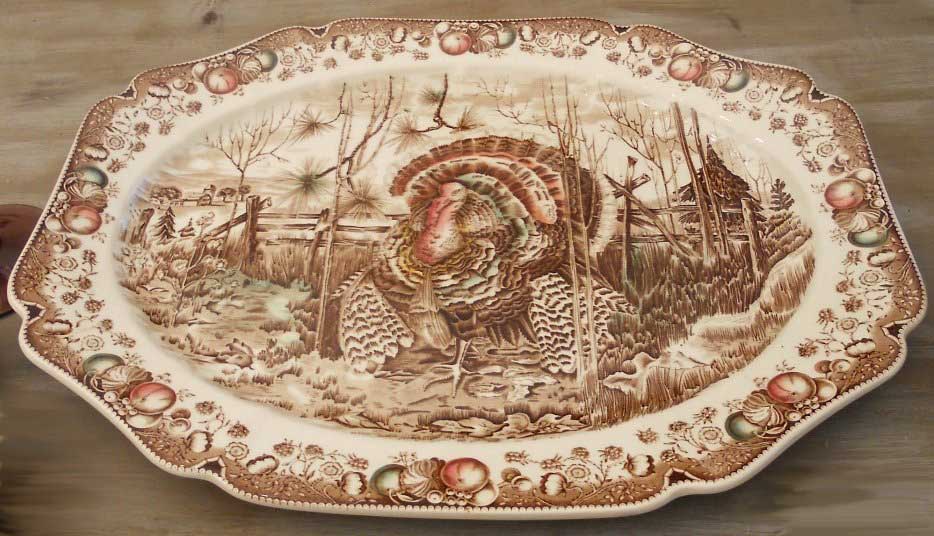 Turkey platter
Turkey platter made by the Johnson Brothers Pottery. (photo courtesy of the author)
Your turkey platter was made by the Johnson Brothers pottery in England (1883-2003*). Based on the mark on the back, your particular platter is circa 1930. The pattern is named "His Majesty" and was discontinued for many years but reintroduced in 2004.
Your 20" platter has a resale value of $100-$125. Are you going to use it on Thanksgiving Day?
* In 2003 Johnson Brothers ceased production in England, and the dinnerware is now being made in China.
*All prices given are for sale in a private sale, antique shop, or other resale outlets. Price is also dependent upon the geographic area in which you are selling. Auction value, selling to a dealer or pawn shop prices are about ½ or less of resale value.
Michelle Staley is a Lenexa, KS-based dealer and researcher with 35 years of experience in the antique trade.
Send questions with photos to Michelle at michelle@discovervintage.com or TXSmichelle@gmail.com. Please keep queries to one question; questions without photos of the item may not be answered. There is no guarantee that your question will be answered or published.
Michelle is also available for consulting and extensive research work beyond this column. If you would like an appraisal on an antique or collectible please go to www.michellesantiqueappraisals.com for a one-on-one appraisal. Please note new web address.