The well-appointed Victorian dining table
The weather outside is frightful here in the Plains of Kansas. Today we reached a high of 28 degrees. The Farmer's Almanac and persimmon seeds both indicate that we are all in for a cold and wet winter which means we might have a white Christmas this year.
I adore the appointments of the wealthy Victorian lifestyle. The boned girdles and bustles aren't my thing but I love the over-the-top decorating. This is most evident by the abundance of art and mirrors on my walls and the little knick-knacks sitting around on small tables or wood corner shelving units. The Victorian era is considered to be during the reign of Queen Victoria in England from 1837 to 1901. It coincided with the Industrial Revolution and the rise of a prosperous middle class, both in the UK and the United States.
Victorian dining table
The Victorian dining table, especially during the holiday season, was a sight to behold. The centerpiece consisted of several large and elaborate candelabras. This was a practical solution to provide ample lighting and was also a stunning effect of light play as the candlelight bounced off of mercury glass, crystal, and silver that adorned the table.
The dinnerware bits and pieces that I am going to tell you about were most often seen in homes of affluence. It is quite possible that when Sears & Roebuck and Montgomery Wards catalogs hit, the U.S. middle class consumer was afforded the ability to purchase silverplate, glass, and china specialty dinnerware sets. I could not find any suitable stock photos to use as an example and in the one year that I recreated a Victorian holiday table, I failed to take pictures of it. Please try to visualize what a well-set table looked like.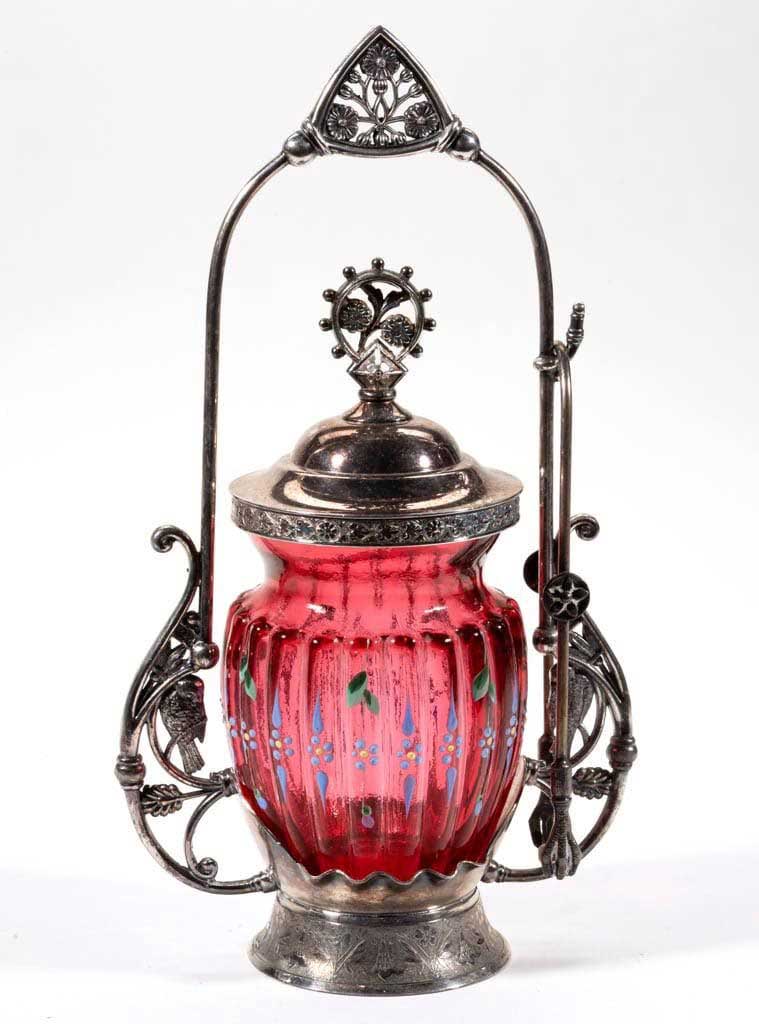 Ruby Glass Pickle or Olive Castor
Ruby Glass Pickle or Olive Castor with Tongs in a Silver Holder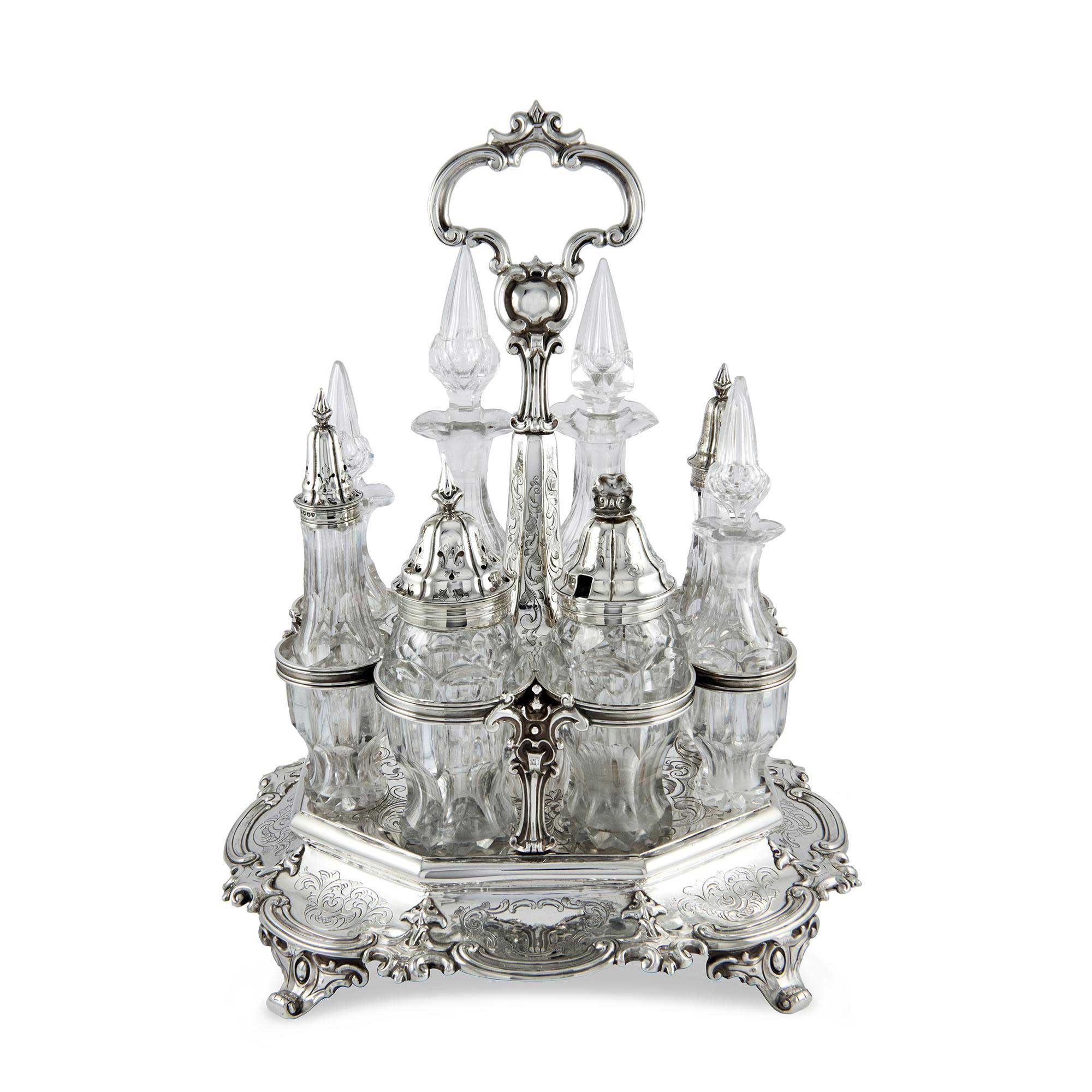 Eight Bottle Victorian Era Cruet Set with Silver Holder
Eight Bottle Victorian Era Cruet Set with Silver Holder
* Most of the photographs are from my inventory, items I have already sold, and my mom's house. A few came from theantiquesalmanac.com/foreveryfoodthereisadish.htm which is an amazing website filled with great information.
Holiday meal 
A holiday meal could consist of as many as 12 courses and each course required the appropriate dinnerware and serving pieces. Many households would purchase three or four complete sets of china to accommodate the multiple courses and to comply with the decorum of the times. The initial place setting was dependent upon the foods served and the number of courses. The place setting began with the dinner plate at the center. Forks were placed on the left side of the plate, starting with the dinner fork, followed by the fish fork, and salad fork, and ending with a cocktail fork, followed by the spoons. The dinner knife was placed to the right of the plate, followed by the fish knife, butter knife, and additional knives for cheese, game, or fruit, then came the iced tea spoon, cream soup spoon, bouillon spoon, hot teaspoon, and demitasse spoon. A dessert spoon and fork were placed above the plate, placed in a bowl-to-stem fashion. There was also a special ice cream or sorbet spoon which was also above the plate. Some hostesses preferred a cheese scoop to the knife. If a scoop was used it was placed with the spoons. Also, above the plate and a bit to the right was the small butter pat plate next to an individual salt cellar with a spoon. These are fun to collect and can be found in silver, plate, glass, and ceramic. If you have sterling silver cellars they must have a glass liner or else the salt will pit the silver.
Serving Pieces
Serving pieces are among my favorites and the aesthetic is relatively easy to reproduce for your table. Every meat has its own platter. The red meat platter should have small channels in it with a well of sorts at one end to catch the juices. The fish platter is adorned with a fish. Oyster plates, highly collectible, have depressions in which you place your half shell. Platter size depended on the meat being served for example the turkey platter is larger than that of a chicken, which is larger than the quail platter.
Lidded Vegetable dishes
There are also lidded vegetable dishes and those that don't need a lid. Vegetables that would cool quickly such as asparagus, which also has its own tongs, would be in a lidded dish with a glass insert with holes in it set over warm water to keep them warm. There was no passing around of dishes so depending upon the crowd and table size imagine all of these items within easy reach of all diners, or you have servants to serve everyone.
Also, strategically places cruet holders, pickles, and olive casters grace the table. Just imagine the colors of the holders with the silver or plate polished to a high shine.
The sideboard was generally reserved for cakes, pies, other small sweets, and fruit.
Prices vary greatly
If you were to purchase napkin holders, cruets, or castor sets in an antique shop, the prices vary greatly. There are many reproductions on the market so please know what you are purchasing before you spend a lot of money. On the other hand, if you want to host a beautiful Victorian meal, start planning quite a few months in advance and hit the thrift stores on a regular basis along with the big box specialty stores along the lines of Home Goods and you will be able to pull this look off. One little thing that makes the meal perfect is to ask everyone to dress nicely. Okay, I admit that I went way overboard on the attire, it was a formal dress but everyone indulged me to the point that many of the women wore long gloves and semi-period clothing and I don't have a single picture to show for it.
Happy Holidays to each and everyone one of you!
– Michelle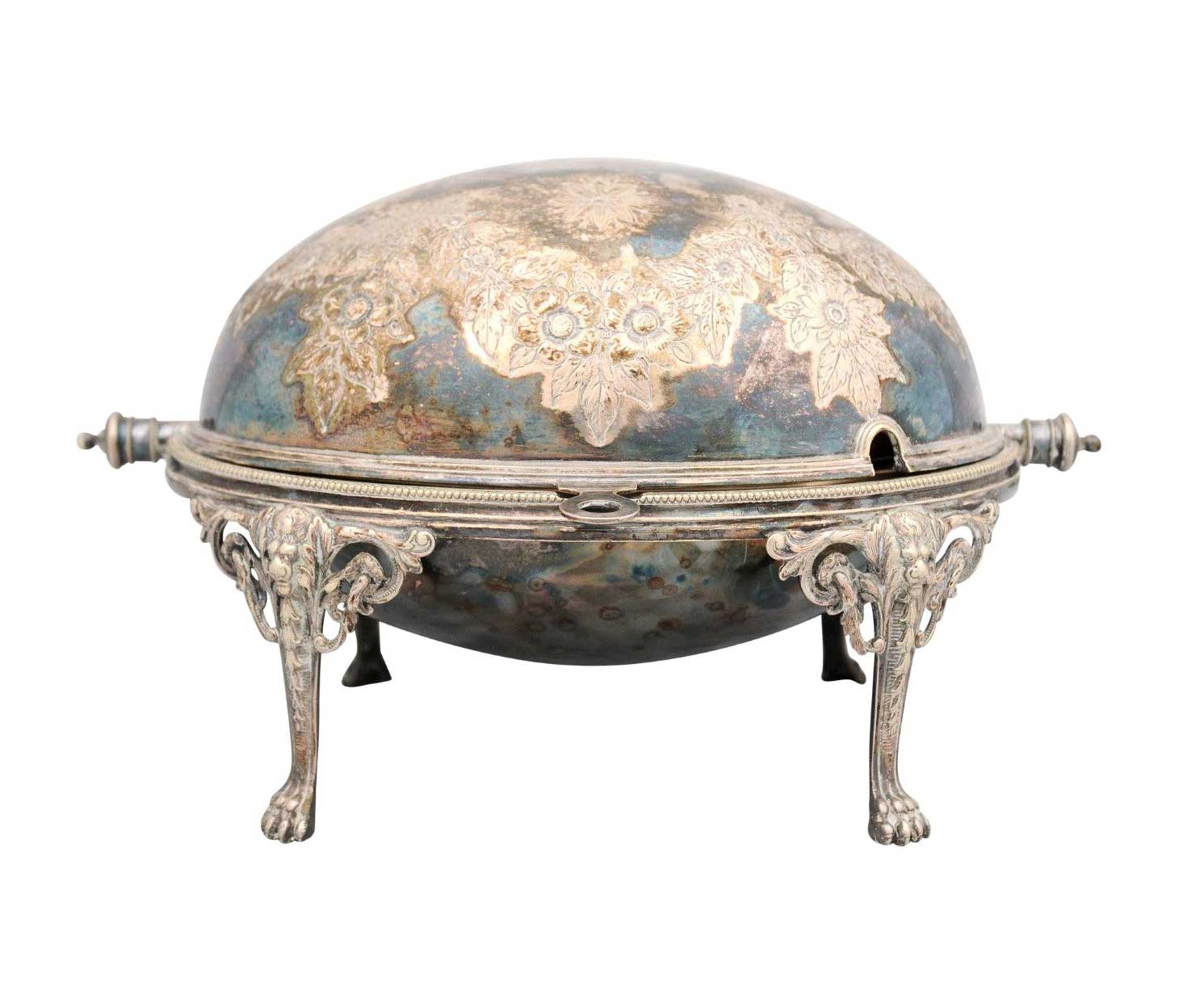 Silverplate asparagus or another small vegetable
Silverplate asparagus or another small vegetable dish with a water bath on bottom
*All prices given are for sale in a private sale, antique shop, or other resale outlets. Price is also dependent upon the geographic area in which you are selling. Auction value, selling to a dealer or pawn shop prices are about ½ or less of resale value.
Michelle Staley is a Lenexa, KS-based dealer and researcher with 35 years of experience in the antique trade.
Send questions with photos to Michelle at michelle@discovervintage.com or TXSmichelle@gmail.com. Please keep queries to one question; questions without photos of the item may not be answered. There is no guarantee that your question will be answered or published.
Michelle is also available for consulting and extensive research work beyond this column. If you would like an appraisal on an antique or collectible please go to www.michellesantiqueappraisals.com for a one-on-one appraisal. Please note new web address.