The Rolling Stone Quilt Pattern
​
As I noted in last month's column, the Rolling Stone block is a classic early pattern that has been popular for more than 170 years. Part of its appeal is the simple, aka easy piecing: rectangles, square in a square blocks, and plain center squares. Another charming aspect is how the simple piecing showcases beautiful fabrics in an elegant way. The block can be made in two different versions: even or uneven 9 patch blocks and in any size you heart desires. Creating the even 9 patch block pattern involves less math as each segment is the same size; for example, in a 12-inch finished block each segment finishes at 4 inches. You may need a calculator or at least a pencil to figure out sizing for an uneven 9 patch pattern or just find an online tutorial. Either way, it is a fun block to make, and I hope you will give it a try. I recently did and had a blast.
A Piecing Challenge
As an ambassador or representative for Island Batik Fabrics, I receive monthly quilting assignments or challenges and new fabrics to complete the projects. The September Challenge was "Pieced to Perfection." The brief was to create a lap-size or larger quilt using foundation paper piecing or English paper piecing with an assigned newly released collection. I love foundation paper piecing, which is essentially like painting by numbers or sewing by numbers. You just sew on the paper pattern's lines for precise piecing and spectacular results. So, at this point, I had picked the piecing technique, the specific fabric, and a general size but I still needed to choose a pattern and a block size. My go-to size with paper piecing is small, miniature, tiny, or teeny which would require a lot of blocks. I do enjoy working on a small scale, but I wanted to highlight the new fabrics, so I was thinking about going big for a change.
It is always good to get out of your comfort zone (so they say). I still needed to pick a pattern (a critical decision) and I wanted to make something that had a floral or flower garden feel for the Buds and Blooms Collection featuring flowers and butterflies. I suddenly remembered that the classic Rolling Stone quilt pattern often has a strong floral feel with careful color placement.
Surprisingly, though I have collected antique examples and studied the pattern for almost 20 years, I had not made one, so I decided it was time.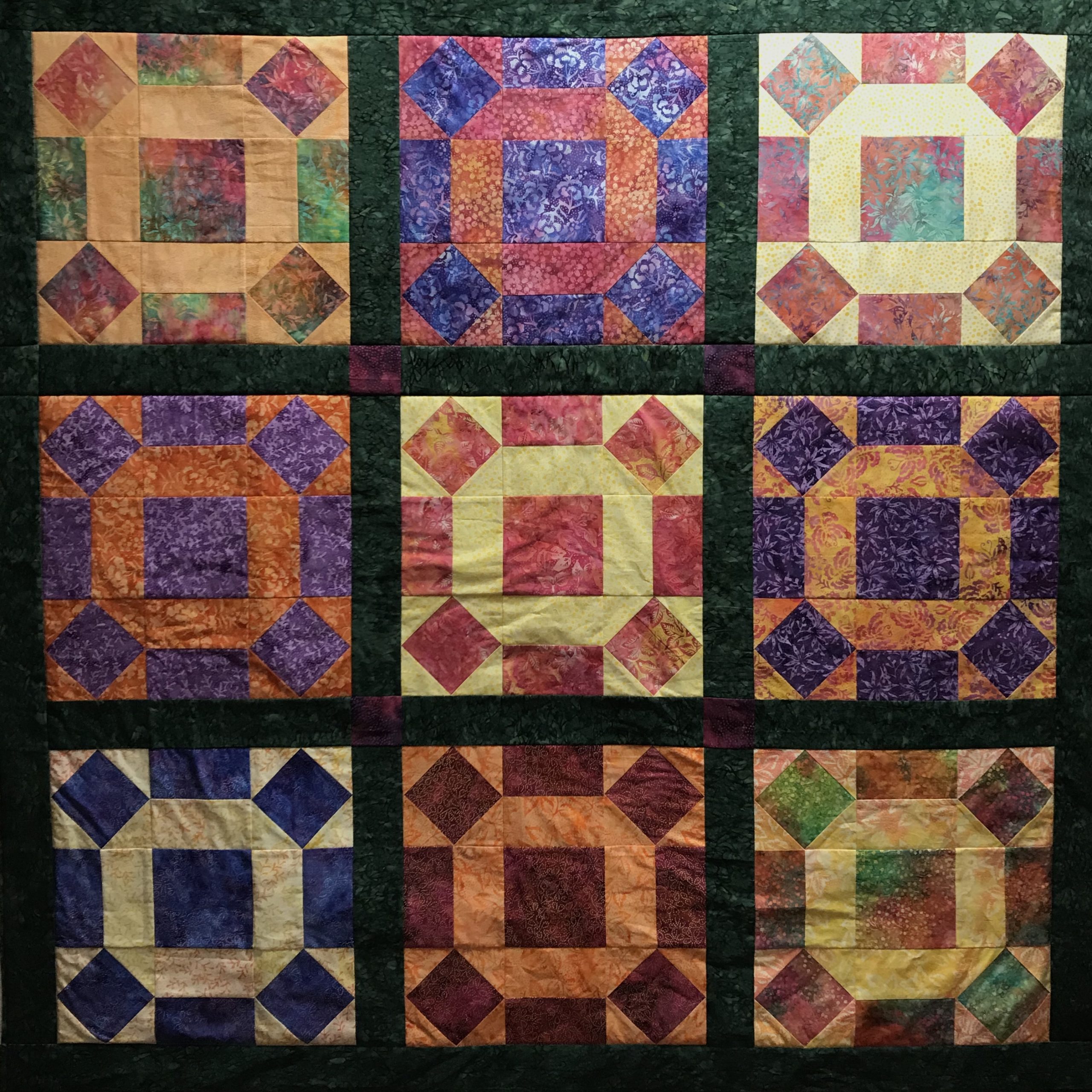 A Rolling Stone
A Rolling Stone Flower Garden, 2023. (Image courtesy of the author)
Old Meets New
I was almost done with the planning stage, but I still had to pick a block size. Remember, I had decided to go big, but how big? Twelve-, 15-, or 20-inch blocks? They all seemed so large after sewing 2-, 3-, or 4-inch blocks. And who said it was good to leave your comfort zone? But with a deadline rapidly approaching, it was time to sew big. I decided on 15-inch blocks and drew my pattern on old school graph paper. Sometimes the old ways are best. I was pleasantly surprised with how quickly the project came together and with just nine large blocks, I had a good-sized quilt. It was a joy to pair an antique pattern with new fabrics.
Breathing new life into an old design by giving it a makeover is one of my favorite things! Thanks for following along, and I hope you are inspired to make your own Rolling Stone quilt, be it big or small, traditional or modern.
Sandra Starley is nationally certified quilt appraiser, quilt historian, and avid antique quilt collector. She travels throughout the U.S. presenting talks on antique quilt history, fabric dating classes and trunk shows as well as quilting classes. Learn more at utahquiltappraiser.blogspot.com. Send your comments and quilt questions to SandraStarley@outlook.com