Crazy quilts showcase beauty in irregularity
​
What do a Victorian parlor, a Wizard of Oz char-acter, and a Batman villain have in common? Crazy Quilts!
From ladies' magazines in the 1880s to The Patchwork Girl of Oz in 1913, to Batman's colorful nemesis "Crazy Quilt" in 1946, and almost every news story about the diversity of America, the Crazy Quilt has captured our national imagination for more than 140 years. The most recognizable version is the fancy Victorian silk, satin, and velvet-style quilt popular at the end of the 19th century. Crazy quilt is also a pieced block pattern similar to Rocky Road to Kansas (see my last two columns on that pattern).
Crazy quilts are char-acterized by their random or irregular pieced fabrics, joined and embellished with decorative stitching along the seams and inside the pieces, too. They are generally sewn on fabric foundations and often made in blocks, though some are puzzle-pieced on large foundations.
The fad appears to be related to the interest in Japanese culture sparked by displays in the 1876 Centennial exhibition, which were viewed by millions of people but may have earlier origins. Quilt historian Penny McMorris noted, "Never has there been such intense interest in a particular quilt style as there was in the crazy quilt during the period 1876-1900." A century later, these treasured quilts appear at state quilt documentation projects in record numbers.
Magazines, fabric manufacturers and pattern designers quickly began promoting fancy quilting and selling specialty products in the early 1880s. Appliqué and embroidery motifs such as fans, cats, flowers, and good luck charms were quite popular. The designs were available in magazines to trace on blocks or preprinted or even already painted or stitched. Embroidered motifs were also offered as iron on patches. Many of the marketing techniques and quick sewing methods used today were pioneered during the "craze" which captivated many quilters. The viral trend was so strong that within a few years, the same magazines were telling women to stop making crazy quilts. In 1890, Good Housekeeping bemoaned the obsession:
"But make it she must,
She will do it or bust,
Beg, swap, and buy pieces or get them on trust,
Oh, the Crazy-quilt mania, may it soon cease to rave.
In the land of the free and the home of the brave."
Crazy piecing continued into the 20th century, but the fabrics used became simpler, either wool or cotton, and the embellishments decreased with embroidered seams but no extra block decorations. There has been a resurgence in interest in crazy quilts both by hand and machine and both simple and elaborately decorated. You can join in the 21st-century craze and use digital patterns to make a crazy quilt entirely by machine or take an online class and make an embellished quilt all by hand. You won't have any trouble finding someone to help you "go crazy." But you've been warned it is very addictive.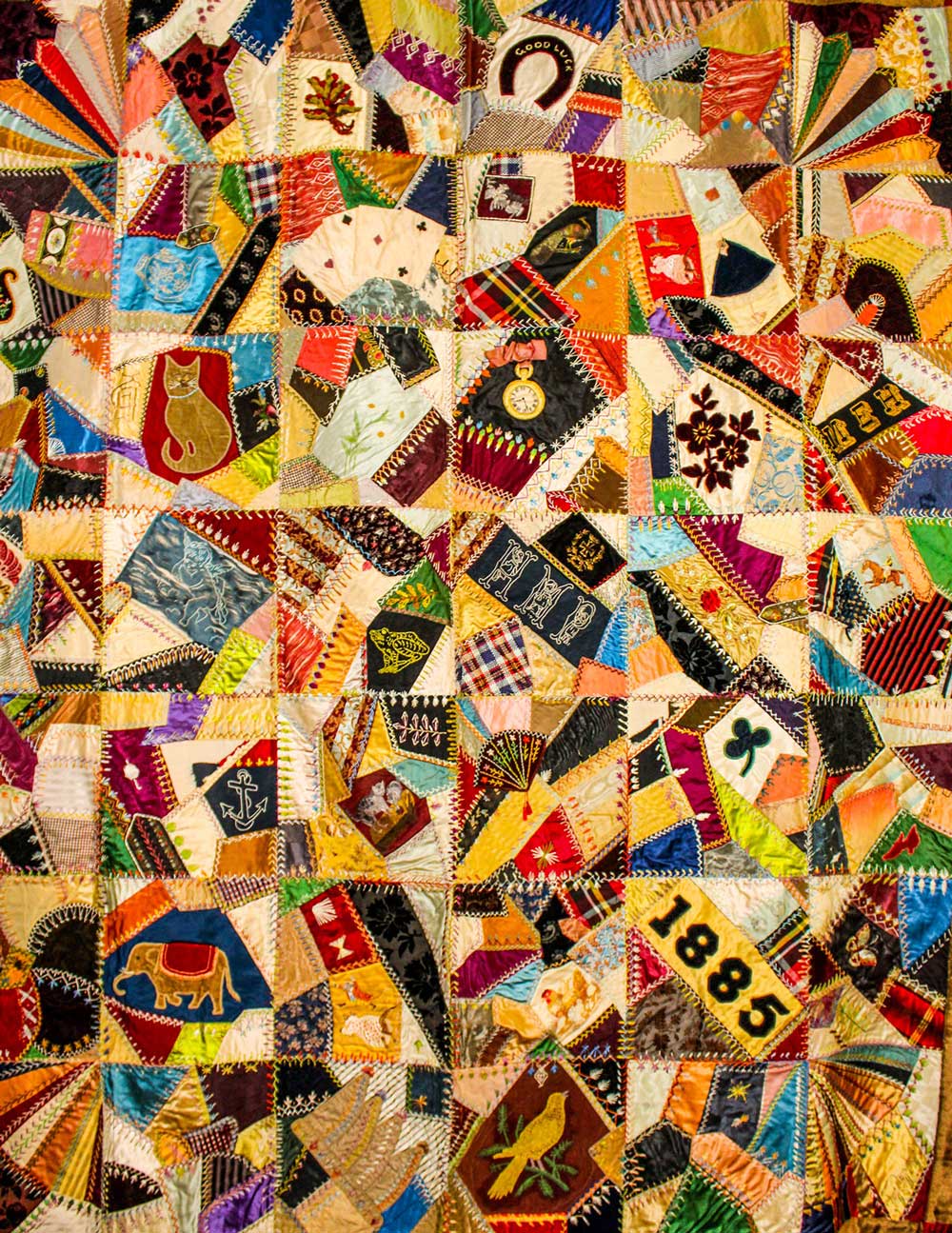 A Crazy Quilt
A crazy quilt, dated 1885, from the Starley quilt collection. (Image courtesy of the author)
Collecting Note
There are a lot of crazy quilts ava0ilable in the marketplace in a wide variety of sizes and styles ranging from the fancy silk and satin crazies to simpler wool and cotton versions. You can find them in all price points too.
When purchasing crazy quilts pay attention to condition.
The silk fabrics used in the 1880s and '90s were often sold by the pound and weighted with corrosive metal, which caused many to shred or shatter. It is difficult to find quilts that don't have at least moderate deterioration. You can cover the damaged areas with colored tulle netting for a cleaner look and to lessen future damage.
Sandra Starley is nationally certified quilt appraiser, quilt historian, and avid antique quilt collector. She travels throughout the U.S. presenting talks on antique quilt history, fabric dating classes and trunk shows as well as quilting classes. Learn more at utahquiltappraiser.blogspot.com. Send your comments and quilt questions to SandraStarley@outlook.com