Hickory, Dickory…. Clocks! – Antique American Timepieces
Antique clocks from the 19th and early 20th centuries were made in many forms, from mantel clocks to tall case "grandfather" clocks to banjo wall clocks. Their cases were also made in many materials, from porcelain to wood to iron. Connecticut hosted most of the clockmaker companies during that era, yet relatively few founded in the mid-19th century would survive into the 20th.
Among the most prolific and successful of these companies was Ansonia Clock Co., founded in 1851 in Ansonia, CT. Most of Ansonia's production dates, from the late 1880s to the early 1920s, were when the company operated in New York. Undeterred by the fiery destruction of its factory in 1880, which was only partially insured, Ansonia rebuilt in the very same place in that very year. By 1914, the company was producing 440 different clock models!
Despite its earlier successes, the Ansonia company was faced with fierce competition from many other U.S. clock companies, not to mention myriad overseas producers. Ansonia's effort to survive by retaining its cheaper, older production pricing wasn't sustainable, resulting in bankruptcy by 1929. The name itself would continue under a variety of corporate successor companies into the mid 1960s, finally disappearing altogether in 2006.
The Chelsea Clock Co. was founded in 1897. Chelsea was sold to a number of different companies during the late 20th century but is still in business today.
Perhaps the oldest and best-known name among American clockmakers is Seth Thomas, established in 1813. It received a trademark for its name with the U.S. Patent Office in 1926. Today, manufacture continues under the Seth Thomas name as owned by CST Enterprises.
There were nearly 30 American clockmakers during the heyday of production in the 19th and early 20th centuries ("Famous Names in American Clock Companies," www.discoverclocks.com/clock_companies).
Even Older (and Sometimes Odder) American Clocks
The largest clocks, tall-case or "grandfather clocks," can be taller than a human adult. An 8-foot Chippendale clock made in Philadelphia by Jacob Godschalk between 1665 and 1675 sold at a Christie's auction for $800,000 on an estimated auction house value of $150,000-$250,000 (https://www.christies.com/en/lot/lot-4645816). This doesn't mean, however, that every grandfather clock is a high-roller. Much depends on factors of age, maker, condition, adornments, and the all-important provenance (documentation of where the clock came from). Another Godschalk grandfather clock with much less elaborate case carving sold at auction for $6,000 on an estimate of $2,000-$3,000 (www.fontainesauction.com/auction-lot/jacob-godshalk-philadelphia-grandfather-clock_6C43282BBA).
A grandfather clock isn't for every home or office décor, however. This helps dampen the prices even on those in good condition if they aren't the work of a famous maker.
Perhaps the best-known oddity among clocks is the cuckoo clock, which projects the little bird from inside the case whenever the clock strikes. The woodwork on these is characteristically elaborate. These were made by companies in both the U.S. and Europe. They're not for everyone's taste, but the best of them can command a few hundred dollars.
Banjo clocks are known by their shape and, like the cuckoo clock, are designed to be wall mounted. A 19th century Simon Willard banjo clock c. 1805 was appraised at $50,000-$60,000 on an Antiques Roadshow airing in 2012. The clock had an original crank, old finish and patina, and original reverse-painted tablets with brass sidearms. The original eagle finial had been replaced, however (www.pbs.org/wgbh/roadshow/season/17/corpus-christi-tx/appraisals/simon-willard-banjo-clock-ca-1805–201205A22/). The best and oldest banjo clocks available on the general market can sell for a few thousand dollars.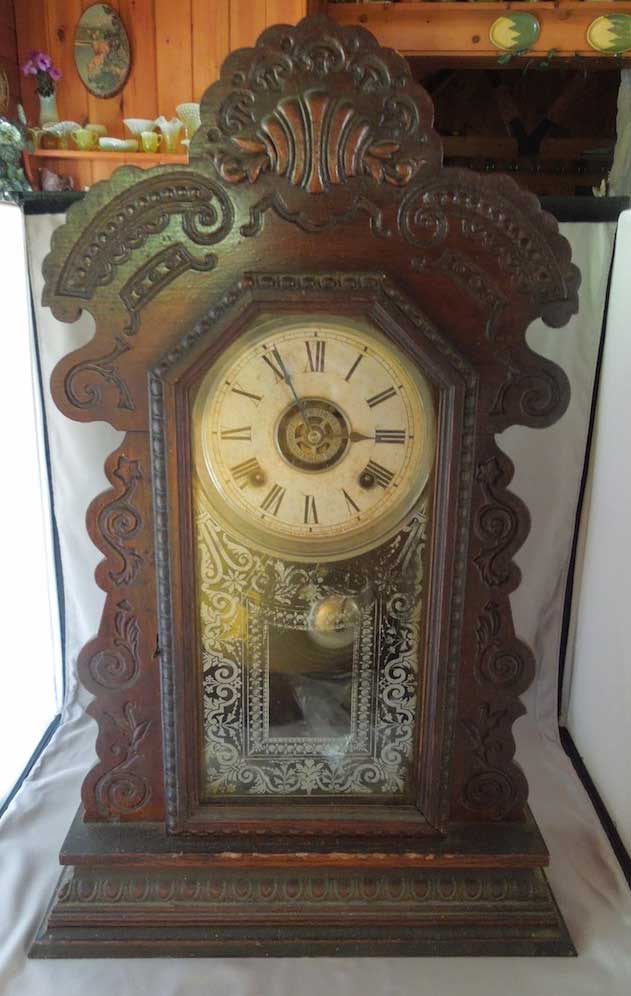 Ansonia Clock
This Ansonia Clock made in New York in the late 19th century is from my late dad's eclectic antique collection. The mechanical elements have been stored in a pouch inside the case to allow safe movement of the clock from place to place. (Image courtesy
of the author)
Among the most unusual clocks are those without an external cabinet and thus show the interior workings of the piece while the parts are running. These timepieces are known as "skeleton clocks" and are usually enclosed in a glass dome. In an auction by Smith Horan and Co. in New Hampshire, a restored skeleton clock by Silas B. Terry sold for $24,000 ("Rare American Skeleton Clock Made no Bones about Being Tops for Schmitt Horan & Co.," www.antiquesandthearts.com/rare-american-skeleton-clock-made-no-bones-about-being-tops-for-schmitt-horan-co).
Peggy Whiteneck is a writer, collector, and dealer living in East Randolph, VT. If you would like to suggest a subject that she can address in her column, email her at  allwritealready2000@gmail.com. ​