"One Hundred Years of Valentines" by Katherine Kreider
Remember sitting at your desk in elementary school on Valentine's Day and anxiously waiting for your crush to slip a small envelope into the box you had carefully crafted with colored paper and red and pink hearts? You just might find that special card that you've kept for all these years within the pages of the book "One Hundred Years of Valentines."
Written by Katherine Kreider, the book is described as a "photographic essay" that takes the reader throughout more than 450 Valentine's Day cards produced from the late 19th century through the late 20th century.
The book stands as a solid resource for all periods and styles adopted by artists and manufacturers throughout the past 100 years – the Depression, dimensional, Art Deco, transportation, artist signed, honey comb paper puff, and novelty, to name a few. The book also includes a glossary of valentine terms as well as a usage guide.
Another feature of the book is the inclusion of a "Second Top 10 Most Asked Questions" list about valentines. Both collectors and dealers alike are sure to find the information contained in the book valuable and useful.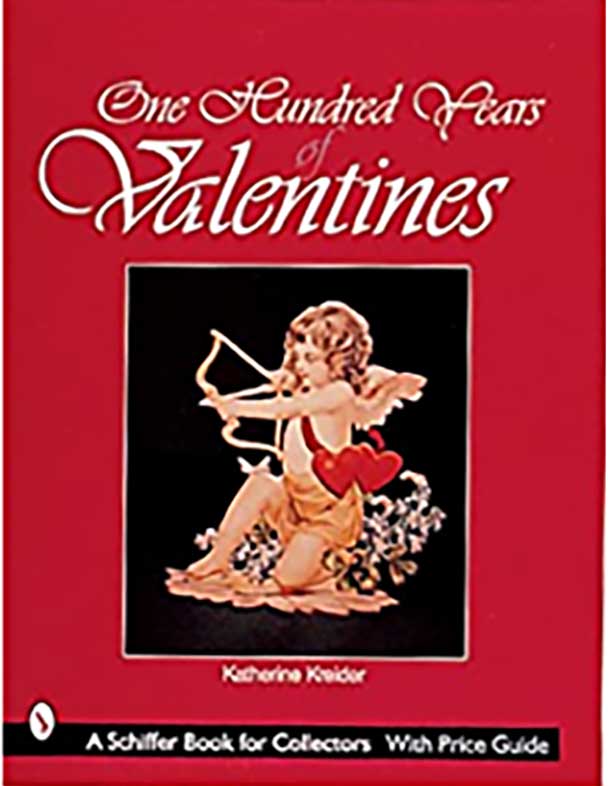 "One Hundred Years of Valentines"
About the author
Katherine Kreider is a recognized authority and visionary in the preservation of "The Valentine." Her first book, "Valentines With Values," was just the beginning of documenting "The Valentine." Kreider's second book, "One Hundred Years of Valentines," continues her quest to put on paper and in photographic essay the many series, artists, and art forms behind the Valentine. She has collected for the last 25 years. When "One Hundred Years of Valentines" was
About the publisher
A family-owned, independent publisher of high-quality nonfiction books since 1974, Schiffer has published thousands of titles on the diverse subjects that fuel our readers' passion. From our traditional subjects of antiques and collectibles, arts and crafts and military history, Schiffer has expanded its catalog to publish books on contemporary art and artists; architecture and design; food and entertaining; the metaphysical, paranormal and folklore; and pop and fringe culture, as well as books for children.
Schiffer Publishing is located in Atglen, PA. Website: www.schifferbooks.com.
Size: 8 ½" x 11", 487 color photographs, price guide and index, 128 pages, glossary of terms, usage guide, ISBN13: 9780764307072, binding: soft cover, price: $24.95