Merchant Square celebrates one year in business
Look out, Kansas City barbeque restaurants – there's a new kid in town, and the food here comes with a side of nostalgia.
Nestled inside the Merchant Square Antiques, Boutiques and Uniques storefront in Independence, MO, the restaurant is expected to open this month, a savory extension of the mall that has gained a loyal following in the year it's been open.
Owner Jace Sanders sits in the restaurant space on one of several antique metal chairs he bought from a Masonic Lodge in St. Louis – after all, he explains, he wants the space to include as many antique and vintage touches as possible.
Though the restaurant's opening is upon him, Sanders exudes not anxiety, but a quiet excitement. This is familiar territory to him. Originally from Arizona, Sanders was hired in 2009 at the first iteration of the Merchant Square brand, a store that opened in 2001 in Chandler AZ, where that store grew from a sprawling area filled to the brim with antiques, vintage items, collectibles, and boutique items, to include a barbeque restaurant – the Great American Smokehouse (the Independence location will be named American Way Smokehouse).
"Over the last 10 years we've worked on (Merchant Square in Arizona) and built it to what it is now – the number one antique store out there. And then we started the Great American Smokehouse," Sanders says, proudly adding that the restaurant is the top-rated eatery on Trip Advisor for both Chandler and its neighboring city of Gilbert. "We had a guy who sold hot dogs out of a space inside the antique mall. He moved out, and right at the time, we had been talking about doing a sandwich and salad restaurant. Right at the time we were opening, I said, 'What about doing barbeque?' All of the best restaurants did Kansas City-style barbeque instead of Texas-style barbeque. We kind of copied that; we set up this barbeque place along with the sandwiches and salads. It was really cool, kind of hip, and great food."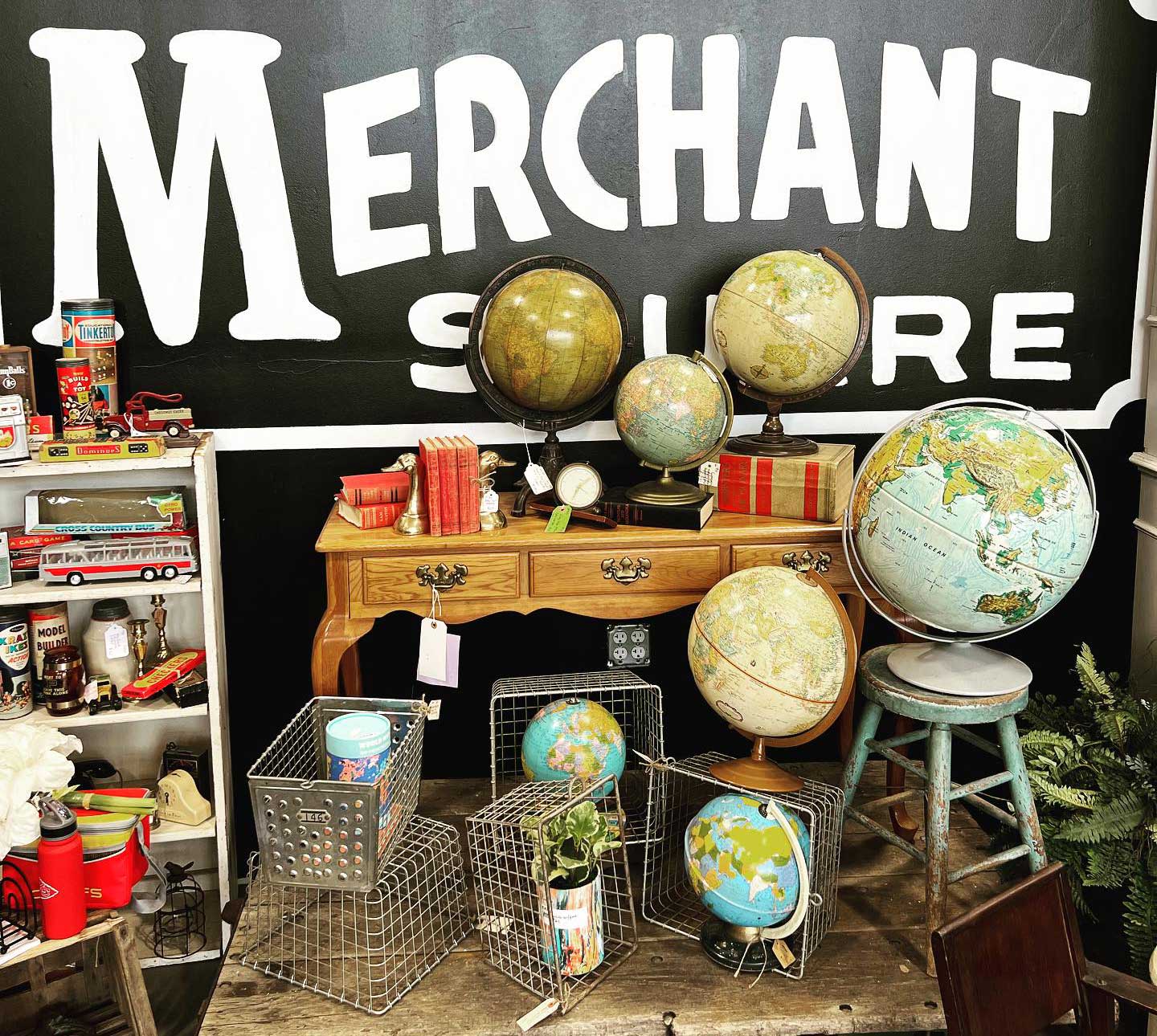 Where in the world is Merchant Square? You'll find vintage globes along with other nostalgic "school days" items at the Independence, MO location. (Image courtesy of Facebook)
Now, with the Independence mall's successful first year in the books, Sanders says he's excited to bring those barbeque favorites to the mall's space – brisket, pulled pork, ribs – alongside sandwiches and salads, including a smoked egg salad sandwich and an Asian salad. The restaurant will even include vegan offerings, such as smoked jackfruit and a Reuben sandwich made of asparagus and sauerkraut.
"With the barbeque place, the store and our Third Thursday Vintage Weekend, it became a shopping experience and a fun day with great food," Sanders says of the Chandler store. "That's our full vision (for Independence)."
The owners of the Chandler store bought the Independence property in July 2022 after Sanders was sent the listing from a local friend. Sanders and his wife packed up their belongings and moved to the Midwest, opening the store that October.
"We love the Midwest. I hadn't really planned on moving here. We've enjoyed it a lot," Sanders says, adding that he's learned much about Kansas City's barbeque culture ("I'll put our barbeque up against anybody's"), the weather here ("It's been interesting getting to know the rhythm of the seasons"), and, of course, the Kansas City Chiefs ("Chiefs football has absolutely blown me away").
Sanders has enjoyed watching the number of merchants within his store grow (the store's merchants, now up to more than 400, includes children and youths who sell clothing tie-dyed by hand and handcrafted stuffed animals; shoppers also will find a number of boutique booths adorned with women's clothing and jewelry). A sales space right off of the main floor is reserved for themed and seasonal sales events and is only open a few days each month – appropriately, the theme for October is "Bewitched."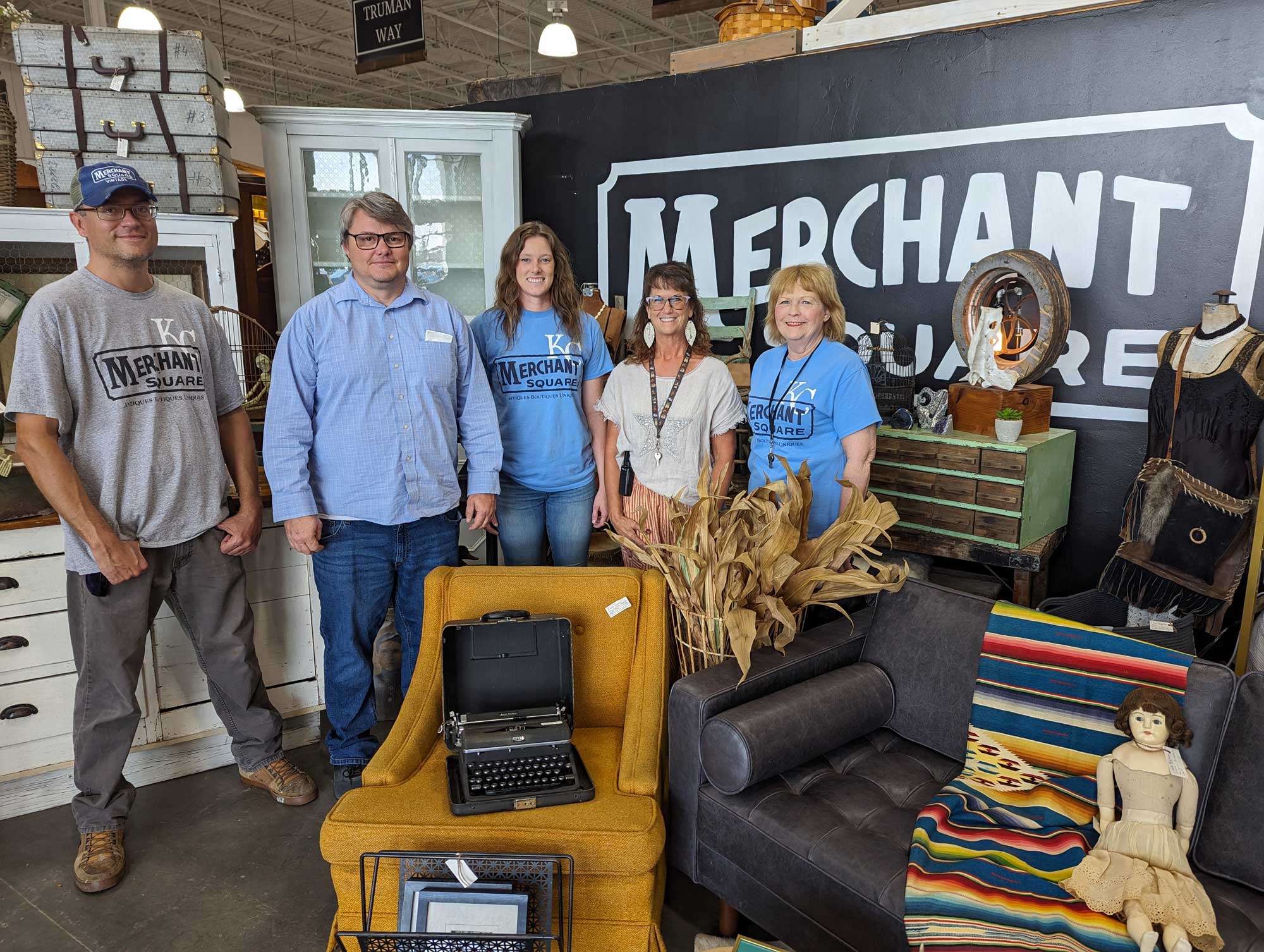 Merchant Square owner Jace Sanders (second from left) and his staff have been welcoming Kasnas City-area shoppers through the mall's doors for the past year. (Image courtesy of Corbin Crable)
The number of loyal customers continues to grow, too. Some of those customers, Sanders adds, have even followed up to Missouri from Arizona.
"What's wild is that we've had a number of customers who frequent our store in Chandler, who go down there in the winter months and then come up here," he says. "We've had a number of customers who knew about us who came in who were from the area. It's always neat to see that."
As for what the future holds, Sanders says he would like to eventually open another store. For now, however, he and his staff are just enjoying growing the Independence location and spreading the word about their business through both advertising and word of mouth.
"We always look for opportunities to improve. We're all about the customer experience," Sanders says. "You don't just shop here. People come here to reminisce and have an experience. They'll buy stuff that they'll make an emotional connection with, and we try to heighten that experience."
For more information, visit merchantsquareantiques.com/kc.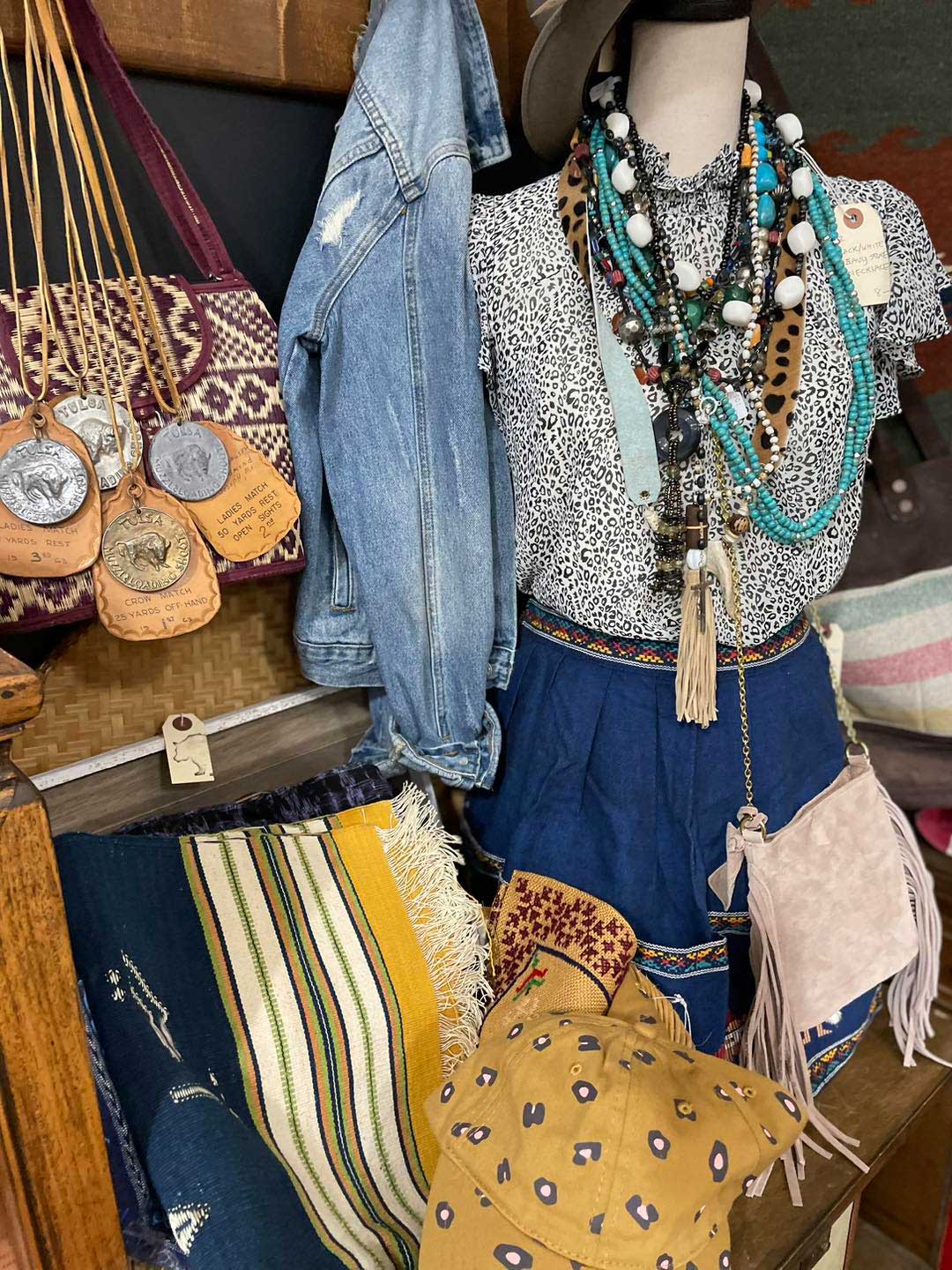 From funky fashions to fabulous funriture, you'll find it all at Merchant Square. (Image courtesy of Facebook)