Zigzag patterns for the win!
​
If you are like me, you find antique quilts very inspiring. Old quilts can really get your creativity flowing. Studying antique quilts is a wonderful way to not only understand history but also learn from early quilt makers. They did not have all the sewing tools and quilting gadgets that we have today, but they created some amazing quilts. And many of the most striking feature zigzags. The most commonly seen use of zigzags is a strippy vertical zigzag setting. Next most popular are horizontal settings followed by framing zigzag borders especially outer borders. The setting usually involves alternating light and dark triangles to create a zigzag look though rectangles, V blocks, and Flying Geese can also be used to make zigzags. Other blocks like Log Cabins can also create zigzags with careful color placement.
Zigzag patterns tend to have strong contrasting colors which along with the movement of the design gives a dynamic appearance to the quilt. Another name for the block or setting is Streak of Lightning, which gives a clue to its electric or graphic presence. No wonder zigzags are a very popular part of the quilting tradition. Quilt historians have noted that zigzags yield dramatic and showy quilts.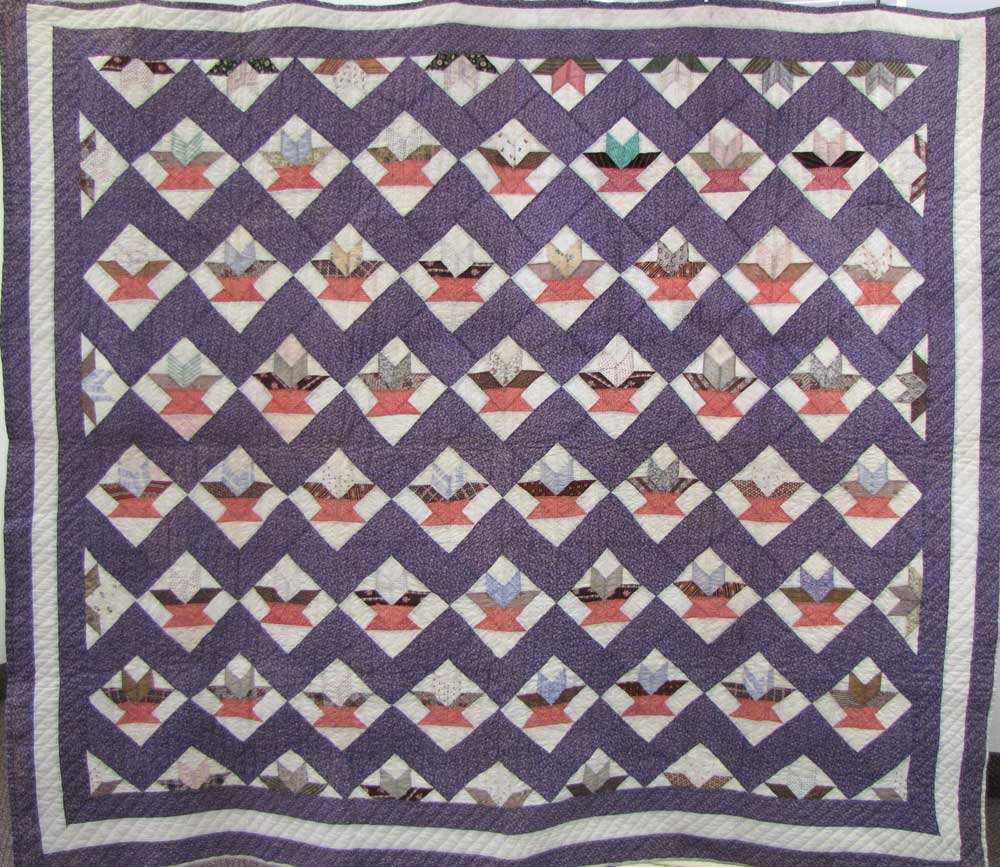 Cactus Basket Zigzag Quilt
Circa 1870 Cactus Basket quilt in horizontal zigzag setting. From the Starley Antique Quilt Collection. (Image courtesy of the author)
Everything is better with zigzags!
The blocks can be used alone for a great effect but are wonderful when paired with other blocks to frame and highlight them. One thing you can learn from early quilters is that even the simplest blocks will look amazing if joined in an alternating arrangement with zigzags. When doing antique trunk shows, I have noticed that the audience always gasps with joy when I pull out a quilt with a zigzag setting. A particular crowd favorite is the pictured quilt, a circa 1870 Cactus Basket quilt with a horizontal zigzag setting. The purple rectangles create a triangular look that sets off the little scrappy baskets. Another reason zigzag settings are so effective is that they place the blocks on point, which adds movement and interest. And pro-tip: blocks go much farther when set on point. And combined with the volume added when they are framed with a medium sized zigzag sashing, and you will see fast progress.
Simply magic
As noted earlier, there are many different ways to create zigzag or chevron quilts or to add zigzag sashing or borders to other blocks. The simplest way is to cut light and dark triangles and piece them together in rows or strips. The trick is to offset them a half step (half the size of the triangle) when joining rows to create the zigzag shape. You will need two rows to see the zigzag. When making the zigzag set you also join the blocks with an offset with partial blocks at the beginning and end of each row. The offset is the secret sauce of the zigzag. There are several online tutorials that will help you in creating zigzag quilts or settings, do a search for zigzag quilt pattern and you'll find plenty of guidance. You will find wonky zigzags and even zigzags that zig and zag across a quilt in modern diagonal patterns. And be sure to also do a search for antique zigzag quilts for a lot of wonderful historical inspiration. Remember to have fun and learn from the past while quilting for the future. My motto is: "you can't go wrong with a zigzag quilt!" Give it a try.
Sandra Starley is nationally certified quilt appraiser, quilt historian, and avid antique quilt collector. She travels throughout the U.S. presenting talks on antique quilt history, fabric dating classes and trunk shows as well as quilting classes. Learn more at utahquiltappraiser.blogspot.com. Send your comments and quilt questions to SandraStarley@outlook.com