The quilting essential is fabric!
Fabric is an essential component
A quilter without fabric is like an artist without paint or a carver without wood. Fabric is an essential component of making a quilt, and most quilters have a large stash on hand. Quilts get a great deal of their personality from the fabrics used in the piecing or applique. Using different colors or styles of fabric can totally change the pattern. Fabric colors and designs change constantly, and styles that are available one season are often gone in the next season, so a healthy reserve is important.
If you are new to quilting, you probably don't know that there are a number of ways to buy fabric. I don't mean buying online or in person (that is another story) but all the different units in which fabric is packaged and sold. To start with the basics: fabric is generally sold in yard units (36 inches by approximately 44 inches). Depending on your needs and the quilt store, you can purchase several yards or buy smaller cuts like half yards (18" x 44") or quarter yards (9" x 44") or even smaller cuts. This was the standard for years, but around the mid-1980s, quilt shops started selling a new cut called the fat quarter that measured 18" x 22". This new wider and squarer cut was a more useable size for many projects than the standard quarter yard strip. It also allowed quilters to add more variety to their quilting projects while saving money with the smaller cut. One could now get a good-sized piece of fabric without buying a half yard or more. And buying more fabric and having more options is always a good thing. Retailers figured out that quilters loved the convenience of grabbing a pretty piece of already-cut fabric. They began cutting up fat quarters and creatively displaying them for impulse purchases. Coordinating fabrics were grouped or bundled together for more quick buying. No need to wait in line to have fabric cut; you could just grab a few and be on your way. This became a great way to sell fabric, especially at quilt shows or at fabric shops in tourist towns where people might stop in for just a few minutes.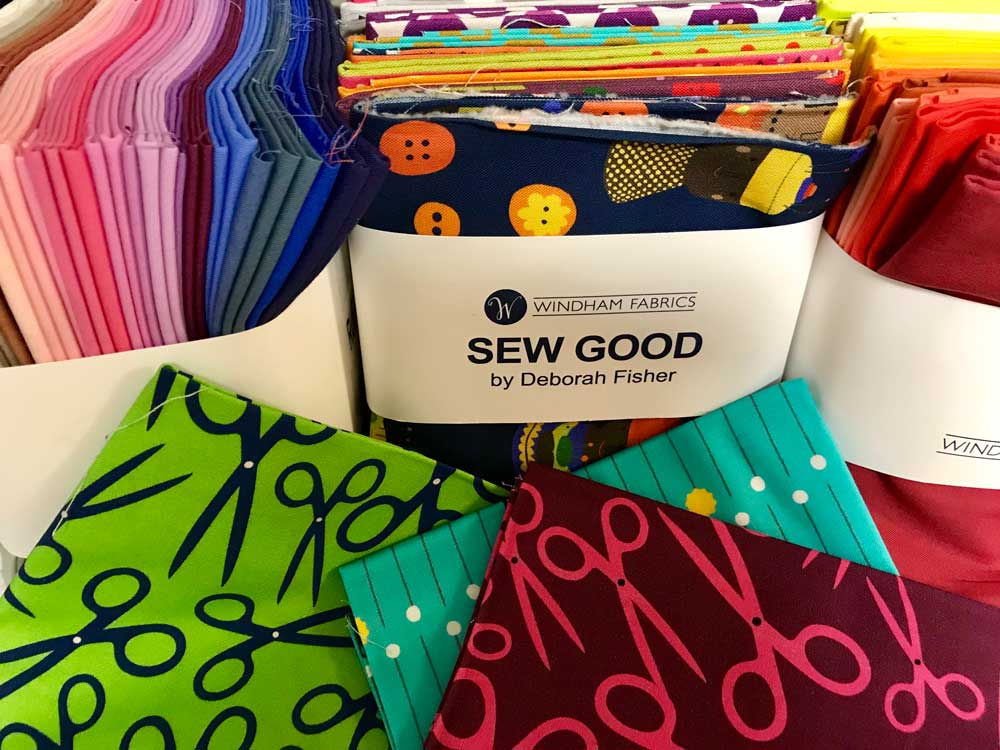 Fat quarters of the new fabric line Sew Good by Deborah Fisher with Ruby & Bee solids, courtesy of Windham Fabrics. (Image courtesy of Sandra Starley)
 Since the 1990s, the number of cuts, now known as "pre-cuts," have expanded greatly from the humble fat quarters into a mind-boggling array of tempting choices. From hometown shops bundling a few fat quarters, the pre-cut niche of the fabric market has become a serious money maker.
Fabric companies realized moving beyond the bolt was a wonderful way to create new interest. Most manufacturers offer fat quarter collections, and fat eight cuts to market new fabric lines. They also cut and package lines in 10-inch square groupings and cute little 5-inch stacks. These are an ideal way to buy a sampling of new fabrics without paying for yards of fabric at a time. They are also perfect for quilters who like to make small quilts or scrappy quilts.
Pre-cuts have changed the quilting industry and the way many people sew and collect fabric. Now quilting books and tutorials are written specifically to help quilters use all these different pre-cuts. Patterns often include a note that they are fat-quarter friendly or work with layer cakes (10-inch squares) or charm packs (5-inch squares). There are now many quilters who have lovely collections of fat quarter bundles that decorate their sewing rooms. After all, stamp collectors don't use their treasures to mail letters.
Sandra Starley is nationally certified quilt appraiser, quilt historian, and avid antique quilt collector. She travels throughout the U.S. presenting talks on antique quilt history, fabric dating classes and trunk shows as well as quilting classes. Learn more at utahquiltappraiser.blogspot.com. Send your comments and quilt questions to SandraStarley@outlook.com