Share your quilts – Enter a quilt show today
​
Since we are working on getting out of our comfort zones and trying something new this year, I thought I'd inspire you to share your quilts with the world. This is a gentle nudge especially for those quilters who have never put a quilt in a quilt show or a local county fair. It is also a push for those who have only showed quilts in small local shows to branch out and try a larger venue like a regional or national show. And if you have shared your quilts in the past but have not done so for several years, this is a prompt to get busy and get your work out there again.
Show off your talent
If you are new to shows, please do not be afraid to join in the fun. Many small shows are very easy to enter by simply bringing in your quilt and giving them your name and a bit of information about your quilt. While some bigger quilt shows can be very competitive and turn away many entries, local and regional shows are often eager for more quilts to fill their racks. Remember, it is pretty hard to hold a quilt show without quilts. If you like seeing beautiful quilts, you should share your work, too. You never know when you will inspire someone else or make someone smile with your quilting. And seeing your quilts hanging may give you a boost as well. It is empowering to experience your work shown as art.
Try out a bigger show or a virtual show
If you have only shown locally, why not try to enter your quilts into a larger show? You may need to practice some new skills, like photography or online entry programs, but that is always good exercise for your brain. There are many shows now that allow you to enter online via photos and then you send or bring in your quilt if it is accepted. Other shows are completely virtual or online and you enter by sending in a photo or posting an image at the show website. Do a search for quilt shows, quilt competitions, and quilt challenges and you will be amazed at all the possibilities.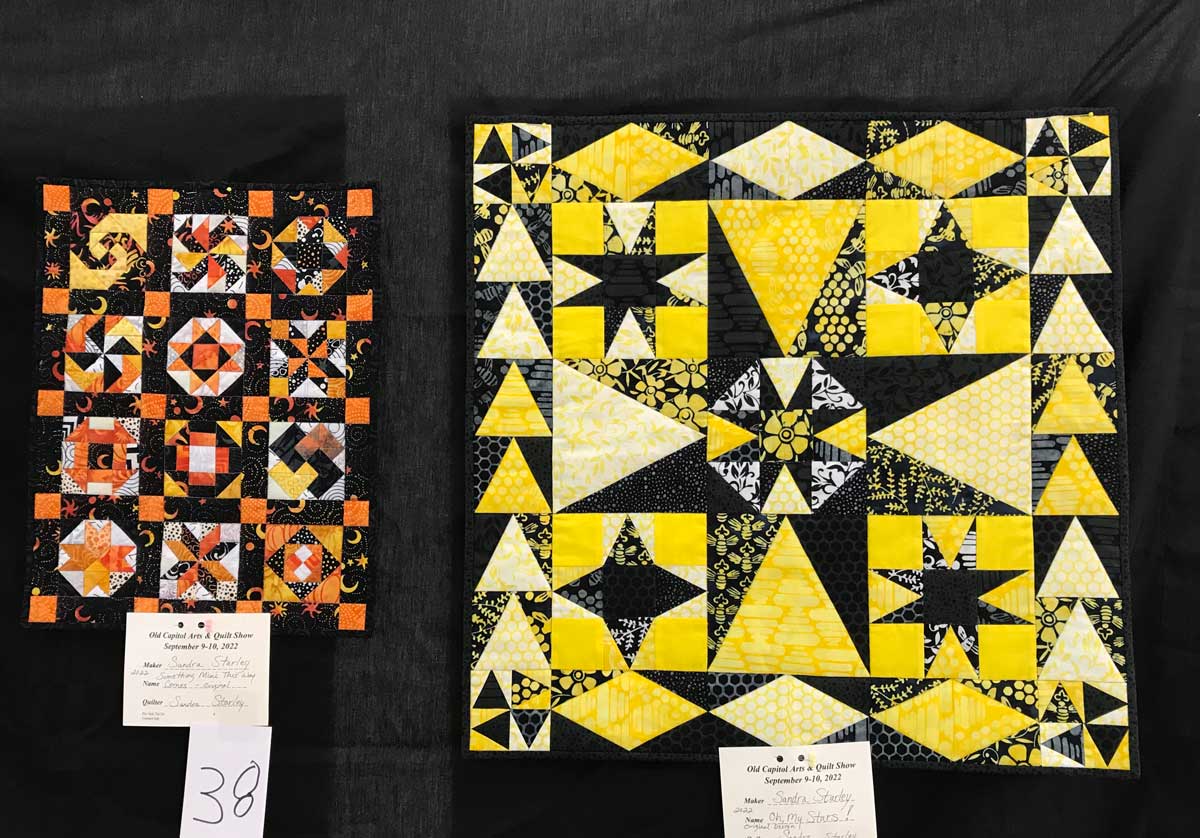 Two of my newly made quilts
Something Mini This Way Comes (L), Oh My Stars! (R). These are two of my newly made quilts hanging in a local Utah show, September 2022. Quilts were designed and made by Sandra Starley from Island Batik fabrics. (Photo provided by the author)
Read (and follow) the rules
One of the most important steps to successfully entering quilt shows, challenges, or other competitions is to read and follow the show rules. There may be guidelines on quilt size such as a minimum or maximum size allowed, or certain sizes placed in specific categories. Just pay attention to those details and make sure you enter the right quilt category. Do not be afraid to reach out to the show officials to ask questions. Another common issue is the age of the quilt aka when it was made. Many shows will only exhibit quilts made recently or within the last two or three years.
Tell Your Story
Remember to label your quilt with the important details and information on the making of your quilt. Your name and the name of the quilt and the date of the quilt's completion are a good start. Give credit where credit is due and note if you used a commercial pattern and share the pattern name. If someone else quilted it, definitely add them to the label and your quilt entry form. Add some details about what inspired you to make the quilt as people like to read a story and learn about your process. Quilt shows are an important part of quilting and keeping the art of quilting alive. Join in the fun and share your quilts!
Sandra Starley is nationally certified quilt appraiser, quilt historian, and avid antique quilt collector. She travels throughout the U.S. presenting talks on antique quilt history, fabric dating classes and trunk shows as well as quilting classes. Learn more at utahquiltappraiser.blogspot.com. Send your comments and quilt questions to SandraStarley@outlook.com