Rolling Stone Revisited
​
Rolling Stone is a classic early quilt pattern that has been gaining popularity for more than 170 years. The block can be constructed in two separate ways: as an even or uneven nine patch. Both versions are easily pieced for striking results in a variety of sizes. In the even nine-patch pattern, the block is comprised of a center square, four squares in square blocks and four rectangle pairs. Each of the nine sections are the same size. The alternative construction method involves an uneven nine-patch grid with four large square in a square blocks and four pairs of smaller squares with a single smaller square in the center. The uneven piecing creates a center octagon "stop sign" pattern, while the even piecing creates a central ring. The corners on the square in squares can be pieced with triangles, diagonal seams or paper pieced.
Depending on color placement and the piecing used, the resulting pattern can have more than 20 different names. The common names for the even nine-patch construction include the standard "Rolling Stone" (Ladies Art Company, 1895), "Letter O" (Dakota Farmer,1921),  "Wedding Ring" (Dakota Farmer, 1927), "Johnnie-Round-The-Corner" (Hall, 1935), and my personal favorite, the delightful and whimsical "Squirrel In A Cage" (Kansas City Star, 1935).  Some of the names for the uneven construction blocks are "Rolling Square," "Garden of Eden," and "Mrs. Anderson's Quilt," all from Mrs. Danner's quilt pattern catalog, 1958.
The large, plain center square in the even grid block is perfect for names or signatures and has long been particularly popular for friendship quilts. Signature quilts using this block were very fashionable among the Pennsylvania Germans of Southeastern Pennsylvania from 1850 to 1900. The names of family and friends were inked, embroidered, stamped, or handwritten in the block centers. An exceptional group were signed in a fancy Germanic script called Fraktur and done by paid professional signers known as scriveners. I have an interesting example from Montgomery County, PA, that may have been a Christmas present as the center block includes the date of December 25, 1854, and likely the recipient's name. I also have an 1880s Rolling Stone signature quilt from Lebanon County, PA, that is unusual. It has a colored center, is set on point, and has an alternating star block. It is the only one I have seen so far with that combination. To learn more about these fascinating Rolling Stone signature quilts, please see the definitive paper to date: Lucinda Cawley, "Ihr Teppich:  Quilts and Fraktur," Uncoverings 2004, Vol. 25, American Quilt Study Group.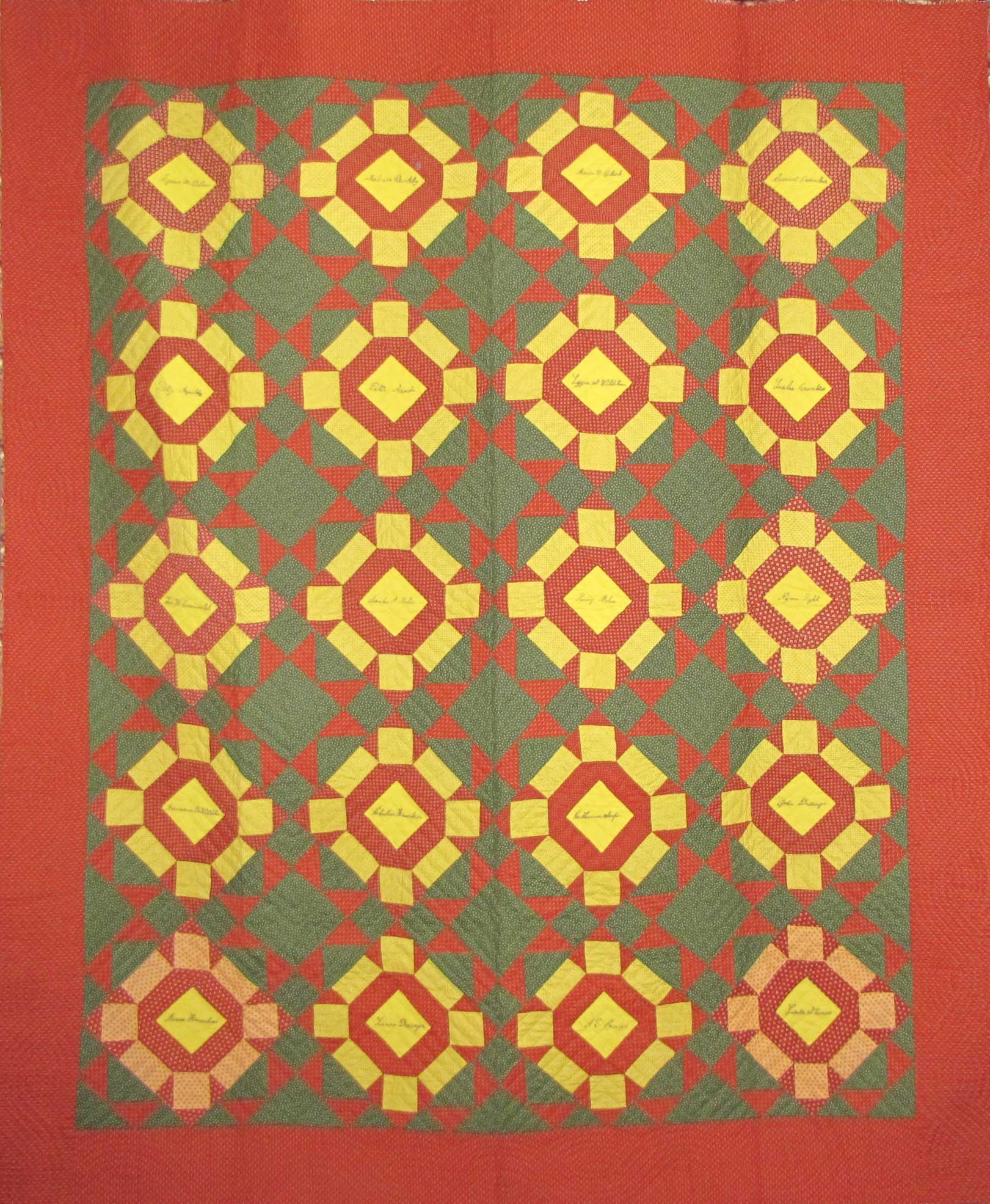 A Rolling Stone
A Rolling Stone Signature Quilt from Pennsylvania, c. 1880. From the Starley Quilt Collection. (Image courtesy of the author)
The Rolling Stone block has been published regularly since 1895 and an Internet search will yield many online tutorials for making the block. It is a current favorite of the Modern Quilt Movement and was recently featured in a "Modern Bee" quilting group that was focused on reworking time-honored blocks.I hope you will consider carrying on the Rolling Stone signature quilt tradition. The block makes an excellent group project to welcome a new baby or send off a friend who is moving with a treasured keepsake. Use light fabric in the centers, and do not forget to sign and date the blocks. Or if you just need a break from a serious project, why not grab some novelty fabrics? Find an online tutorial and ROCK and ROLL! And tune in next month to see how I took my own challenge and made a new Rolling Stone quilt to add to my collection.
Sandra Starley is nationally certified quilt appraiser, quilt historian, and avid antique quilt collector. She travels throughout the U.S. presenting talks on antique quilt history, fabric dating classes and trunk shows as well as quilting classes. Learn more at utahquiltappraiser.blogspot.com. Send your comments and quilt questions to SandraStarley@outlook.com