Quilting makes the quilt: Quilting by hand, machine, or check?
​
Once you have your quilt top completed, there are many ways to finish it. You can hand quilt or machine quilt or some combination of the two. I like to outline quilt or "stitch in the ditch" by machine to stabilize and secure my quilt top. Then I hand quilt in open spaces where it will show and shine. This saves time and lessens the wear on your hands. Or you can quilt by check. Yes, the third option is paying someone else to quilt for you.
While this seems like a new concept, quilting for hire is nothing new. It goes back centuries, though at that time, commercial quilters quilted by hand, not machine. Now, most quilters-for-hire use machines, specifically longarm quilting machines. But there are still hand-quilters who will quilt for others. The most well-known groups are Amish, and there are brokers who arrange this service.
There are also individuals who offer their hand-quilting services. You may find hand-quilters at your local church or senior center. Note, younger quilters are also getting into hand-quilting.
Your quilt top is done, now what?
There are stitchers who just like to piece or applique and have stacks of tops waiting to be quilted and finished. Some feel these individuals are not true quilters and maybe we should call them toppers. Are you a quilter if you do not quilt? Yes, we even consider people who are collecting fabric and patterns to be quilters. Terminology point – quilting refers both to the general hobby, business, lifestyle, and obsession of sewing fabrics together as well as stitching two layers of fabric and batting together.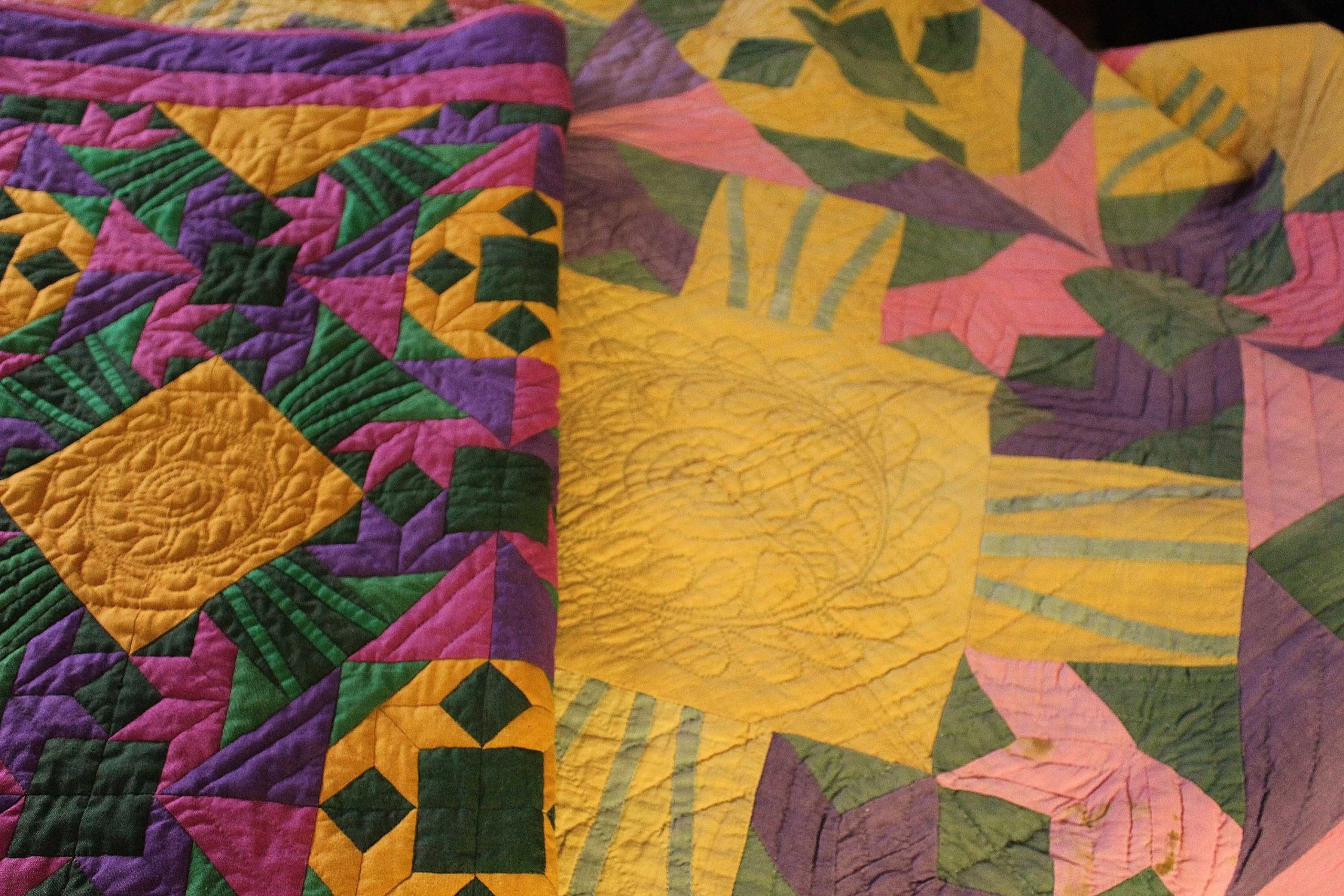 Hidden Lillies hand and machine quilted
Hidden Lillies, Sandra Starley 2018 (left), hand and machine quilted. At right, Antique Amish Carolina Lily, Starley Collection, hand-quilted. (Image courtesy of the author)
Experiment
Quilting by hand can be very Zen and can be done in many styles from tiny little stitches to "big stitch." Big stitch is faster and more forgiving and a wonderful way to dip your toe in hand-quilting. Grab a needle and thread and give it a try.
Machine quilting can be done in myriad ways on all machines from antique treadles to fancy computerized machines that cost as much as a car. A good way to learn about machine-quilting is to attend a quilting show where you can test drive several machines. And many quilting shops offer training. After the class, you can rent the machine and quilt your quilt. You can also machine quilt on your home or domestic sewing machine.
Sew many decisions
One must choose a fiber and weight of batting (middle layer) and fabric for backing (third layer) to create a quilt sandwich. Batting could be a separate discussion and so could thread. There are various fibers: cotton, silk, polyester, blends, or invisible monofilament. Thickness or weight of thread is another decision. Thin thread blends in while heavier thread makes more of an impact. And you need to pick a color or several or find one that is variegated (number of colors in one thread).
And then you need to pick a quilting pattern or design. Outlining the piecing or applique or an overall design aka edge to edge? Or a custom design for each block or square? You can mark every stitch or try free motion (ad lib/improvisation style).
Quilting design decisions fill books. After looking at all these options, it is not surprising that a lot of tops are never finished or that many people send quilts to the machine quilter to figure things out.
Happy quilting or at least topping!
Sandra Starley is nationally certified quilt appraiser, quilt historian, and avid antique quilt collector. She travels throughout the U.S. presenting talks on antique quilt history, fabric dating classes and trunk shows as well as quilting classes. Learn more at utahquiltappraiser.blogspot.com. Send your comments and quilt questions to SandraStarley@outlook.com