Puff Quilts are back – Part Two
​
Those puffy, pillowy quilts from the 1970s are back and better than ever. Puff, pillow, biscuit, or bubble quilts are generally extra puffy or dimensional. There are myriad methods of making them. The big news is, they really can be fun and easy. I just made my first one along with my fellow Island Batik Fabric Brand Ambassadors.
The Puff Quilt Challenge
Each month we receive a creative quilting assignment, and for February 2023, we were to create a Puff quilt using a new fabric collection. Interestingly, out of 25 seasoned quilters, only three of the group had any experience making puff quilts, and for one quilter, that was 20 years ago. Many of us were a bit nervous of cutting and sewing a boatload of little puffy pillows, but we all created amazing puff quilts. While most of the group followed two standard methods, several quilters spurred by the challenge tweaked the standard or came up with their own methods. To see all 25 quilts, visit islandbatik.com/end-of-all-puffed-up-blog-hop
No Individual Pillows but Still Stuffed
Preeti Harris and I are both a bit rebellious and didn't want to make lots of pillows, and didn't like pleats or super puffiness. Preeti experimented and created her own no- pillow method. She sewed her top and then tacked batting to the back of every square. She added backing, machine quilted (stitched in the ditch), and bound her quilt. I found a no-pillow method in Sunset's Quilting Patchwork & Applique (1981), which I improved by reducing the batting by 2/3rds by folding strips. I sewed a regular top and added a backing fabric without batting. The key is to stitch in the seam between your middle horizontal rows (if you have 12 rows, stitch between row six and seven) and then in all the vertical rows. This creates channels for stuffing, but that first seam means only reaching down half of the quilt. Stuff the row next to the center seam and stitch the row closed. Stuff the next row; repeat until all rows are done. Add a standard binding, turn the back to front, or add a facing. Suzy Webster cut and pieced a strippy top, added a back, and sewed in the seams to create tubes. She stuffed them with the aid of a dowel and sewed the edges closed.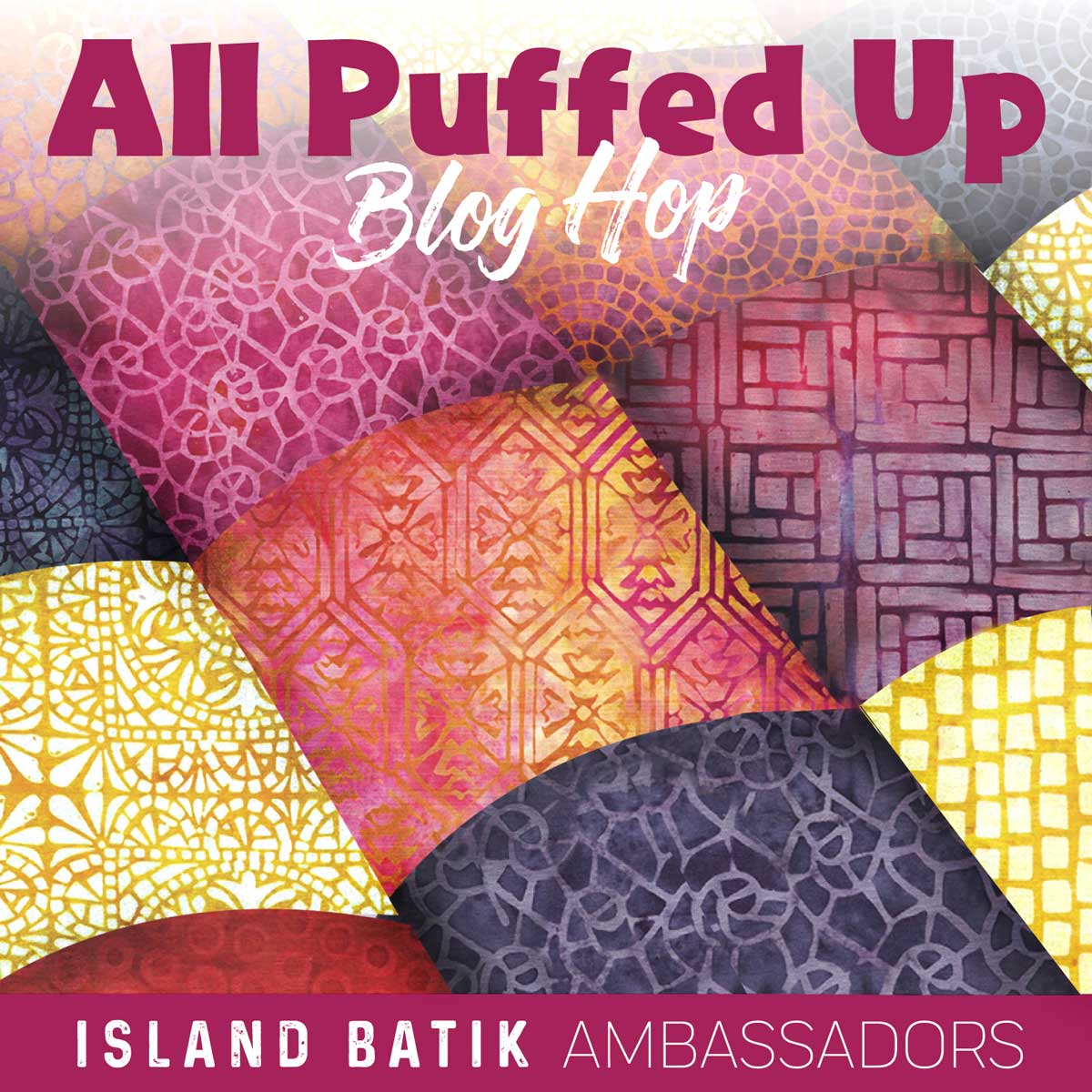 All Puffed Up
See 25 pillowy puff quilts from Sandra's group on its blog at islandbatik.com/end-of-all-puffed-up-blog-hop. (Image courtesy of The All Puffed Up blog)
Individual Pillows, Sewn in Rows, Stuffed, Backed, and Tied
Most of our group used the more traditional method. It can be found at Lo and Behold Stitchery and other tutorials. Make pillow units by cutting squares of the top fabrics and smaller squares of the backing. Sew the top square to the backing on three sides, creating tucks on the top. Leave the fourth side open for stuffing. Unstuffed pillows are sewn in rows. The first row is stuffed with batting and sewn closed.
Another unstuffed row is sewn to the first, stuffed, and closed. Repeat until all rows are joined and stuffed. Add a backing and depending on climate, more batting. Many people hand tied at each intersection to secure the backing. Several of our group folded the backing to the front to create a self-binding to finish their quilts. This method creates a more poofy, traditional looking puff quilt and the group enjoyed making these
I hope you are inspired to try making a puff quilt. They are perfect for cuddling, and kids and pets love them.
Happy quilting!
Sandra Starley is nationally certified quilt appraiser, quilt historian, and avid antique quilt collector. She travels throughout the U.S. presenting talks on antique quilt history, fabric dating classes and trunk shows as well as quilting classes. Learn more at utahquiltappraiser.blogspot.com. Send your comments and quilt questions to SandraStarley@outlook.com