Make your ancestors proud – Help keep quilt history alive!
​
Preserving quilt history is easy to do and so important.
The first step: share your quilt story with friends and family. Tell friends about your quilt history journey. Share your vintage and antique quilt finds with people. Post or write about new quilt history books or even old ones (you never know which ones people may have missed). An added benefit is that you may find a few resources that you have not seee first step:n before or ones you have forgotten. Also, this is a good reminder to revisit old buddies on your bookshelf. You will be surprised about what treasures you will find on a second look through with more experienced eyes. Starting discussions about quilt history topics on social media is a great way to share your love of antique and current quilt making. You will likely make new quilty friends and learn along the way. And again, I would strongly recommend joining the American Quilt Study Group, the nation's premiere quilt study organization www.americanquiltstudygroup.org
Second step: Do not forget that tomorrow's quilt history is being made today. Now is the time to document and label your own quilts (ones you have made). It is also important to document any quilts that you collect too. A label should have basic information like the year the quilt was made (or years), the name of maker and the name of recipient if the quilt was given away or donated. Also include the title or name of the quilt and why it was made (a special occasion, fabric challenge, experiment?). It is also good to note the pattern or design information (was it an original design, a commercial pattern, or a combination of both). For an antique quilt – document as much of that previous list as you can based on known information or educated inferences. Then take some photographs of your quilts, at least a full photo and a few close-ups. Finally, create a paper trail: write up a brief synopsis of the label information along with photographs to properly record your quilting history and collection. It is a good idea to keep these records in a separate location from your quilts.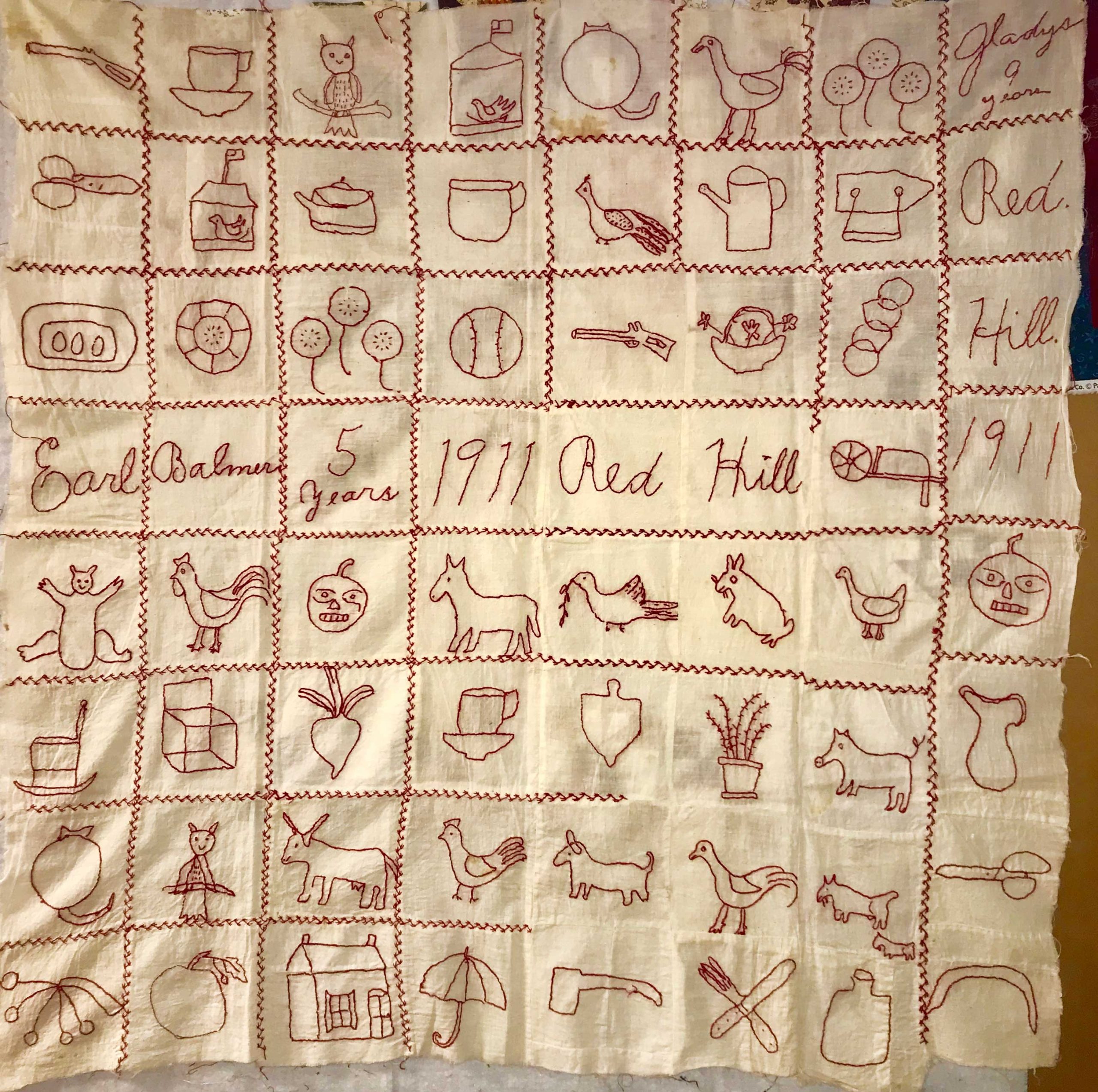 Quilt Top made in Red Hill, PA
A quilt top made in Red Hill, PA, in 1911 by Gladys (9) and Earl (5) Balmer, from the Starley Quilt Collection. Documented with the Quilt Alliance. (Image courtesy of the author)
Third step: share your quilt making story with the public through the wonderful resources of the Quilt Alliance; see them and join them at www.quiltalliance.org. The Quilt Alliance offers several easy ways to document your quilt story. First is the quick and easy "Go Tell It!" project that involves a simple formula for sharing and saving quilt history. "One quilt, one person, one camera + three minutes = another quilt story saved." Just follow that recipe (see more details on their website) and record the story of your favorite quilt for future generations. They also have the Quilters Save Our Stories (QSOS) that is a longer format interview option. Further your preservation efforts by having a few of your quilts put on the national quilt history database of the Quilt Index www.quiltindex.org. The Quilt Index is a public archive, and anyone can submit quilts to the site. They have recorded more than 87,000 quilts and they have incredible research resources for you to explore.
Fourth step: Speaking of exploring, check your parents' attic or grandma's cedar chest and see if there are any family quilts that need to be preserved and documented. Ask family members if there are any old quilts hidden away. You never know what quilt treasures may be discovered from your own family. Start searching and learning now; a perfect way to start the new year.
Sandra Starley is nationally certified quilt appraiser, quilt historian, and avid antique quilt collector. She travels throughout the U.S. presenting talks on antique quilt history, fabric dating classes and trunk shows as well as quilting classes. Learn more at utahquiltappraiser.blogspot.com. Send your comments and quilt questions to SandraStarley@outlook.com