Have a puffy new year! Puff or pillow quilts – Part One
​
Everything old is new again. I blame A$AP Rocky (Mr. Rihanna) for the revival of the puff quilt. He wore a reworked vintage puff quilt on the red carpet at the Met Gala in September 2021 (recrafting done by Zak Foster). He combined two of the heydays of puff quilt, the 1970s/'80s and today into one garment. But seriously, puff quilts are super popular now and have a long though intermittent history as well.
What is a puff quilt?
A puff or biscuit or pillow quilt is generally composed of many individual little pleated and stuffed quilt squares that are joined to create a quilt. A lot of stuffing or batting is involved, and puffiness is a key to the design. These quilts are usually extra puffy and 3-D compared to regular quilts and tend to be an intense and tedious endeavor with lots of cutting and wrangling the super stuffed pieces. I have found an easier method. Much more on that in Part Two.
History
It is believed that the earliest version of the puff quilt was part of the fancy show quilt fad in the late 1880s and '90s (the era of the silk and satin crazy quilts). The stuffed quilts of that era, like their crazy quilt companions, were made of fancy silks, satins, and velvets and used to decorate pianos and table tops and pillows. They were made for ornamentation rather than to be used on beds. Quilt historian Barbara Brackman found that the oldest dated version of the Victorian era Biscuit quilts was a "Raised Patchwork" quilt, dated 1882. Also, during this time period there were gathered circle quilts called Suffolk Puffs made in England and Australia. Suffolk Puffs were sometimes filled with wool and so were similar to American puff quilts. Without the stuffing, they would be like the American yo-yo (gathered circle) quilt, which was popular in the 1920s-'40s. Yo-yos and Suffolk Puff Quilts had a revival again in the 1970s and '80s along with another dimensional quilt style called Cathedral Windows.
True puff quilts were not seen much again until the 1960s and the quilting revival of the 1970s and into the 1980s. During this time, they were often packed with the newly available polyester stuffing, which was perfect for adding extra poof or volume. In that era, they were also filled with stockings/nylons as recycling and reusing was quite fashionable. Quilting fabrics weren't easy to find then, and puff quilts were made with cotton, cotton/polyester blends, and even polyester double-knit fabrics. Many of these quilts were extremely heavy. Ruffles along the edges were popular, too.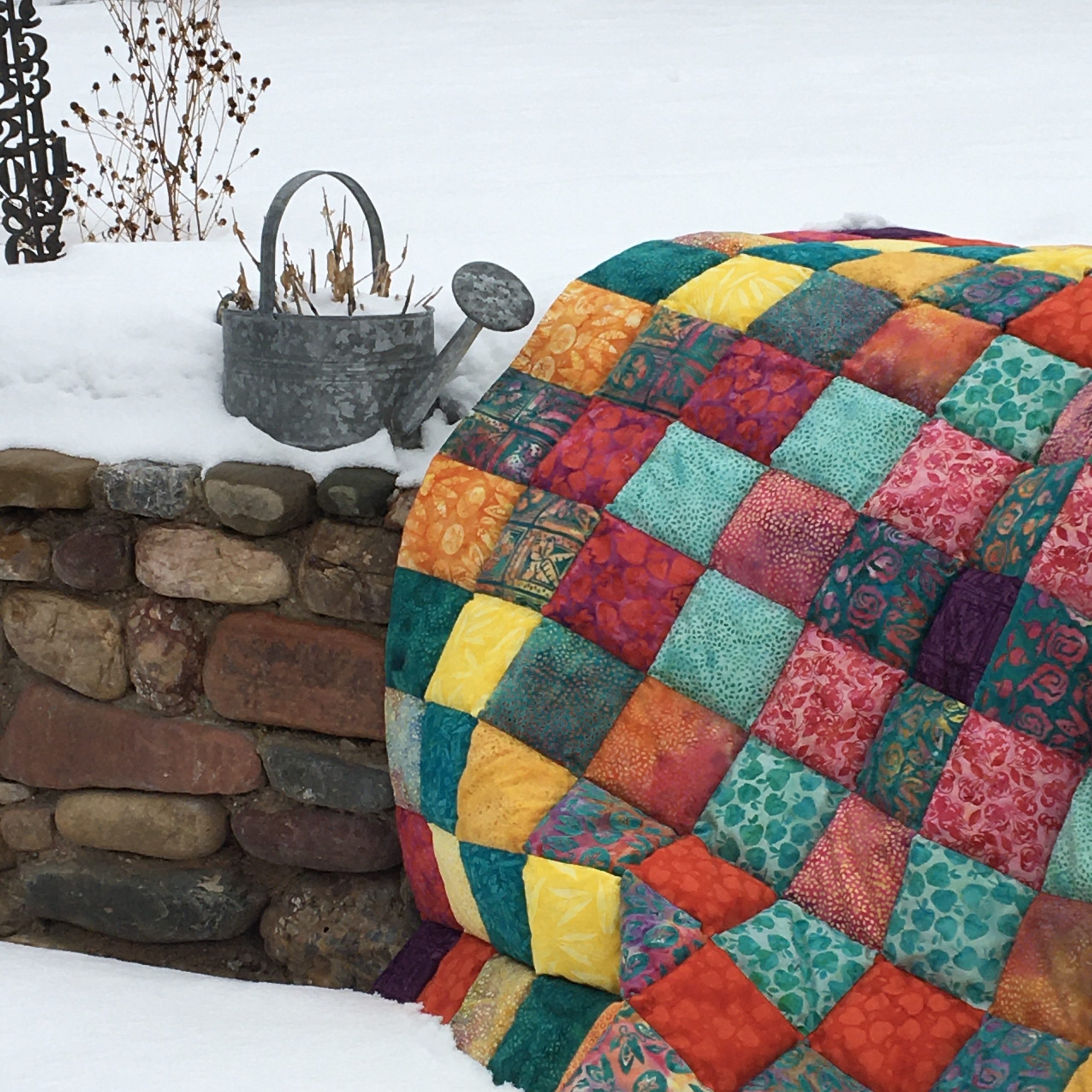 Pillow Quilt
Rainbow Garden Trip Around the World Quilt, 2023, Sandra Starley, fabrics provided by Island Batik. (Image courtesy of the author)
Current fashions
There has been a resurgence in puff quilts in the 2010s and especially in the 2020s. A fondness for retro or boho chic and vintage style has put puff or pillow quilts back in style. They are now made in quilters cotton fabric and even in specialty textured fabrics like Minky and Cuddledown. Tutorials abound on YouTube and blogs for making puff quilts in a variety of different techniques. One can spend hours viewing and contemplating which is the best way to make a puff quilt (just do a quick search and you'll see endless options). This month I've been working with a group making puff quilts and I will share some of the wisdom I have gathered along my journey of puff quilting with you. I think I have discovered a great method and cannot wait to share it with you in my next column.
Happy puffy quilting.
Sandra Starley is nationally certified quilt appraiser, quilt historian, and avid antique quilt collector. She travels throughout the U.S. presenting talks on antique quilt history, fabric dating classes and trunk shows as well as quilting classes. Learn more at utahquiltappraiser.blogspot.com. Send your comments and quilt questions to SandraStarley@outlook.com