Got the blues? Need a challenge?
The American Quilt Study Group Quilt Study can help!
Learning quilt history
​If you love antique quilts and learning quilt history, making a quilt for the American Quilt Study Group challenge would be perfect for you. Perhaps last month's article about the AQSG 2021 Seminar caught your interest? Want to get involved in this great association focused on gathering and protecting quilt history? What better way to help preserve quilt history than by participating in this worthy project and recreating a piece of the past?
The 2023 Quilt Study has just been announced: "Nineteenth-Century Blues." Details will be posted on americanquiltstudygroup.org Your inspiration quilt will be from the 1800s (1800 to 1899) and feature one or more of the wonderful blues from that century. Start looking for the perfect predominantly blue quilt to remake. You have until the summer of 2023 to create a small quilt based on the inspirational antique blue quilt. The size limit is 42 inches wide by 42 inches high (maximum), but it can be smaller.
First, find an inspiration quilt that fits the Quilt Study guidelines. If it is owned by you, then you can get started. If the quilt is part of a museum, historical society, or private collection, you will need to get permission to reproduce the quilt. The next step is to learn about the quilt. Who made it? Where and when it was made? What techniques were used? The Quilt Study motto could be, 'Collecting quilt history one quilt at a time.' You discover a quilt's story while recreating it in small scale. It could be a bite-sized research project and an ideal way to get your feet wet in the study of antique quilts. Combining quilting and learning about your inspiration quilt works your sewing and research skills.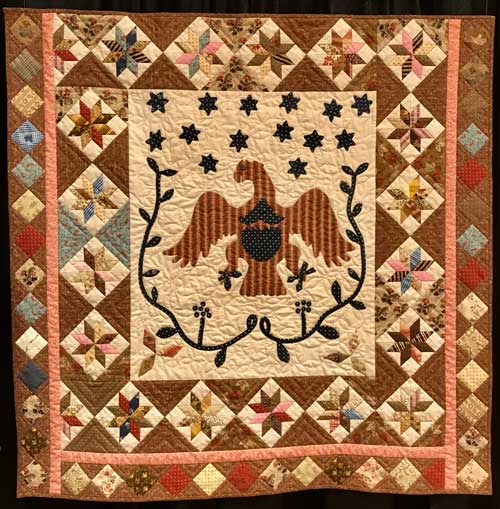 Eagle Quilt by Sandra Starley, 38" x 40". 2021 AQSG Medallion Quilt Study based on 1840 Eagle Quilt in her collection. Part of the AQSG traveling exhibit. (photo courtesy of the author)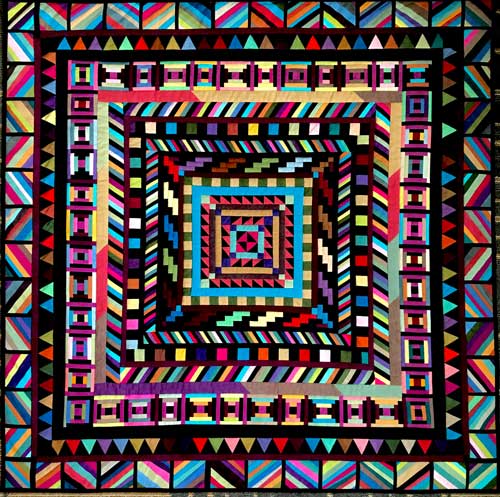 Around the Block Sampler by Donna Starley, 40" x40". 2021 AQSG Medallion Quilt Study based on 1890 silk sampler in her collection. Part of the AQSG traveling exhibit. (photo courtesy of the author)
Any technique or method can be used. You can work traditionally and follow the original maker's work closely, or you can make a modern version. You can sew and quilt all by hand or all by machine or combine a variety of techniques. Decide whether to recreate the blocks in half size or make fewer full-sized blocks to fit the size limit.
This is a great opportunity to experiment and challenge yourself to learn new quilting practices. You'll feel a kinship with the original maker as you follow her stitches and study her process. It is fun to think about the tools and options she had available and what she would think about our modern shortcuts and time-saving methods. You also will write a statement about your investigation into the creation of the original quilt and your journey into remaking it. These statements and quilt photos are compiled and published into a Quilt Study book. You can play a vital part in producing and documenting a piece of history. You need to sign up to reserve a spot in the study and be a member of AQSG.
The 2021 Medallion Quilt Study debuted in August at the AQSG Annual Seminar. Fifty amazing quilts were displayed at Seminar and were a special highlight of the event; 25 were chosen to travel and will be touring the United States for the next two years.
They are being photographed now and will be published in a Medallion Quilt book sold on Amazon. Be sure to pick one up to support AQSG.
I hope you'll join the American Quilt Study Group and consider the Quilt Study Challenge. You can also support AQSG by hosting the traveling exhibit at your local museum or quilt show. These exhibits have been extremely popular with the public. The 2021 Medallion Quilts will start traveling soon. Spots are available in the exhibit schedule for your event.
Sandra Starley is nationally certified quilt appraiser, quilt historian, and avid antique quilt collector. She travels throughout the U.S. presenting talks on antique quilt history, fabric dating classes and trunk shows as well as quilting classes. Learn more at utahquiltappraiser.blogspot.com. Send your comments and quilt questions to SandraStarley@outlook.com