Go Small or Go Home – Let's Make a Mini Quilt
​
Mini quilts
In our continuing journey of exploration and challenges, what could be better than making a little treasure? Why not try your hand at creating a true miniature quilt? Mini quilts are the perfect choice for experimenting and playing in your sewing room. I know many of you have shied away from mini quilts for fear of little pieces, but they are really fun. Read on for the myriad benefits of little quilts.
What Is a Miniature Quilt?
A true miniature quilt should be done in a small scale with small pieces rather than making just one large, pieced block. In addition, for most quilt shows or competitions, the rules are that the finished quilt must measure 24 inches or smaller. Another important consideration is the scale or proportion of the fabrics. Solid fabrics work well in miniatures. Miniature quilts are an effective way to highlight little novelty prints and fussy cut motifs. But do not forget large-scale prints, which can be creatively cut to look like several different fabrics.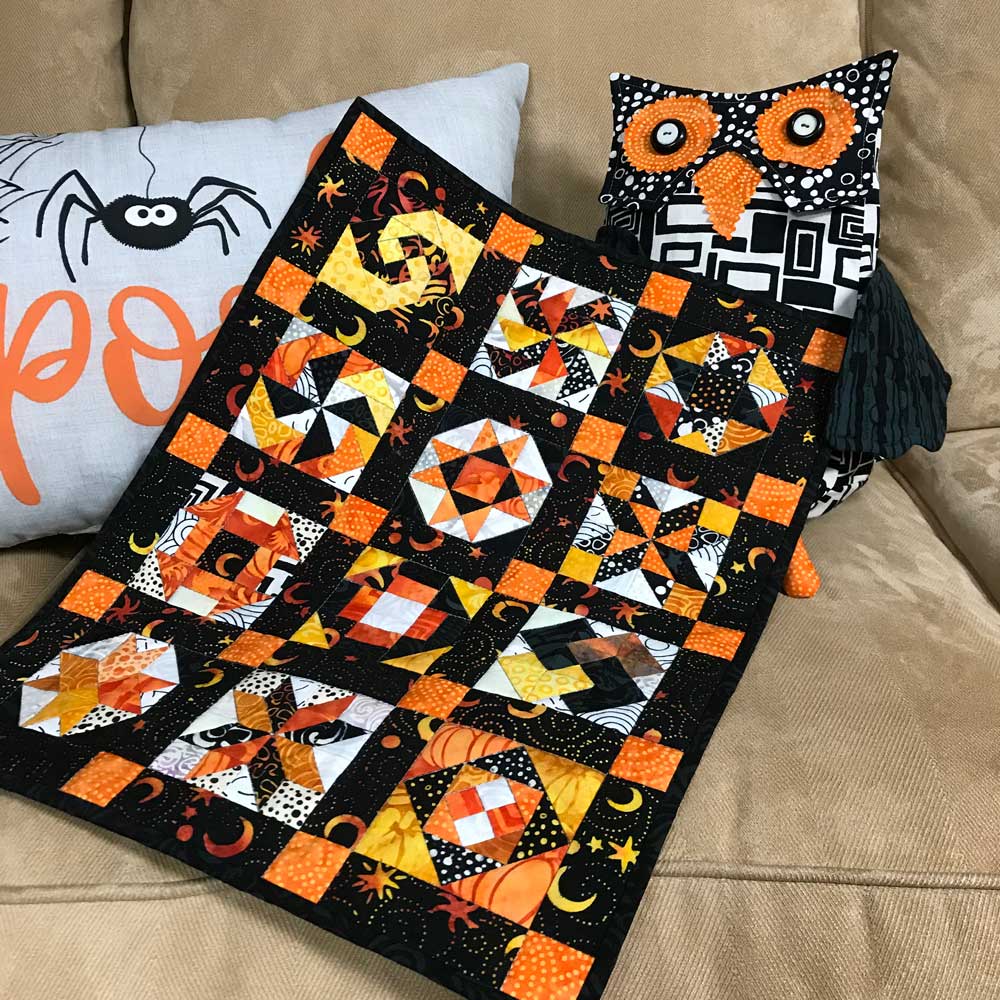 Mini Quilts
Something Mini This Way Comes, 2022, Sandra Starley, 13″ x 17″ inches (3-inch blocks). Image courtesy of the author
Why Work Small?
Working small means that you do not need a lot of material. Charm squares and layer cakes and other pre-cuts are perfect for miniature quilts. And it is a terrific way to make a dent in your overflowing bucket of scraps. We all have leftover cuts and bits from old projects – a miniature quilt is just waiting to be discovered in the forgotten pieces. You will be amazed at how far scraps will go when you are making a 3- or 4-inch block. A miniature quilt can give you a big bang for your buck.
Easier to Make and Finish
You only need to make a few little blocks for your miniature quilt — a much more doable time investment than a full-sized quilt. Pick four or five blocks you have always been interested in and create a little sampler. Because the finished quilt may only be 12 or 24 inches square, it is much easier to hand or machine quilt. No wrestling with a sewing machine like when trying to quilt a king size quilt.
A Great Way to Practice Your Sewing Skills
When working small, it is important to sew accurately unless you are doing improvisation, free-form, or wonky quilts. Practice sewing a scant quarter-inch seam allowance and take it a bit slower to get precise results. I strongly recommend two books by Sally Collins, Small Scale Quiltmaking and Mastering Precision Piecing if you want to learn how to take your piecing skills to the next level. Just the other day my friend and I mentioned how much we have been influenced by her class from 20 years ago. There are also many other wonderful books and online resources to guide you through creating a mini quilt. You can even join a mini quilt guild or miniature quilt Facebook group.
Try A New Technique
If you want more relaxed sewing, I suggest foundation paper piecing, which is well suited to tiny piecing. As long as you sew right on the lines you will get wonderful results. You do not have to worry about perfect cutting or seam allowances. The technique allows you to sew exceedingly small pieces accurately and easily. Remember to experiment and play, and do not be surprised if you want to make more after trying one; miniature quilts can be quite addicting.
Sandra Starley is nationally certified quilt appraiser, quilt historian, and avid antique quilt collector. She travels throughout the U.S. presenting talks on antique quilt history, fabric dating classes and trunk shows as well as quilting classes. Learn more at utahquiltappraiser.blogspot.com. Send your comments and quilt questions to SandraStarley@outlook.com