Classic Patterns: Rocky Road to Kansas
​
Quilt names : 'Rocky Road to Kansas,' 'Texas Tears,' and 'Rocky Road to California',
It's a quilt name that stirs up images of wagons full of bonneted prairie ladies busily sewing while bumping across the endless Western frontier. "The hardships endured by the sturdy pioneers were constantly in the minds of the early American quilters and inspired many (quilt) names. 'Rocky Road to Kansas,' 'Texas Tears,' and 'Rocky Road to California', (all) have a great interest as they reveal to us the thoughts of our great-grandmothers over their quilting frames." — Marie Webster, 1916. We now know this nostalgic image of wagons of quilters is simply charming fiction. The Kansas Quilt Documentation Project found no proof that "any pioneers taking the road to Kansas when it was truly rocky made (this) string quilt since the pattern appeared after railroads facilitated trips to Kansas.
The initial publication of a string-pieced Rocky Road to Kansas quilt pattern was not until the Ladies Art Company catalog in 1895. This was the first mail-order catalog of quilt blocks and included almost 300 patterns. Obviously, descriptive names like "X Block" and "String Star" are not dreamy and do not sell quilt patterns in the same way, so this romantic myth of "Quilts of The West" continues to roll on.
The main sections of the pattern involve easy sewing of strips, strings, or random pieces. But the background pieces were traditionally inset with Y seams, which can be tricky. Most quilters now split the background diamonds in half for simple piecing. For a more formal look, strip piecing can be used. One sews cut strips together and then slices the strip segments into four triangles or Vs for each block. Another name for this pattern is The Kite Block, first published in The Ohio Farmer (1897). It features four strip-pieced kites flying nose to nose (looking at the pattern from a different direction). I found a charming small-scale version of this pattern, circa 1890 from Lancaster County, PA, with red and Lancaster Blue centers, a yellow framing row, and a Double Pink background. This careful color placement and straight line or strip piecing in some areas help control what could be a very wild quilt.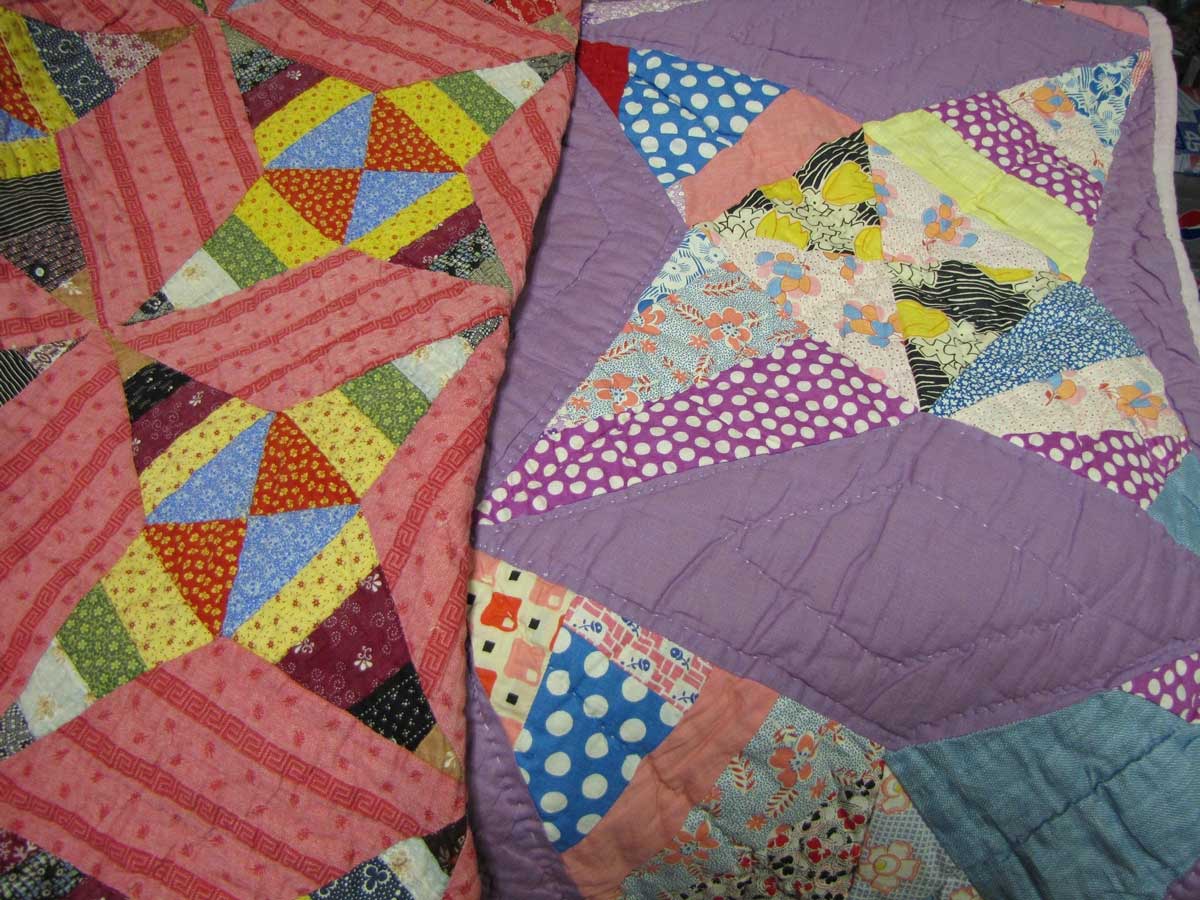 A Rocky Road Quilt
An example of a Rocky Road quilt. (Image courtesy of the author)
Early quilters often used string piecing for this pattern, adding fabric strings (small strips or pieces) to a muslin, scrap, or recycled fabric base. Newspapers or other papers were used later for the foundation. In The Romance of the Patchwork Quilt (1935), Hall and Kretsinger suggested their method for creating the pattern: "The four-pointed star is made of irregular shaped pieces sewed together 'Crazy' fashion, then cut into points." Creating your own pieced fabric to make blocks is a great example of "everything old is new again" and is now called crumb quilting, improvisational quilting, or simply scrap quilting. In fact, one of the big advocates of this method, Victoria Findlay Wolfe, notes that her 15 Minutes of Play method for creating a scrap "made fabric" is a reinvention of an old technique.
My great-grandmother Isabelle Rogers used the Hall & Kretsinger guidelines when creating her scrappy 1930s quilt in rural Utah. She used muslin foundations as a base for her crazy piecing. Finally, standard paper or foundation piecing can be used to construct the block. This method involves following a printed pattern rather than doing the random or crazy piecing described by Hall. More about grandmother's quilt and the techniques I used to recreate it next month.
Sandra Starley is nationally certified quilt appraiser, quilt historian, and avid antique quilt collector. She travels throughout the U.S. presenting talks on antique quilt history, fabric dating classes and trunk shows as well as quilting classes. Learn more at utahquiltappraiser.blogspot.com. Send your comments and quilt questions to SandraStarley@outlook.com