Classic patterns made modern – Rocky Road to Kansas
​
Last month, I wrote about the origins of the classic antique quilt pattern, Rocky Road To Kansas. While it sounds like a design dating back to the pioneer days of the 1850s, it actually hails from the late 1800s – definitely, after the railroad system had made travel less rocky to Kansas and beyond. It was most popular in the 1880s and '90s and on through the 1940s. While not a rare antique pattern, it is not very common.
I've long loved the large scale and scrappy purple Rocky Road to Kansas made by my great-grandmother, Isabelle Rogers, in the 1930s in rural Utah. She home-dyed cotton fabric salvaged, recycled, or upcycled from flour and sugar sacks for the purple background and the yellow backing fabric. You can't go wrong with purple and bright yellow! She used muslin foundations as a base for her crazy piecing. Some of her triangle points have just two pieces and others have more than a dozen. This variety of piecing and different scale/size of pieces adds a lot of interest and character to the classic pattern. It is a great way to use scraps or leftover fabrics, but it is perfect for fun new fabrics, too.
Fast forward to March, when I needed to make a project for a quilt challenge. I jumped at the chance to recreate her quilt using a new collection of Island Batiks featuring blues and greens and the much-beloved purple in her honor. I love working in small scale, so I chose to remake her design using little three-inch block sections that join to make six-inch blocks. Quite a difference from her blocks that measure 15 inches. She pieced her blocks in strips and strings and random piecing, I followed printed paper foundations for my blocks. To make my version less formal and more folksy like the inspiration quilt, each block has four different units, placed in different positions. It was a joy to remake the quilt and honor my great-grandmother whom I never had the privilege of meeting. I feel like I always make a bond or connection with the original quilter when I recreate an antique or vintage work, and this one was extra special.
The modern quilting movement has focused on blocks with simple, clean lines and improvisational piecing, so the Rocky Road to Kansas fits right in.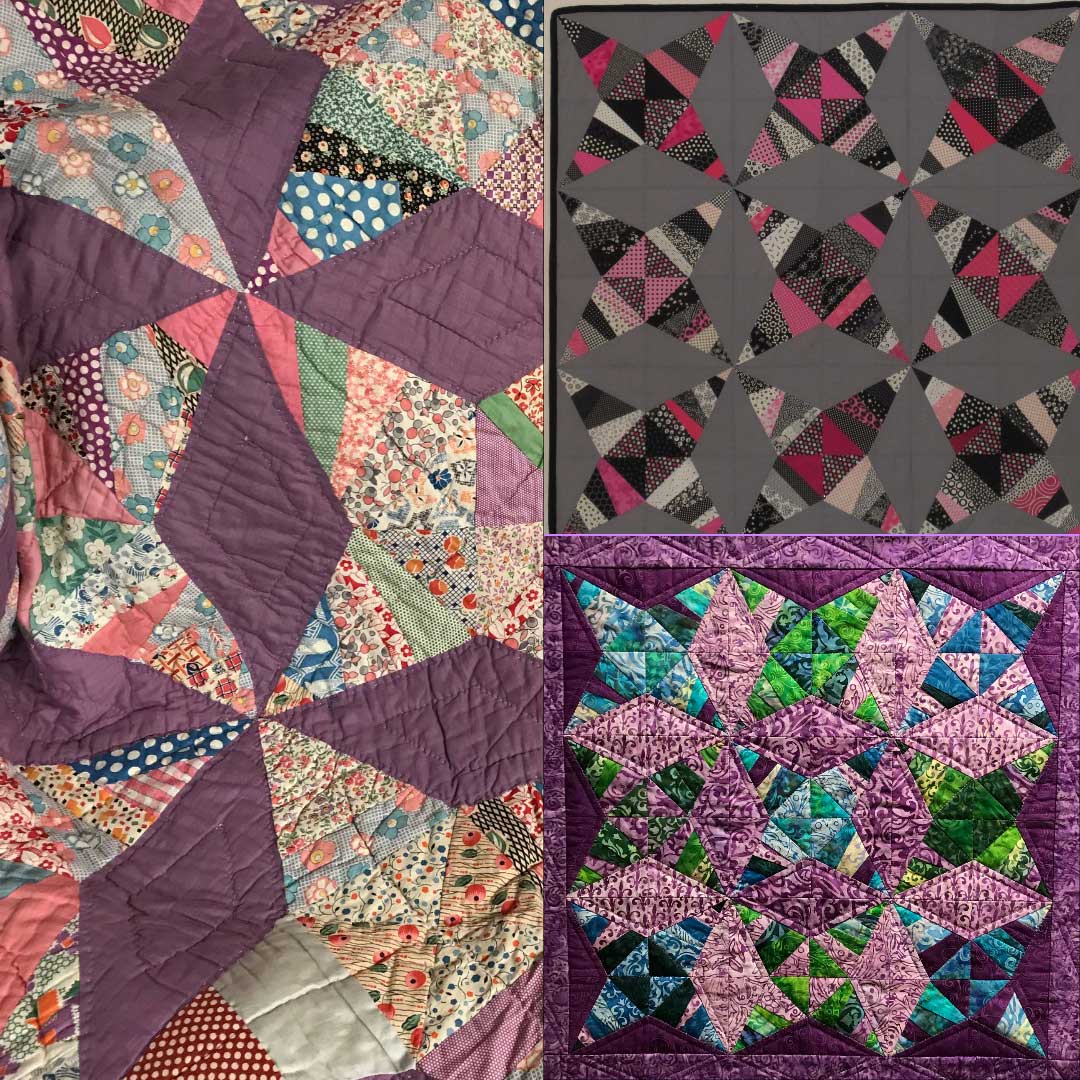 Generations of Rocky Road Quilts
Generations of Rocky Roads: Left – Isabelle Rogers (1935). Right top – Donna Starley. Bottom – Sandra Starley. Image courtesy of the author
Contemporary versions are often made with neutral solid backgrounds (especially grays) and either sewn on paper foundations or strip pieced. My sister Donna made a modern miniature version of Belle's quilt a few years ago in black and pink. It really is a cool and timeless design. Both Donna and I used foundation paper piecing, but other techniques can be employed. Many people use strip piecing for a more regimented appearance, while others use crazy piecing for a wilder freeform look.
The pattern is very versatile and looks great whether sewn with large or small blocks, light or dark grounds, or traditional prints or modern solids. Don't shy away from the design because you dislike the dreaded Y or inset seams. Most quilters now make the pattern in square blocks, which totally eliminates the inset seams. Earlier makers like my great-grandmother were often piecing by hand (or hand and machine) and were comfortable with that difficult piecing. With new user-friendly methods and modernized color schemes, this pattern is as appealing today as when it caught the fancy of designers and quilters more than 100 years ago.
Sandra Starley is nationally certified quilt appraiser, quilt historian, and avid antique quilt collector. She travels throughout the U.S. presenting talks on antique quilt history, fabric dating classes and trunk shows as well as quilting classes. Learn more at utahquiltappraiser.blogspot.com. Send your comments and quilt questions to SandraStarley@outlook.com