Open houses and other festive events … welcome the holidays
Upcoming events on both sides of the Missouri and Kansas state line are gearing up for Christmas and are sure to bring in holiday shoppers with their gift lists.
In late November, model train enthusiasts can enjoy the Mid-America Train & Toy Show at the KCI Expo Center in Kansas City, MO, where they can browse toy and scale model trains, toys, trucks, airplanes and memorabilia. The event will feature more than 200 tables of vendors, as well as door prizes and a free viewing of vintage train films.
Early in the month of December, Vintage Traders Antique Mall will welcome the public with its Winter Holiday Sale, Dec. 3-5, while Lone Elm Antique Mall's Christmas Sale will take place Dec. 3-4. Both merchants are located in Olathe, KS.
Just a few miles away, Shawnee Antique Mall in Shawnee, KS, will host its annual Holiday Open House on Dec. 11. The store will include sales on items such as antiques, collectibles, jewelry, toys and glassware.
Be sure to check out other holiday events around Kansas, including the Kansas City, KS, Strawberry Hill Museum's Olde World Christmas (tours of the 1887 home through Jan. 9, 2022).
Paramount Antique Malls in Augusta and Wichita, KS, will keep their holiday celebration going for a full two weeks, with their Annual Christmas Sale Event going from Dec. 17-Jan. 2, 2022. Visitors can save between 10-30% throughout the stores; the event is ideal for last-minute Christmas shoppers.
On the Missouri side of the state line, you can prepare for your shopping at John and Marge's Attic in Gallatin, MO by first visiting the shop's website (www.JMattic.com), where holiday gift ideas appear on the shop's homepage. Their holiday open house takes place Dec. 4 in conjunction with Gallatin's Christmas Around the Square event, which encourages citizens and visitors to shop locally downtown, while also providing family-friendly activities and entertainment for all.
There's also the Dec. 9 Jingle Bell Walk, where visitors can complete their Christmas shopping in Historic Downtown Odessa, MO., and enjoy the beautifully decorated buildings, shops, and eateries.
And, as always, Enchanted Frog Antiques in Lathrop, MO offers its regular monthly sales for shoppers both old and new, including Lucky $7 Days ($7 off an item of $25 or more) on Dec. 10-12, as well as it's Super Saturday Sale on Dec. 18, during which visitors can save 10-25% off.
For a list of more holiday sales and events, be sure to check out our calendars in this issue of Discover Vintage America.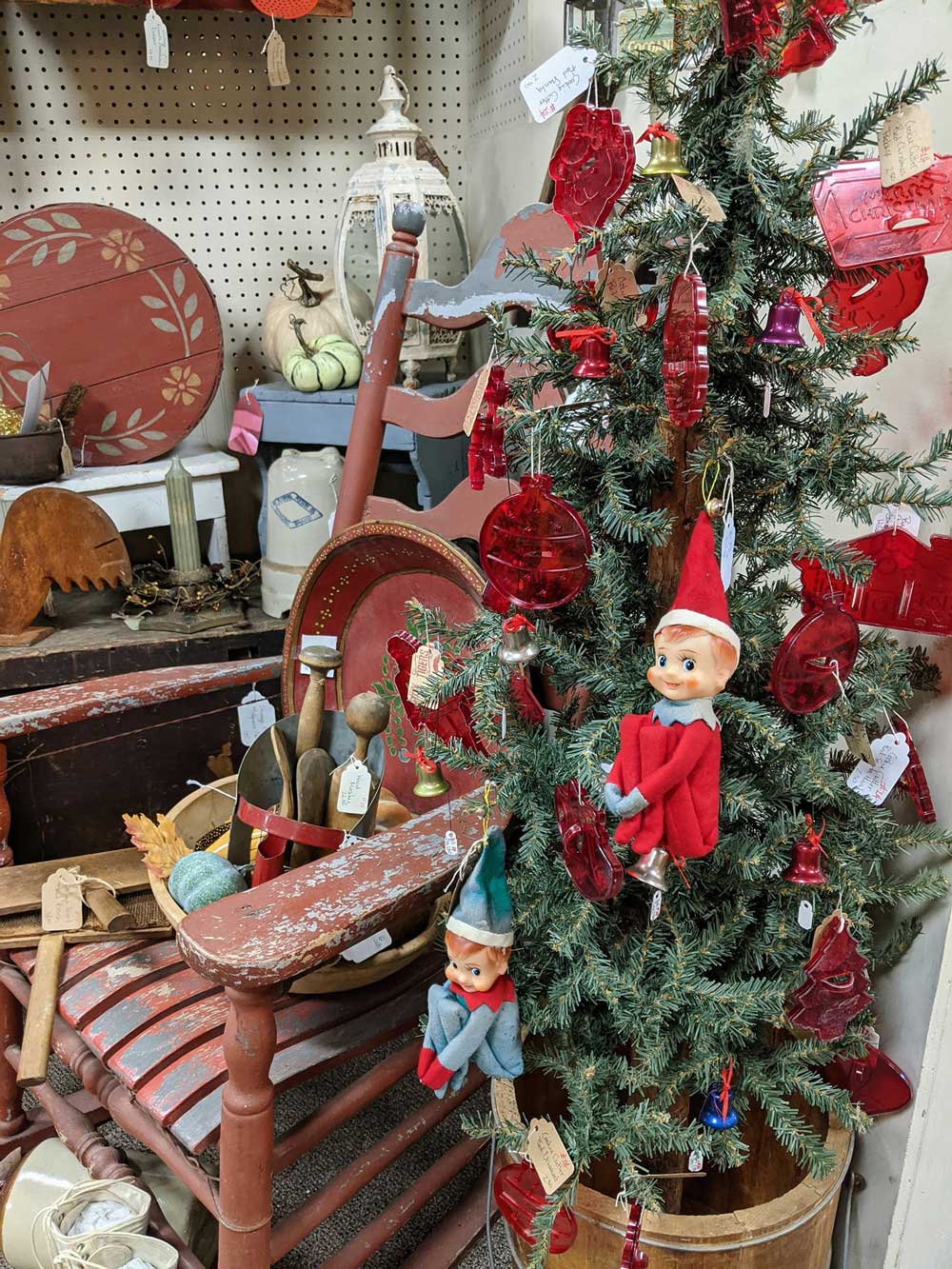 For a taste of Christmases past, visit Lone Elm Antique Mall in Olathe, KS, for its annual Christmas Sale, Dec. 3-4. (Image courtesy of Facebook)