Topeka's NOTO Arts and Entertainment District is getting into the holiday spirit with its Celebrations of Winter, six weeks of events marking the arrival of winter, between Nov. 20 and Dec. 31.
The six-week celebration starts with NOTO's Celebration of Lights on Nov. 20. The tree-lighting ceremony will take place from 4-8 p.m. in Veterans Park, and will include carriage rides through the district, a visit by Santa Claus, performances by Kansas Ballet and Seaman High School's show choir, and even some late-night shopping at local merchants.
More shopping will be available on Nov. 27, Dec. 4, Dec. 11 and Dec. 18 with NOTO's Holiday Market. Special seasonal gifts, including handmade crafts and antiques, will be up for sale at the market, which takes place at the NOTO Arts Center and the Rosebud Pavilion.
Every Saturday during the six weeks, stop by the Holiday Market to shop. Santa will visit the district, and listen to performances by other high school musicians and musical groups. The season will end Dec. 31 with its New Years Eve in NOTO Celebration and a countdown to midnight.
For more information or to become a Holiday Market vendor, e-mail info@notoartsdistrict.org and visit www.explorenoto.org/celebrationsofwinter.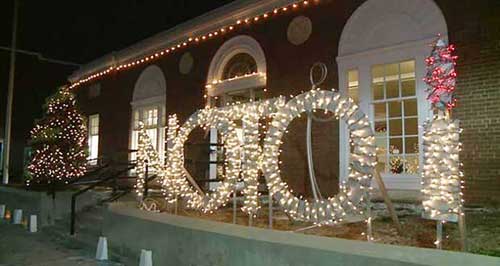 The NOTO Arts District will light up Topeka, KS, with a holiday tree-lighting ceremony Nov. 20. (photo courtesy of Metro Voice)