Vase has ties to famed explorer Ponce de Leon
I love doing this type of appraisal. I have to dig into the history of a location and sleuth about to find the truth. Please keep in mind that I don't often publish a paid appraisal, but this is just too special to not share.
Question:
I have a houseful of items inherited all the way back to my great-grandparents. This particular glass vase came with a note from my mom which has piqued my curiosity about the provenance and value. The vase stands over 14" tall and the note states:
"This vase is over 450 years old. It came from the second church in America, the Church of St. Thomas in Puerto Rico, which was built on land donated by Ponce de Leon, in 1512. The church is now known as San Jose Church."
"Venetian glass was made on the island of Murano, near Venice, from the middle of the 13th century until around 1900. This piece was an altar vase"
Any insight that you can provide will be greatly appreciated.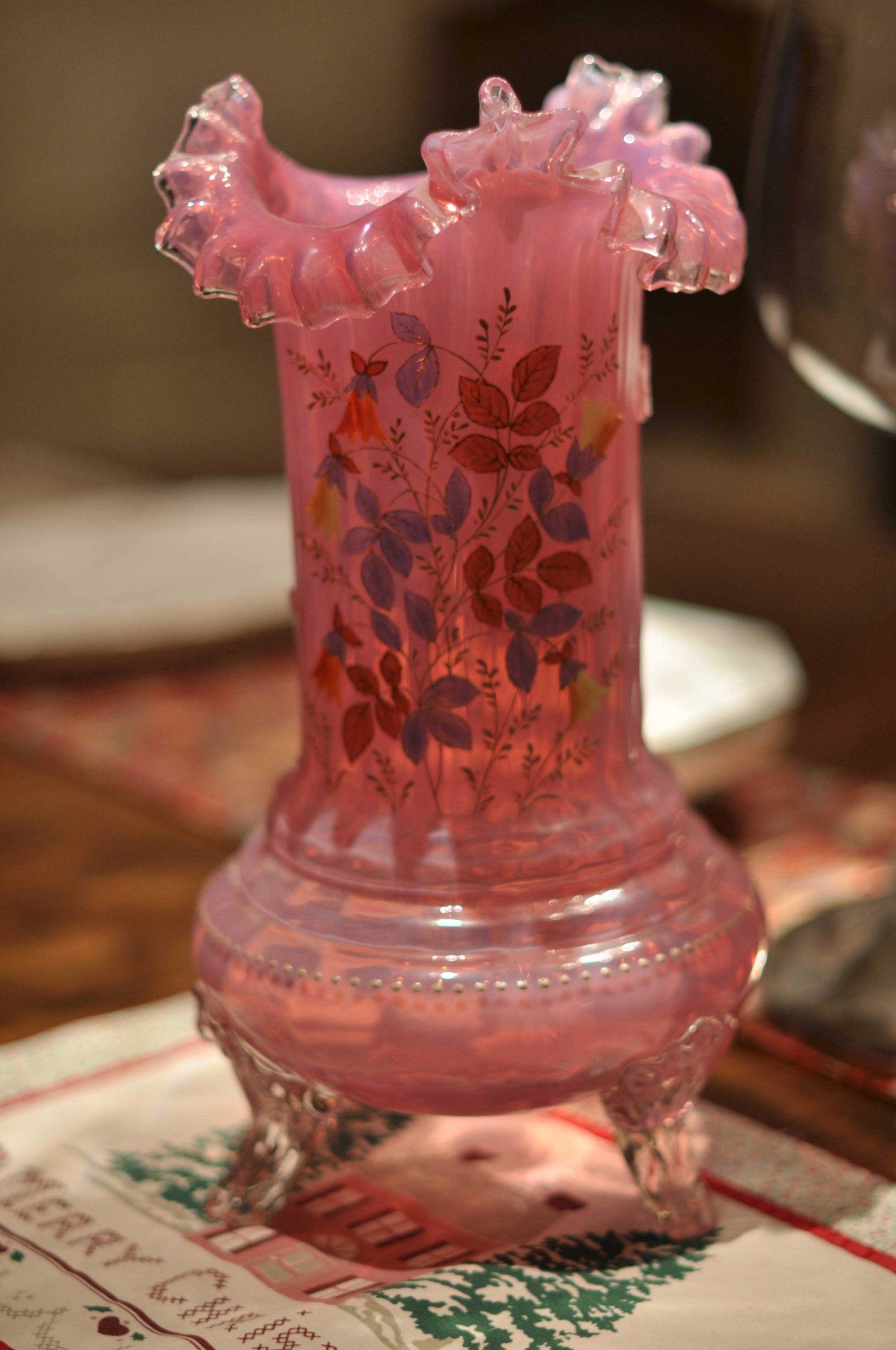 An antique vase crafted from Murano glass
An antique vase crafted from Murano glass. (Image courtesy of the question submitter)
Answer:
First, I want to touch on Venetian/Murano glass. In 1291, the Glassmaker's Guild forced all glassmakers in Vienna to move their ovens to the Island of Murano. A few popped back up in Vienna in the following years, but Murano has remained the innovative center for glass- makers Murano glass really hit its peak popularity in the 15th and 16th centuries. In the 1960s archaeologists located shards of Venetian glass dating back to the 8th century. Murano glass makers are still going strong today.
In 2013, the National Trust for Historic Preservation named the San José Church in Old San Juan, Puerto Rico, to its 2013 list of America's 11 Most Endangered Historic Places. This annual list spotlights important examples of the nation's architectural, cultural and natural heritage that are at risk of destruction or irreparable damage. More than 240 sites have been on the list over its 26-year history, and in that time, only a handful of listed sites have been lost. I am happy to report that in 2021, restoration was completed on the church.
Old San Juan's San José Church was built in 1532, the second oldest church in the Americas. The church was constructed from 1532 to 1735 by the Dominican Order as part of their Saint Aquinas monastery. It was renamed by the Jesuits, who took over the monastery in 1865. One of the few surviving examples of 16th-century Spanish Gothic architecture in the Western Hemisphere, the building displays four centuries of architectural design and masonry traditions, including the extraordinary Isabelline Gothic vaults, a rare Catalan architectural design. The land upon which the church was built was donated by Governor Don Juan Ponce de León, who was also first buried there.* Based on the architectural style, we can see the Spanish influence, which more than likely was due to Ponce de León.
Ponce de León was buried in the crypt of the church from 1559 to 1836, when his remains were exhumed and later transferred to the Cathedral of San Juan Bautista. However, his coat of arms is still located near the main altar. His grandson, Juan Ponce de Leon II, is buried in the crypt beneath the Sanctuary's floor.
As many of you may remember, Juan Ponce de León was a Spanish conquistador. He was born in 1460 to a poor yet noble family. While still a young man, he served as a page at the court of Aragon, where he learned social skills, religion and military tactics. He joined the military and this would go on to serve him well later in life as he began his explorations.
In 1493, Ponce de León allegedly sailed to America with Columbus on his second voyage, thus beginning his career as a conquistador. In the early 1500s he set sail again with his own crew and discovered what is now Haiti and the Dominican Republic. He established farms, towns and built defenses, also sold cattle and produces to ships returning to Spain. He declared these colonies in the name of Spain and his wealth grew. In 1504 he was declared Provincial Governor of the area and returned to Spain, where he married and had three children.
Hearing persistent rumors of gold in Puerto Rico, in 1508 the Spanish crown officially sent Ponce de León to Puerto Rico. He took 50 sailors and his family. It is speculated that Ponce de León had already discovered the gold on his previous trip. A year later, he was named governor of Puerto Rico and soon rose to become one of the most powerful Europeans in the Americas. From most accounts, Ponce de León was a good governor before his political rivals forced him from office in 1512. That political rival was Christopher Columbus' son, Diego Colon. The third governor of Puerto Rico was Ponce de Leon's grandson.
As governor, Leon began building a city in San Juan. It is believed that he donated the land on which the church was built, he put in a "baseball field" and other recreation areas, had homes built for the elite, and storefronts for businesses. This includes building his home/fortress, Casa Blanca.
I am not going to go into his landing on Florida and Bimini. I do want to mention a tall tale that most of us were taught in school. Ponce de León did not discover Florida he simply named the area and declared it for Spain. The area was occupied and had been for several years. In 1521, he sailed to Florida with 200 men and supplies to start a colony. This was to be his downfall. Wounded by an arrow in his thigh, he was taken to Cuba in June 1521 and died there from his wound. It is said that the tip of the arrow had been dipped in a poison of some type.
From the earliest days of Spanish colonization, an army of priests and missionaries embarked on a vigorous crusade to convert Puerto Rico's Taínos to Roman Catholicism. King Ferdinand himself paid for the construction of a Franciscan monastery and a series of chapels, and he required specific support of the church from the aristocrats who had been awarded land grants in the new territories. They were required to build churches, provide Christian burials, and grant religious instruction to both Taíno and African slaves.
Old San Juan is still very much in exsistance with many of the old buildings, celebrations, and traditional foods. The crowned jewel is Casa Blanca the home that was built for Ponce de León and his family. Sadly, Ponce de León died before the building was complete but his wife and family resided there for many years. Casa Blanca is the oldest continuously occupied residence in the Western Hemisphere and the oldest of about 800 Spanish colonial buildings in Old San Juan's National Historic Zone. In 1968, it became a historic national monument. Today the building is the site of the Juan Ponce de León Museum. The conquistador's carved coat of arms greets visitors at the entrance.
Research Murano glass Altar Vase
After a couple of weeks of research fitting the altar vase into the history of Murano glass, Puerto Rico and Ponce de León, I fully believe the tiny bit of provenance on the note inside the vase is true. I reached out to the group that conducted the restoration, asking if they had any interior photos from long ago that might show the vase. They did not have the pictures but felt that based on other items that had been inside the church, the vase, more than likely, had come from there. They asked if they could have it and I passed that on to the owner.
I place a resale value of $1,200 to $1,300 on it. The owner wants to sell it and I suggested photos to Heritage Auction for a pre-consignment price and to please let me know what that ends up being.
** All prices given are for sale in a private sale, antique shop, or other resale outlets. Price is also dependent upon the geographic area in which you are selling. Auction value, selling to a dealer or pawnshop prices are about ½ or less of resale value.
*All prices given are for sale in a private sale, antique shop, or other resale outlets. Price is also dependent upon the geographic area in which you are selling. Auction value, selling to a dealer or pawn shop prices are about ½ or less of resale value.
Michelle Staley is a Lenexa, KS-based dealer and researcher with 35 years of experience in the antique trade.
Send questions with photos to Michelle at michelle@discovervintage.com or TXSmichelle@gmail.com. Please keep queries to one question; questions without photos of the item may not be answered. There is no guarantee that your question will be answered or published.
Michelle is also available for consulting and extensive research work beyond this column. If you would like an appraisal on an antique or collectible please go to www.michellesantiqueappraisals.com for a one-on-one appraisal. Please note new web address.