Image courtesy of Michelle Staley
Supplies remind us of back-to-school days – Part II
Several years ago I attended an estate sale and found an abundance of older office supplies and it was half price day. I purchased an assortment of items such as a cast iron 1940s tape dispenser made by Minnesota Mining & Manufacturing. I sold it for $40. A round rubber stamp holder with stamps, sold for $35. Several unopened boxes of 1950s double ended stenographer writing tools, they flew out the door for $20 a box of six. Boxes of onion skin typing paper, never opened, with the cellophane intact, which sold for $25 each.
The real prizes were the two typewriters I brought home. First is the Hermes 3000 and an Adler Tippa from the 1960s. Get this, the type is in cursive. I am very partial to the Hermes typewriters as this is the brand that we had in typing class when I was in high school. The Hermes 3000, manufactured by Paillard-Bolex, was introduced in 1958 and was the preferred typewriter of several authors of note.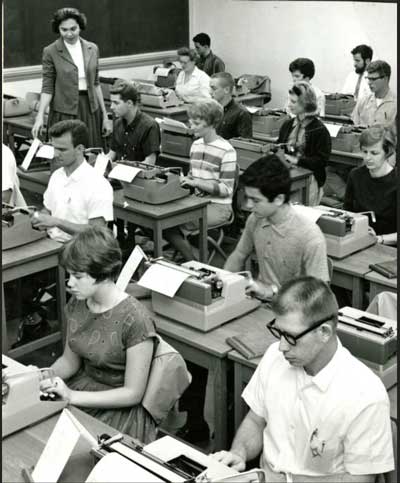 Typical high school typing class from the 1950s. (image courtesy of dunkirk.yearbookhigh.com)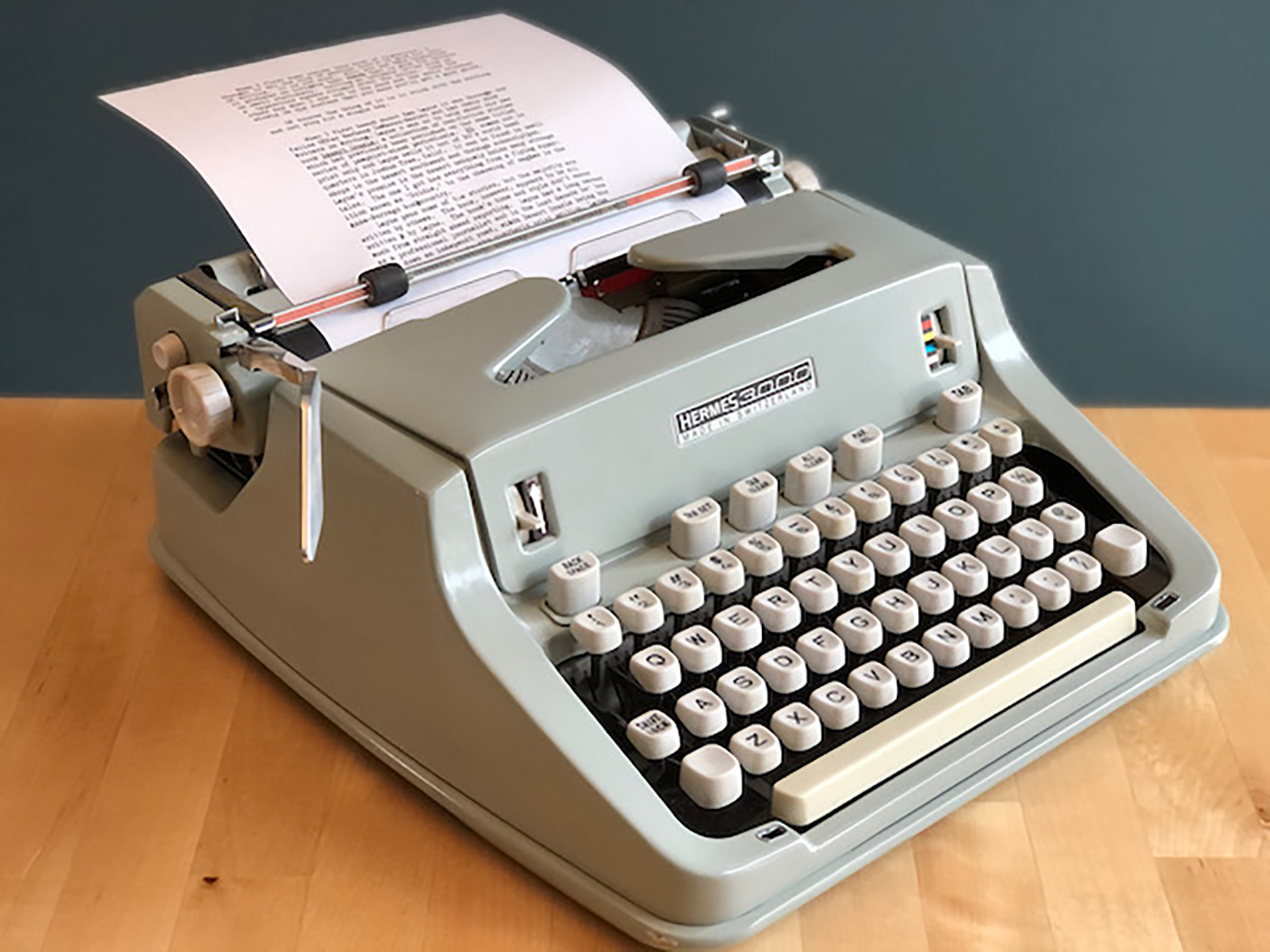 The Hermes 3000 typewriter was introduced in 1958. (Image courtesy of Typewriter Review)
According to Wikipedia, "Kotzwinkle's 1972 novel was named Hermes 3000 after the machine. During his acceptance speech for "Best Screenplay (Brokeback Mountain)" at the 2006 Golden Globes, author Larry McMurtry specifically mentioned his Hermes 3000, stating: "Most heartfelt, I thank my typewriter. My typewriter is a Hermes 3000, surely one of the noblest instruments of European genius. It has kept me for 30 years out of the dry embrace of the computer."
Other notable users of the machine are Sam Shepard, Eugène Ionesco and Stephen Fry. Beat writer Jack Kerouac wrote his final novel, "Vanity of Duluoz," on the Hermes 3000 in 1966. In 2013, in an appearance on BBC Radio 4's "Desert Island Discs," actor Tom Hanks named the Hermes 3000 as the luxury item he would choose to take with him. In a March 2018 auction at Bonhams in London, the Hermes 3000 on which Sylvia Plath had typed her only novel "The Bell Jar" in 1962, was sold for $46,071. I sold the one I had for $600 and have yet to put a price on the Hermes I currently own.
I want to give a quick nod to the Dutch-made Adler Tippa S model typewriter. It is astounding that a manual typewriter from the 1960s types in cursive/italics as the default. It is a small, portable typewriter. When the lid is in place, the handle makes it easy to carry around. I was not able to find much information on this beauty, but be sure to keep an eye out for one. If in excellent condition, they sell for $350 to $400.
When you are out at shows, flea markets or antique shops keep your eyes open for vintage school supplies and office supplies and equipment.
*All prices given are for sale in a private sale, antique shop, or other resale outlets. Price is also dependent upon the geographic area in which you are selling. Auction value, selling to a dealer or pawn shop prices are about ½ or less of resale value.
Michelle Staley is a Lenexa, KS-based dealer and researcher with 35 years of experience in the antique trade.
Send questions with photos to Michelle at michelle@discovervintage.com or TXSmichelle@gmail.com. Please keep queries to one question; questions without photos of the item may not be answered. There is no guarantee that your question will be answered or published.
Michelle is also available for consulting and extensive research work beyond this column. If you would like an appraisal on an antique or collectible please go to www.michellesantiqueappraisals.com for a one-on-one appraisal. Please note new web address.