Serving bowls originated from German maker in France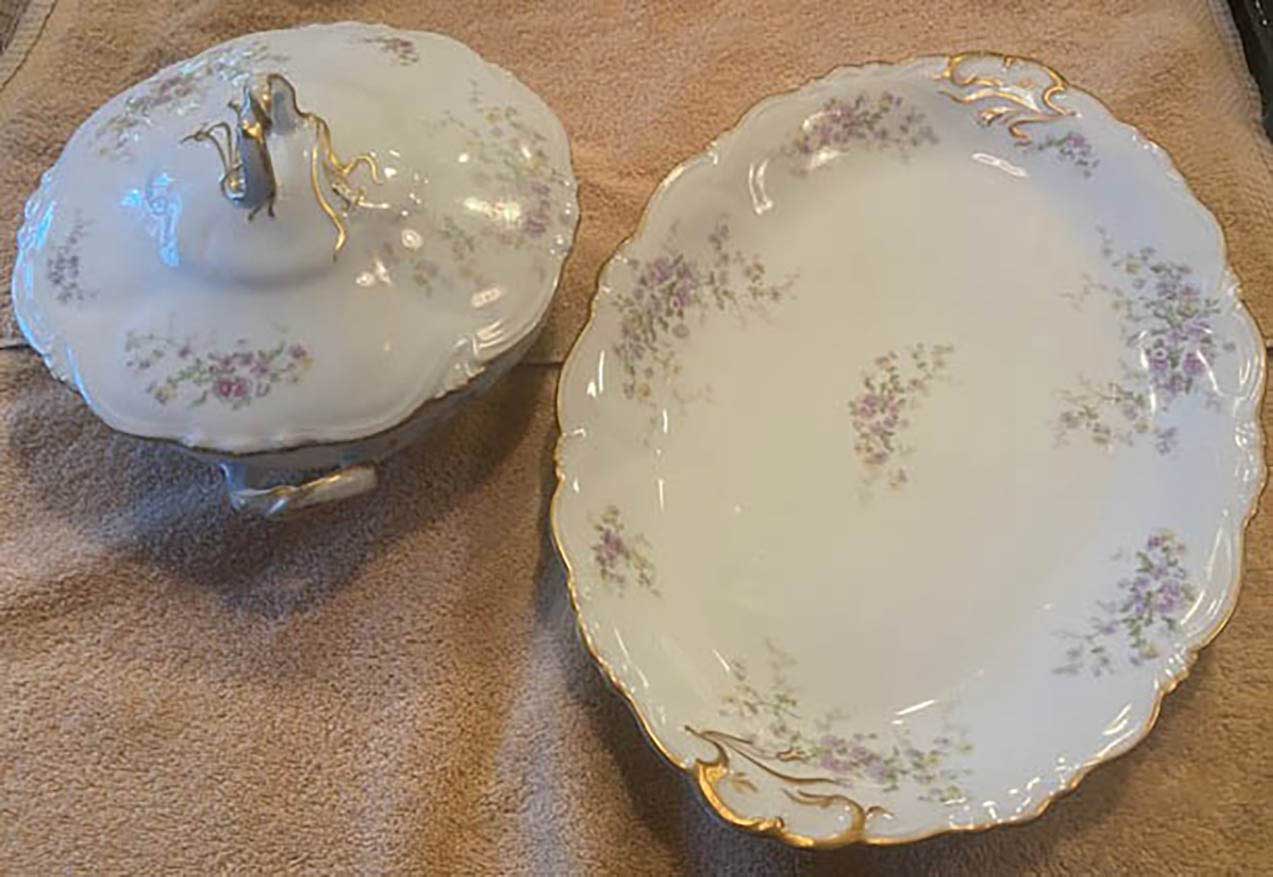 Serving Bowls
This serving bowl and platter were made by Charles Ahrenfeldt, a German porcelain decorator while working in the Limoges region of France. (Image courtesy of the author)
Question:
These serving bowls and platters have been in my family for many years. One pair is marked J&G Meakin and the other is Limoges C. Ahrenfeldt. I want to sell them but have no idea as to what price I should put on them. Thank you for your knowledge and assistance.
Answer:
Limoges is a region in France that has excellent clay for making fine and bone china. This is one reason that we see Limoges noted on the back of china both old and new.
Charles Ahrenfeldt Sr. (1807-94) was born in Germany. Upon his immigration to America, he began importing porcelain into New York City in the 1830s. During the 1840s, he moved to Paris and had a decorating studio. Sometime between 1859 and the late 1860s, he established an export firm in Limoges and developed a wide export market, especially to North America.
Some sources indicate that while young and still in Germany, he learned the art of porcelain decorating as well as the workings of the import export business.
Around 1884, Ahrenfeldt began decorating porcelain in Limoges. Around this same time, he established his porcelain factory. His son, Charles J. Ahrenfeldt Jr. (1856-1934), took over the porcelain factory upon his father's death in 1894. Charles Ahrenfeldt Jr. also expanded the exporting of whiteware as the craft of porcelain painting among housewives was at its peak.
M. Grob took over the factory in 1917. Grob was mentioned as manager of the new factory from 1896, and he is also mentioned as the company's Zurich agent, possibly before 1896 The company made high-quality porcelain and won the Grand Prix at the Art Deco Exposition in 1925. The factory was enlarged in 1926.
Grob died in 1934 and was succeeded by his widow. A finance group bought the factory in 1958, production diminished, and the factory closed in 1969. **
The backstamp or mark, C. Ahrenfeldt Limoges France C.A. Depose, on the back of your lidded serving bowl and platter, date the pieces to 1886-1930. From what I was able to find, they appear to be pattern 4275 or one of the multi-floral AHR patterns. I put a resale value of $110-$125 on the lidded serving dish and $100-$115 on the platter.
** Mary Frank Gaston's "The Collector's Encyclopedia of Limoges Porcelain, Second Edition" (Collector Books, 1992; 223 pp.)
Question:
Several months ago, my publisher asked about an opaline glass compote with a sticker noting is as PV France. She asked me what PV France meant. I am here to answer that question.
Answer:
Vallerysthal/Portieux is a glass producer with a complex history. It was founded in 1836 at Lorraine, France, as Societe des Verreries Reunies de Plaine de Walsch et Vallerysthal, which then became Klenglin et Cie in 1855. A mix of Bohemian and French glass workers created a beautiful array of opaline and decorative glass. In 1870 however, this area of France became part of Germany. Most of Vallerysthal sales however had up to this point been within France, but as the factory was no longer within the French territory they now found it difficult to export their glass out of Germany. To get around this problem they purchased the Portieux glass works, which was in Vosges, France, and while the head office remained in Vallerysthal, they could now export through Portieux. The new name was registered in both French and German and became the Vallerysthal/Portieux name as we refer to it today.
As with all Vallerysthal/Portieux colored glassware, the robin's egg color type is almost unique to them. You sometimes find a white glass mixed in with the blue; the company also used gilding and painted small designs on some pieces. More often than not, the paper label will fall off, but the robin egg blue is very consistent making it easy to identify PV glassware. The glassware is usually very thick and substantial.
After the First World War, the company was returned to French rule. From the end of the Second World War, it had a difficult time. The Vallerysthal factory closed in 1977 and reopened in 1986.
The Portieux factory joined the French Crystal Co. in 1982, but went bankrupt once and then again as Arts from Portieux. It was bought by Groupe Faience Niderviller in 1996. Portieux still makes some hand-blown glassware and glass using old molds. Vallerysthal remains a trade name.
Opaline glass is opaque or glass you can't see through and is used to describe opaque glass that is not milk glass.
The value of this compote is in the $70 range.
** All prices given are for sale in a private sale, antique shop or other resale outlet. Price is also dependent upon the geographic area in which you are selling. Auction value, selling to a dealer or pawn shop prices are about ½ or less of resale value.
*All prices given are for sale in a private sale, antique shop, or other resale outlets. Price is also dependent upon the geographic area in which you are selling. Auction value, selling to a dealer or pawn shop prices are about ½ or less of resale value.
Michelle Staley is a Lenexa, KS-based dealer and researcher with 35 years of experience in the antique trade.
Send questions with photos to Michelle at michelle@discovervintage.com or TXSmichelle@gmail.com. Please keep queries to one question; questions without photos of the item may not be answered. There is no guarantee that your question will be answered or published.
Michelle is also available for consulting and extensive research work beyond this column. If you would like an appraisal on an antique or collectible please go to www.michellesantiqueappraisals.com for a one-on-one appraisal. Please note new web address.