Picnic baskets bring back fond memories of days gone by
July at last! It is truly my favorite month of the year. Granted, the weather here in Kansas has been a bit wet and wacky, including a series of small tornadoes that hopped down an arterial street during the night of June 8th. Thank goodness the only fatalities were power poles and big old trees.
Fourth of July
What makes July so special? First and foremost is the Fourth of July, and when you live on the parade route for a sizable parade, it is a great way to begin a day of family, friends, BBQ, and pool party. When my girls were young we would pack a picnic basket and head out to find the perfect place to sit, eat supper and watch the fireworks.
Picnics played a major role when I was young, even if it was nothing more than my Granny packing a couple of sandwiches and a thermos of iced tea into her wonderful picnic basket, spreading a blanket under the mimosa tree in the backyard, and the two of us sitting down to eat lunch.
Granny's picnic basket was purchased with Green Stamps. It was an oval wicker basket, and inside it held lavender-colored Melmac plates, cups, Bakelite handled cutlery, and there was still plenty of room to pack some food. That picnic basket saw many years of use.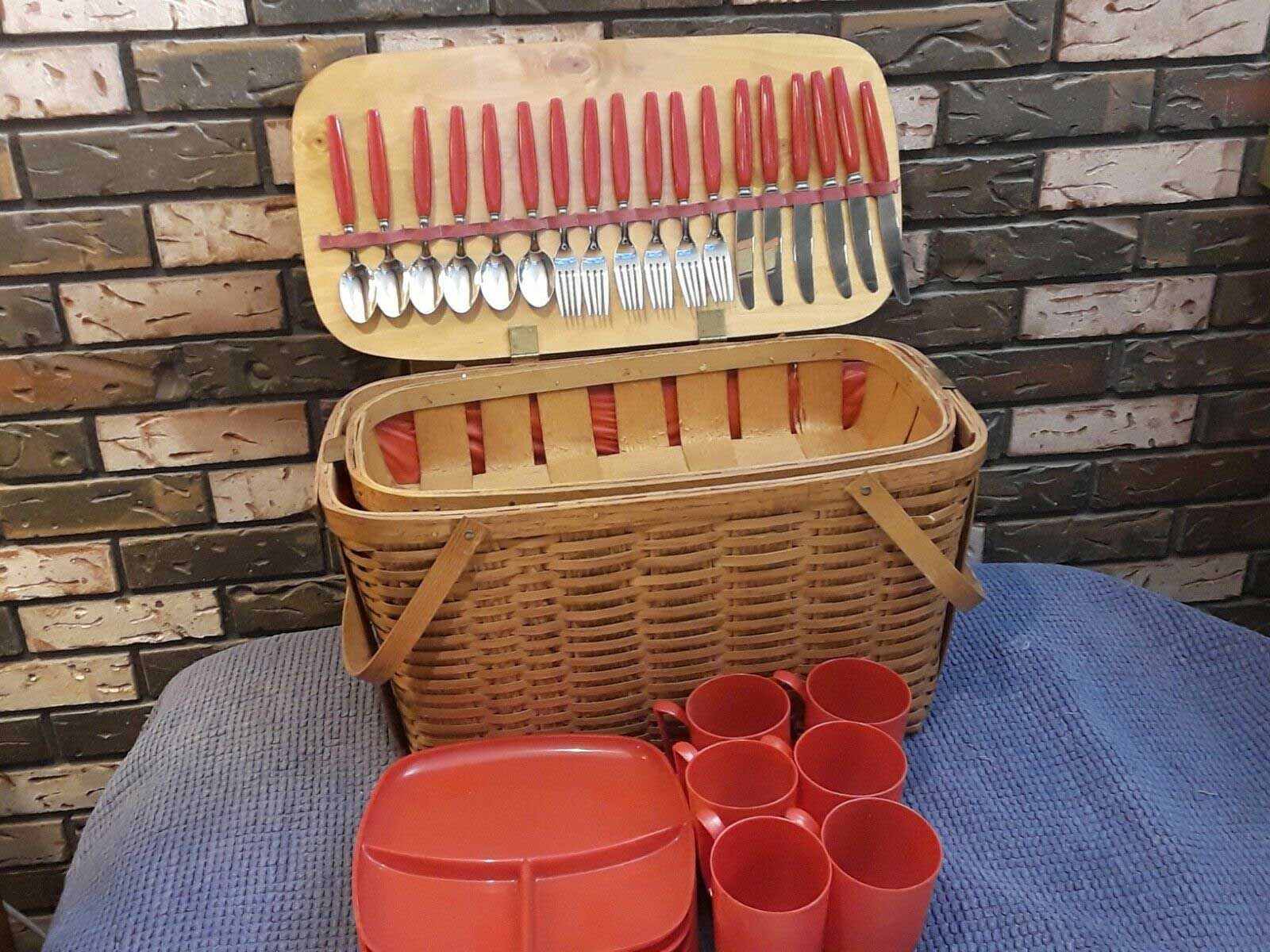 Mid Century American Picnic Basket
Mid Century American Picnic Basket with Melmac Dinnerware.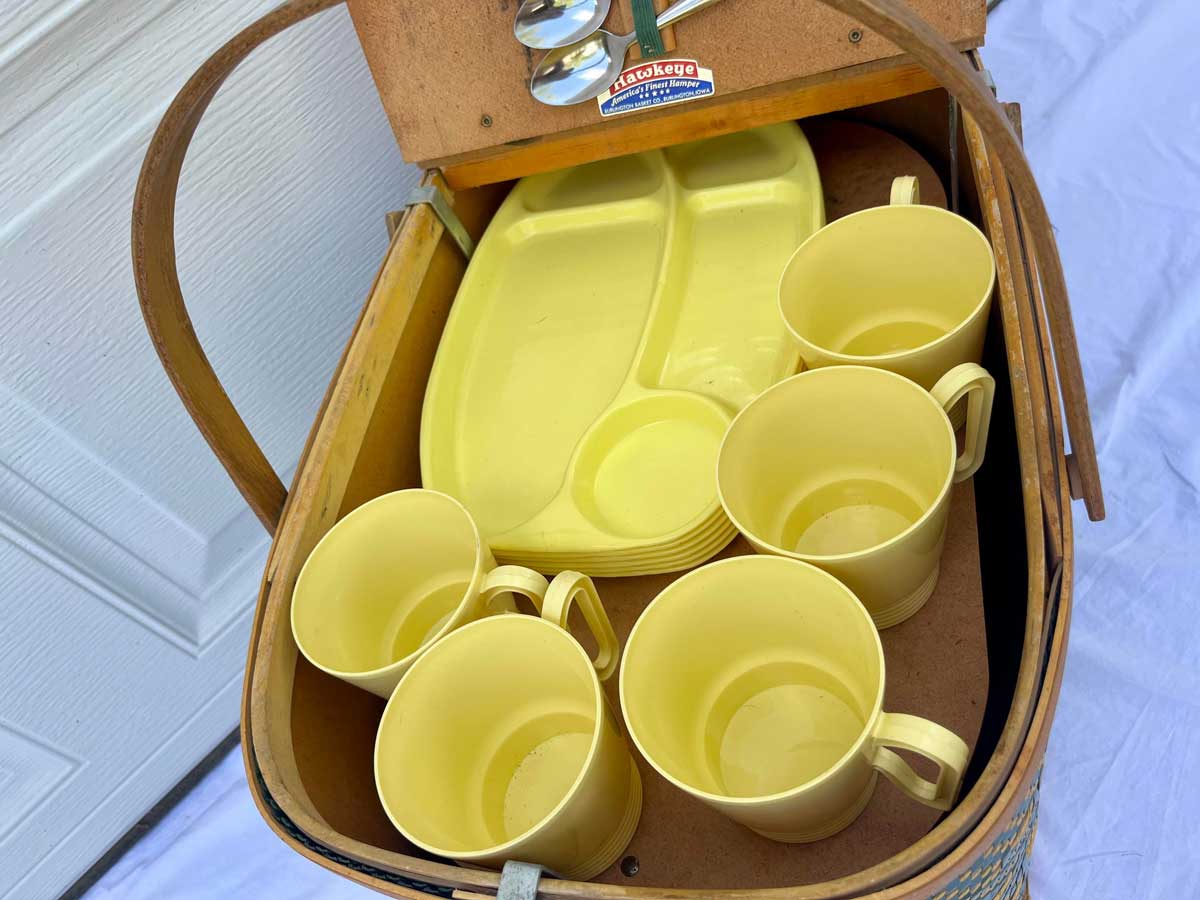 Mid-Century American picnic basket with yellow Melmac Dinnerware
Mid-Century American picnic basket with yellow Melmac Dinnerware. (all images courtesy eBay)
 Plastic has undergone a variety of changes since the Middle Ages when it was made from bone to make window panes. There was Parkesine, invented in 1855, and it is considered the first man-made plastic.
In 1893, Galalith, made from milk and a few chemicals, came into being. It was popular in making costume jewelry, buttons, and other small items. The year 1869 brought Celluloid, which eventually become the first financially successful plastic product. The world's first fully synthetic plastic was Bakelite, invented in 1907. There were a few more evolutions and then during World War II along came a thermoset plastic that could be heated and molded into affordable, mass-produced dinnerware. This wonder plastic was called Melamine. It was more stable than Bakelite and Celluloid, meaning that it would not burst into flames if placed near heat.
Melamine was sent to the troops, schools, and hospitals. After the war, families were spending much more time outdoors and of course, they did not want to bring the fine china out so they used Melamine or Melmac as it had been termed by the American Cyanamid Co., and the rest is history. Melmac was made in any color that you can think of. Even Russell Wright got in on the action. Other names you see are Texas Ware, Boontonware, Raffia Ware, Mar-Crest, Jerywil, and others.
Melamine or Melmac was perfect for picnic baskets such as the one my Granny had and you can still find vintage picnic baskets filled with the miracle plastic dinnerware at a reasonable price. There is also the opposite end of the picnic basket spectrum, the deluxe package with crystal glassware, silver cutlery, and china dishes. Some can even be found with a small stove and coffee or tea pots. The fancy picnic basket setups were more than likely not available at the Green Stamp store and while you do see some that were made in the USA most come from the UK or other areas of Europe.
I hope that this article inspires you to get a picnic basket, a blanket, and go somewhere peaceful with someone you love and dine in the great outdoors with minimal fuss. If you have little people in your life, now is a good time to start a new tradition. My memories of my Granny and me are just as vivid fifty plus years after the fact as they were when I was young. Come to think of it, that picnic basket went with us everytime we traveled out of town to visit family.
Prices for a picnic basket with Melmac dinnerware can be found online for $50 or less. Prices for the deluxe picnic "boxes" sell for several hundred dollars up to $6,000 depending upon the contents.
Melmac, even the new pieces, cannot be put in the microwave, and if you are going to put it in the dishwasher, use a detergent that does not contain bleach as it will fade the color over time.
Please let me know if there is a topic that you would like to learn more about. I aim to please.
Happy picnicking!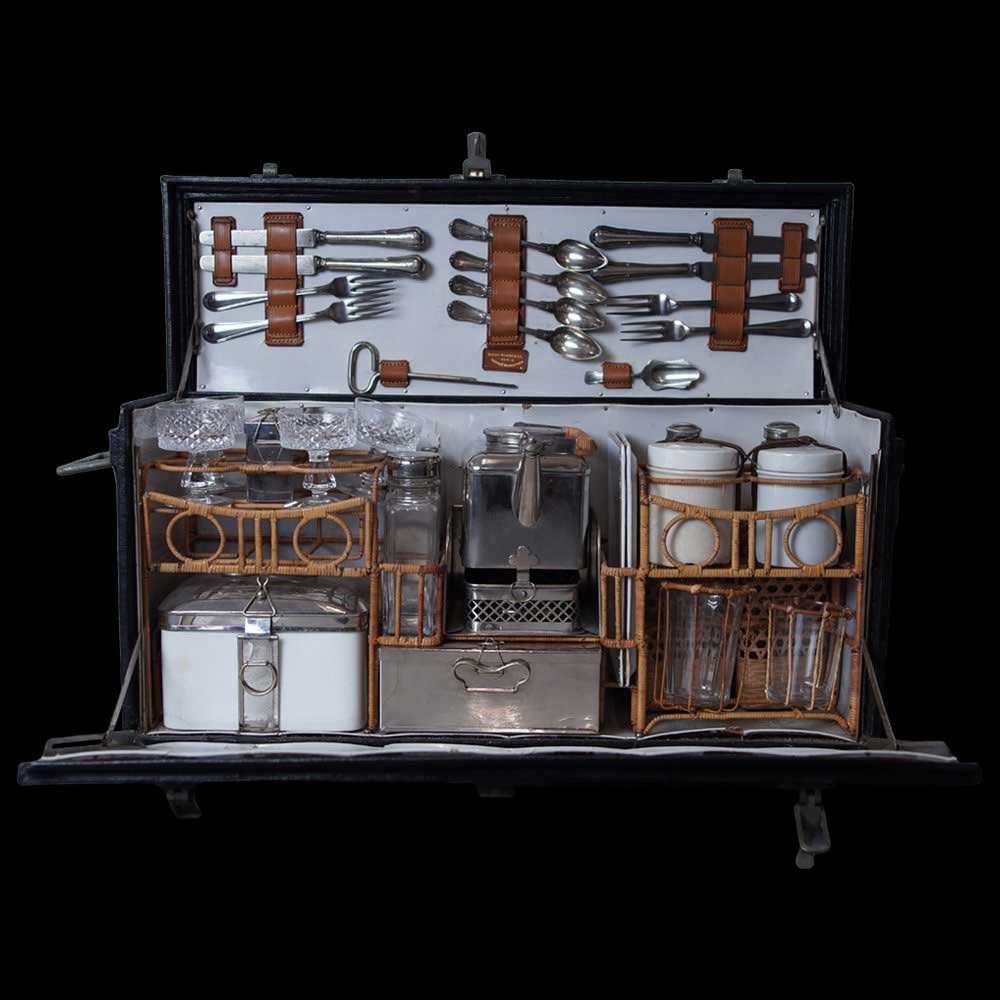 Circa 1900 British-made picnic basket with stove
Circa 1900 British-made picnic basket with stove
*All prices given are for sale in a private sale, antique shop, or other resale outlets. Price is also dependent upon the geographic area in which you are selling. Auction value, selling to a dealer or pawn shop prices are about ½ or less of resale value.
Michelle Staley is a Lenexa, KS-based dealer and researcher with 35 years of experience in the antique trade.
Send questions with photos to Michelle at michelle@discovervintage.com or TXSmichelle@gmail.com. Please keep queries to one question; questions without photos of the item may not be answered. There is no guarantee that your question will be answered or published.
Michelle is also available for consulting and extensive research work beyond this column. If you would like an appraisal on an antique or collectible please go to www.michellesantiqueappraisals.com for a one-on-one appraisal. Please note new web address.