Giveaways helped promote businesses in the 19th & 20th centuries
Welcome to 2022!
Welcome to 2022! I hope that the new year finds you well and thriving.
Recently a friend and I were talking about all of the items that were in boxes of oatmeal, washing machine detergent, green stamps and other similar freebies. This conversation set me up for this month's column: The history of product giveaways and promotional products.
S&H green stamps
My earliest memory is of S&H green stamps. My 4-year-old brain thought that they were the best thing in the universe. My much older brain feels the same way and wishes that they were still around. There were competitors, but I was a green stamp gal. My Granny was my enabler. She lived in a small East Texas town and her friends who did not use green stamps would collect them and give them to her for me to redeem. Granny would put them in a shoebox and I recall my absolute delight if there was two or more shoeboxes full. Not every grocery store or gas station gave out green stamps, so this was a good way for a business to build a loyal clientele. The Sperry and Hutchinson Co. started operations in 1896, producing my beloved S&H green stamps. They opened their first redemption center a year later. Green stamps were given away in grocery stores, dry goods stores and gas stations. The number of stamps one received was based on the dollar amount purchased.
Archaeologists have found evidence of promotional giveaways dating back to 2,000 BC. The first contemporary promotional item is considered to be a button showing George Washington. Thousands were given away during his 1789 run for President. This was considered to be an innovative method to promote Washington, and apparently it worked.
The premium or giveaway dates back to 1793. A merchant in New Hampshire would give customers a copper token with their purchase. They could then redeem the tokens to "purchase" merchandise in his store. The practice quickly caught on with merchants and was used extensively through the 19th and 20th centuries. Benjamin Babbitt, a traveling salesman, would pull into a town with his wagon and offered certificates for a free lithograph with the purchase of a can of baking soda. He did very well with his gift with purchase idea.
Kellogg was the first cereal company to get on the premium bandwagon. With the purchase of two boxes of corn flakes you would be given a book titled "The Funny Jungleland Moving Pictures Book." The free book lasted a couple of years and then Kellogg required that one had to mail in proof of purchase and a dime to get the book.
This story would not be complete without the mention of Cracker Jacks. In 1871, Frederick Rueckheim, a German immigrant, began selling his molasses-covered popcorn from a cart on the streets of Chicago. Many of his customers were those working to rebuild the area after the great Chicago fire.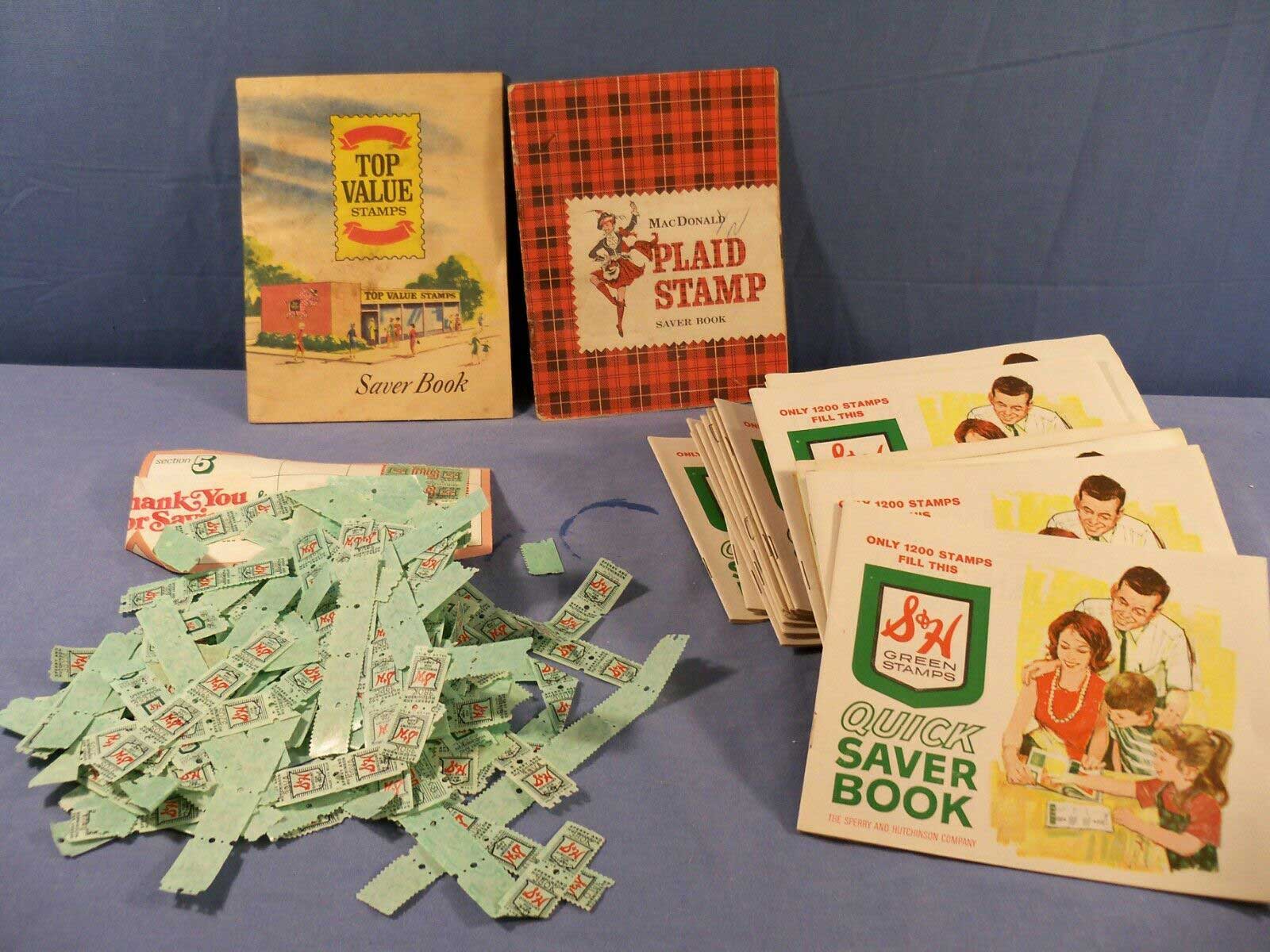 Green Stamps
A shoebox from Granny meant a treasure trove of green stamps. (Image courtesy of the author)
A prize in every box
His brother soon joined him in the business, and an American icon was born. In 1910 they began putting "a prize in every box" Prizes ran the gamut from highly collectible baseball cards to silverware. I have a friend who had been collecting Cracker Jack prizes for more than 60 years. He would slide them onto a chain that hung on a nail in his bedroom. When he passed, his kids wanted to put it in the garage sale for $25. Thank goodness I was able to get them to send it to an auction house, where it sold for $8,000. The baseball cards sold for $600.
Furniture companies even got in on the premium craze. My favorite is the Larkin Soap Co., a.k.a Larkin Co., established in 1875 in Buffalo, NY. In 1881, the company hired door-to-door salesmen to complement their sales directly to shops. In the beginning, a small premium, a color picture of the company logo, was inserted into each box of soap. The mail-order end of the business was taking off, so they upgraded the premiums into more interesting postcards. They continued to refine their premiums and inserted a handkerchief in their "Pure White" soap; a bath towel was placed in the "Ocean Bath" soap.
Their marketing idea took off to the point that in 1885 all salesmen were fired, which allowed the company to provide higher-quality premiums — furniture. The company also "recruited" housewives known as "Larkin Secretaries," as well AS children to go door to door marketing Larkin products.
I could go on and on about The Larkin Co., so please take the time to follow the below link and read more about the company.
Back in the "good old days," movie theaters had a dish night. For the price of a ticket, one would get a free dish. Boxes of oatmeal offered up a glass. The history of premiums is vast and interesting. I will pick up where I have left off in a future column.
Happy New Year!
** The cupboard I appraised last month was dated 1944. I failed to include the date in my column.
*All prices given are for sale in a private sale, antique shop, or other resale outlets. Price is also dependent upon the geographic area in which you are selling. Auction value, selling to a dealer or pawn shop prices are about ½ or less of resale value.
Michelle Staley is a Lenexa, KS-based dealer and researcher with 35 years of experience in the antique trade.
Send questions with photos to Michelle at michelle@discovervintage.com or TXSmichelle@gmail.com. Please keep queries to one question; questions without photos of the item may not be answered. There is no guarantee that your question will be answered or published.
Michelle is also available for consulting and extensive research work beyond this column. If you would like an appraisal on an antique or collectible please go to www.michellesantiqueappraisals.com for a one-on-one appraisal. Please note new web address.