Cupboard painted by mid-century folk art favorite
​Question:
I inherited this cabinet with three canisters and three plates that are 9 inches in diameter. I don't know anything about it other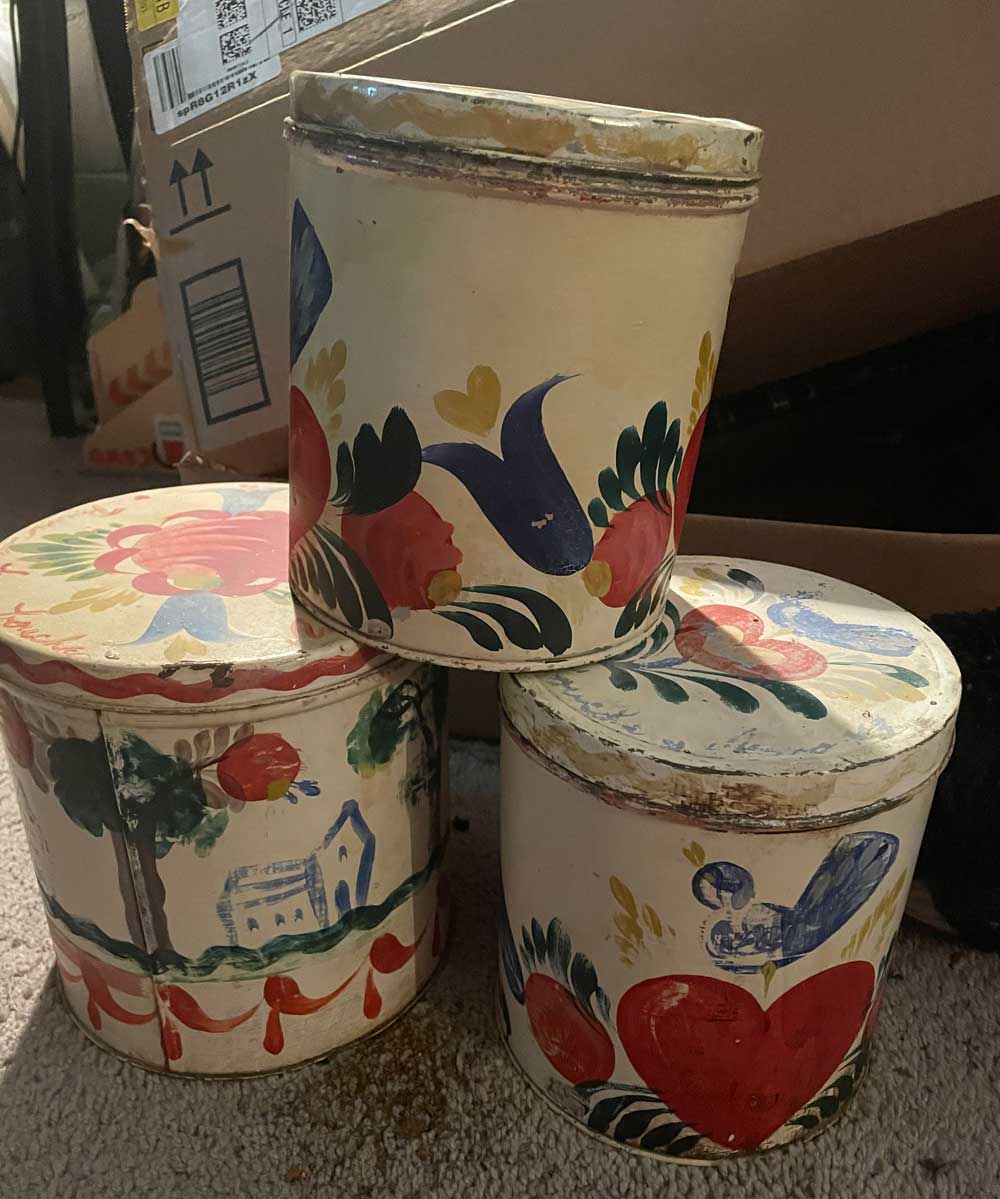 than it belonged to my grandparents, who were native to Oklahoma. The cabinet is wood and measures 61 inches tall, 33 1/2 inches wide and 18 inches deep. Looking at the back, you can see that it is two pieces, the top and bottom. I want to sell it but don't know where to start.
Answer:
When I first looked at your items, I was convinced that they were painted by a homecrafter, but upon further research I honed in on who did the artistic work, and I love his story.
Artist Peter Hunt
Your stepback cupboard was painted by Peter Hunt. Hunt was born in New Jersey, served in World War I and in the 1920s he moved to the Cape Cod area. His father was an artist, a naive artist or one with no formal training. One of "Pa" Hunt's paintings, "Peter Hunt's Antique Shop," from the early 1930s, was acquired by the Museum of Modern Art.
Peter Hunt would buy secondhand pieces of furniture and paint them with his whimsical style which depicted colorful peasant designs, hearts, flowers, fruits, birds, angels, pretty maidens and their suitors all reminiscent of Pennsylvania German and French Provincial folk art. Hunt painted furniture always, has "anno Domini" and the year the item was painted or his signature hidden in the pseudo French text.
His career took off after he painted a chest for a friend's daughter depicting scenes from her life. The rich and famous who spent time in Cape Cod fell in love with his unusual, cheerful, painted furniture. Hunt was a charmer and wooed the influencers, which sold more furniture that was perfect for their Cape Cod vacation homes. Helena Rubinstein was a regular customer. DuPont learned of Hunt and provided him with paint to use on his fantastical creations.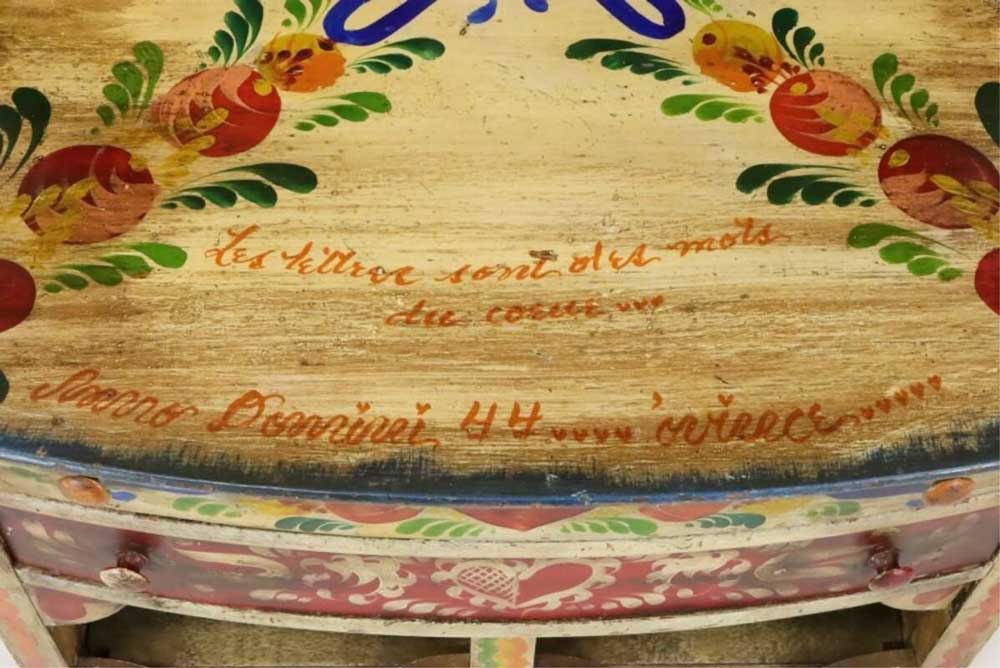 Detail of faux French writing on table top of cabinet.
** All prices given are for sale in a private sale, antique shop or other resale outlet. Price is also dependent upon the geographic area in which you are selling. Auction value, selling to a dealer or pawn shop prices are about ½ or less of resale value.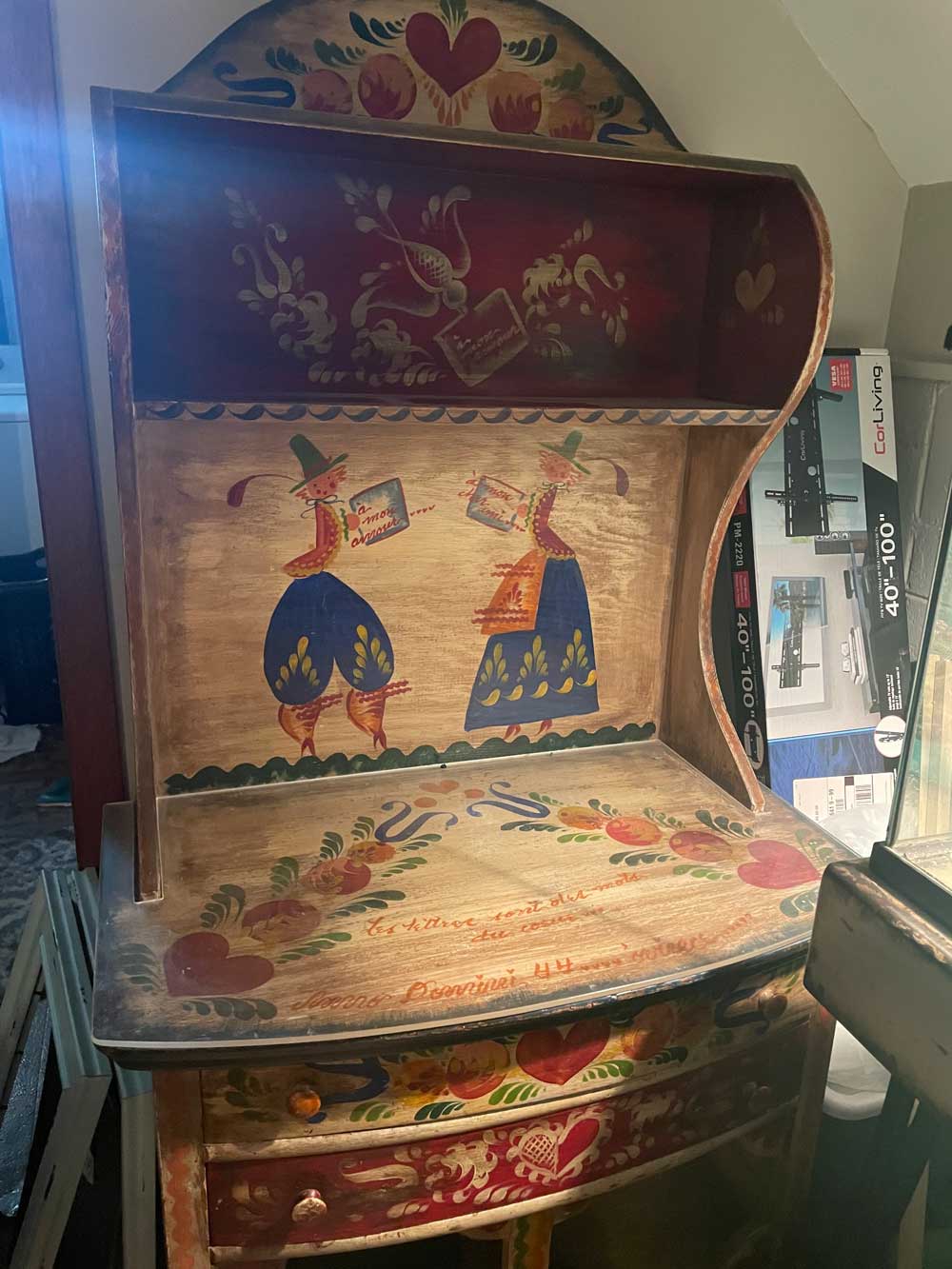 Peter Hunt was known for painting secondhand furniture pieces in his colorful, whimsical style. right: canisters painted by Hunt. (Images courtesy of the question submitter)
Hunt designed the "Cape Cod Room" restaurant of Chicago's Drake Hotel in 1935. He was featured in a number of popular magazines of the time; also, his furniture, home goods and other items were sold in major department stores such as Gimbels and Macy's.
Hunt gained even more popularity during the 1930s and 1940s, when he created stickers and wrote a book so that women could recreate his style during the Great Depression and the years afterward.
By the 1950s, folk art faded in popularity. Sadly, Hunt died almost penniless in 1967.
As with many items in this crazy field, what fades often surfaces again in popularity, and Hunt furniture is no exception. His pieces now sell for thousands of dollars and that includes the stepback cupboard you have. I put the resale value at $4,000, including the canisters and plates. If it were to be sold at a known auction house, it could easily bring $6,000 or more.**
** The cupboard I appraised was dated 1944.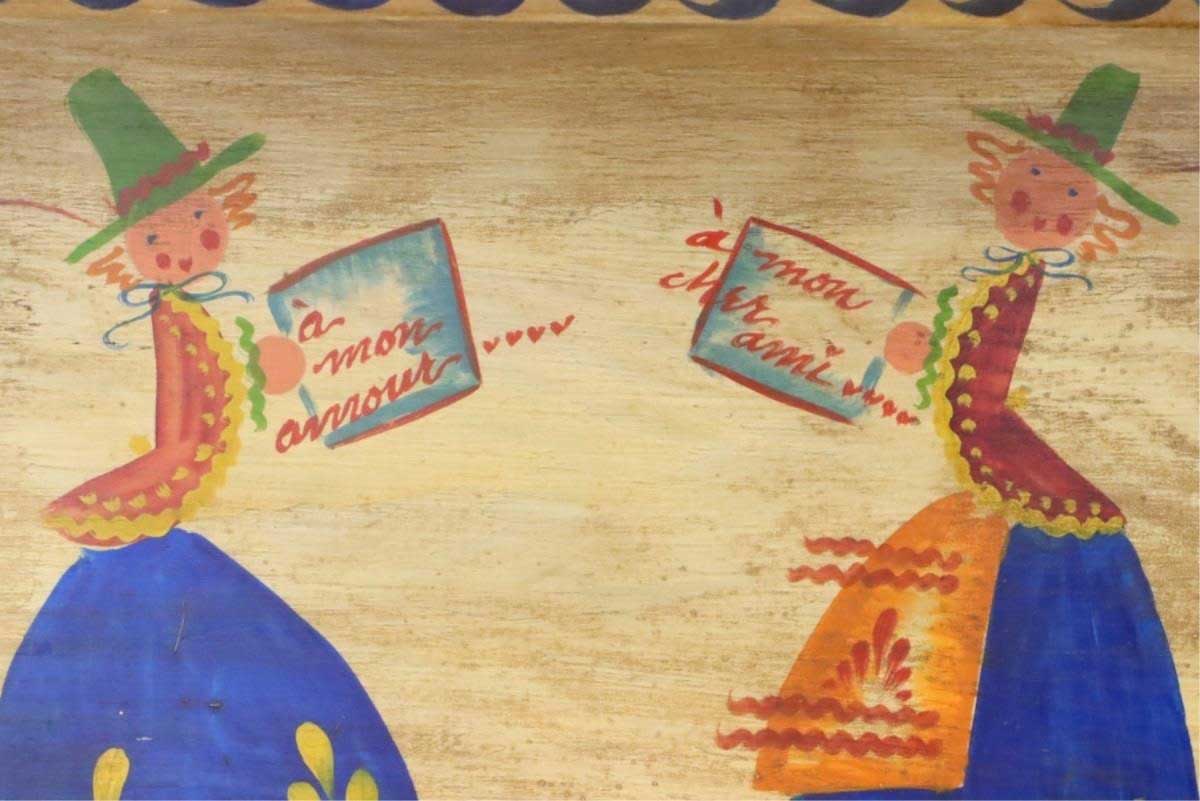 Detail of drawings on the back board of cabinet hutch.
Michelle Staley is a Lenexa, KS-based dealer and researcher with 35 years of experience in the antique trade.
Send questions with photos to Michelle at michelle@discovervintage.com or TXSmichelle@gmail.com. Please keep queries to one question; questions without photos of the item may not be answered. There is no guarantee that your question will be answered or published.
Michelle is also available for consulting and extensive research work beyond this column. If you would like an appraisal on an antique or collectible please go to www.michellesantiqueappraisals.com for a one-on-one appraisal. Please note new web address.