Auction find may turn out to be a treasure… or not
Well, folks, it has happened again. Someone purchased an item at a sale for very little money and later found that they owned a treasure.
In 2016 a gentleman stopped by an estate sale and was attracted to a sweet drawing on yellowed linen of what looked like a woman holding her child. He paid the $30 asking price and went on his way. The drawing was put away in a closet. At the time of purchase, neither the seller nor buyer gave heed to the distinct mark of the well-known German Renaissance artist, Albrecht Dürer. Maybe they thought it was a fake of the original.
At some point, the buyer presented the drawing to an art expert and after careful study and consideration, it was determined that the drawing is the real deal. If that doesn't knock your socks off it is considered a "historic rarity" and is likely a preparatory work for a circa 1506 painting AND is the first "totally unknown" drawing by the artist to resurface since the 1970s.
The drawing is titled "The Virgin and Child With a Flower on a Grassy Bench." We aren't just talking about any woman and child.
Treasure
The drawing is on display at a noted art gallery in the UK but will be put up for auction and has an estimated auction value of, sit down for this, $50M. WHAT!?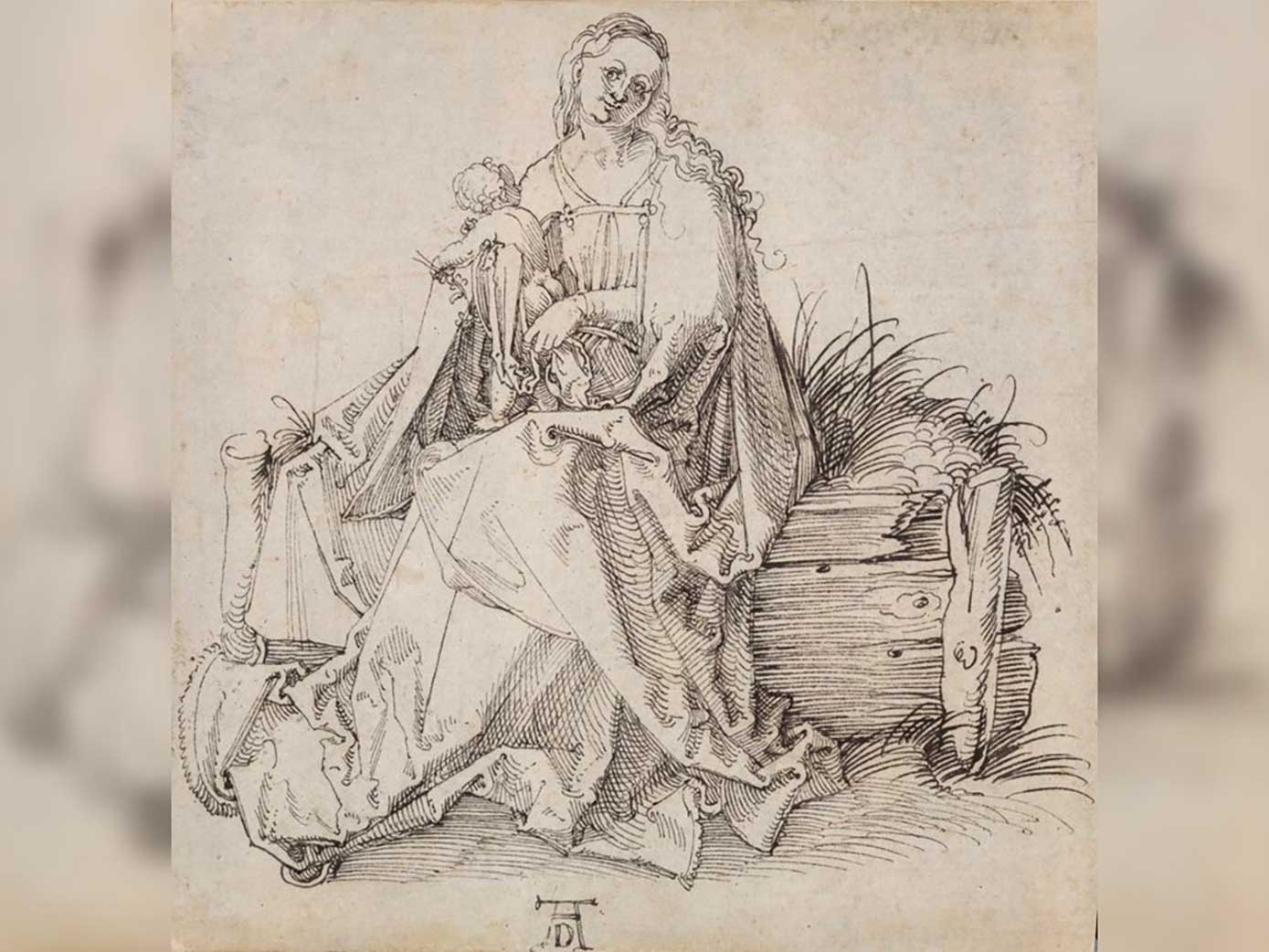 Sweet drawing on yellowed linen
Sweet drawing on yellowed linen of what looked like a woman holding her child. Well known German Renaissance artist, Albrecht Dürer
I, on the other hand, purchased a painting on canvas titled "The Prodigal Son Comes Home" by Rembrandt. There was not a doubt in my mind that it was anything other than an original. I made the score of the century at a thrift shop for $10. As soon as I got home I sent pictures to an art expert friend who works at a major auction house. I was ready to put my Rembrandt up for auction and make millions.
or Not
Well, it turns out that I have an older, well-crafted knock-off that would sell for $300. It is hanging in my bedroom and I am on the hunt for the rest of the Prodigal Son paintings, knock-offs that are.
Question:
The sofa belongs to my brother and sister-in-law (Joy) but has been housed in our lower level for more than 12 years. Since neither of their children are interested in it, they are considering selling.
Dimensions: 77" L x 33" H x 32" D.
The sofa is from Joy's family. Her aunt and uncle apparently purchased it when they were first married about 100 years ago. It was re-upholstered 30+ years ago, and the fabric is still in very good condition, though some of the trim needs re-tacking. There are a few wood blemishes, but overall the sofa is in good/very good condition.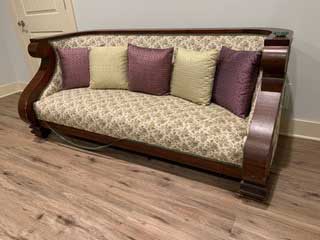 Answer:
Your lovely sofa is what is called American Revival. It was more than likely made by a company in Grand Rapids, MI, which was declared the furniture capital of America after the Philadelphia Centennial Exposition in 1876. Soon after, furniture manufacturers popped up all over the city.
American Revival style furniture is known for its heavy wood detailing which is either mahogany or walnut. It dates to no later than the 1920s.
There is a small niche of buyers of this nice heavy furniture and in a good market it would sell for around $600 – $800. In today's market, you are looking at $250 – $300.
The upside is that the younger generation is attracted to antique furniture and this style is right up their alley. Many, like my 21-year-old granddaughter & her boyfriend, have the mindset of recycle, it will last forever, sustainability aspect.
** All prices given are for sale in a private sale, antique shop, or other resale outlets. Price is also dependent upon the geographic area in which you are selling. Auction value, selling to a dealer or pawnshop prices are about ½ or less of resale value.
Michelle Staley is a Lenexa, KS-based dealer and researcher with 35 years of experience in the antique trade.
Send questions with photos to Michelle at michelle@discovervintage.com or TXSmichelle@gmail.com. Please keep queries to one question; questions without photos of the item may not be answered. There is no guarantee that your question will be answered or published.
Michelle is also available for consulting and extensive research work beyond this column. If you would like an appraisal on an antique or collectible please go to www.michellesantiqueappraisals.com for a one-on-one appraisal. Please note new web address.