Masks bring touches of playfulness, color to Mardi Gras
Mardi Gras celebrations
One of the most widely-recognized traditions of Mardi Gras celebrations – that of wearing masks and costumes during celebrations – is also one of the most collectible, as a peek around cyberspace will show.
Throughout the Fat Tuesday celebrations of the Carnival season that precede Lent, costumes can be found on the characters who wave to crowds that line the streets of New Orleans, that U.S. city, of course, with the largest Mardi Gras celebration in America (St. Louis, right here in the Midwest, claims to be the city with the second-largest celebration).
One scholar, Jasmine Freile-Ortiz, wrote in 2020 for Loyola University's Documentary and Oral History Studio that these masks have become a cherished feature of Mardi Gras celebrations throughout the centuries.
"The Mardi Gras mask has rightfully earned its spot as one of the most notable parts of the holiday. These simple creations add such a unique and exciting element to the holiday and celebration," Ortiz writes. "Masks and costumes give many the opportunity to freely express themselves and transform into another being while creating art that depicts the beautiful soul of New Orleans."
The masks themselves have their roots in Renaissance-era Venice, Italy, where revelers could engage in forbidden vices during Mardi Gras, their identity unknown, thanks to their face covering,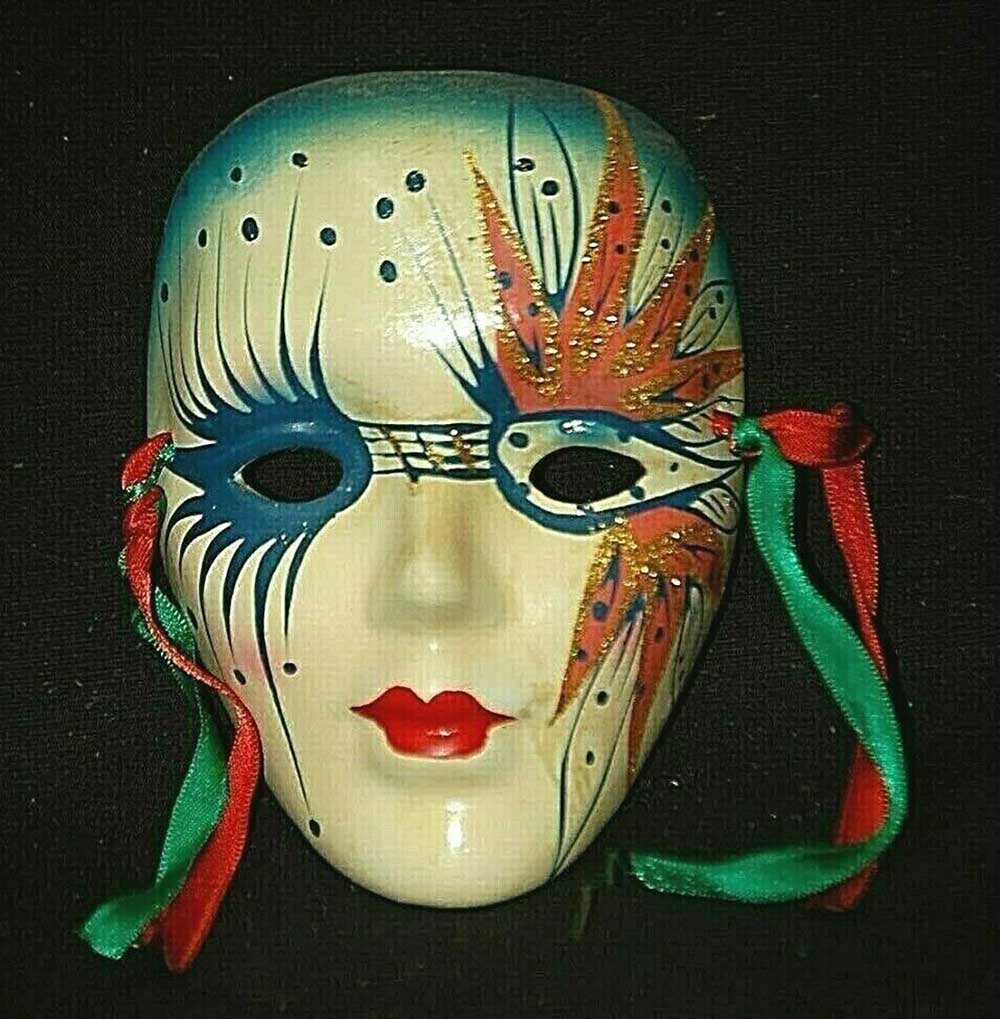 Madri Gras Mask
A face mask painted with red and blue accents, decorated with ribbon. (Image courtesy of Collectors Weekly)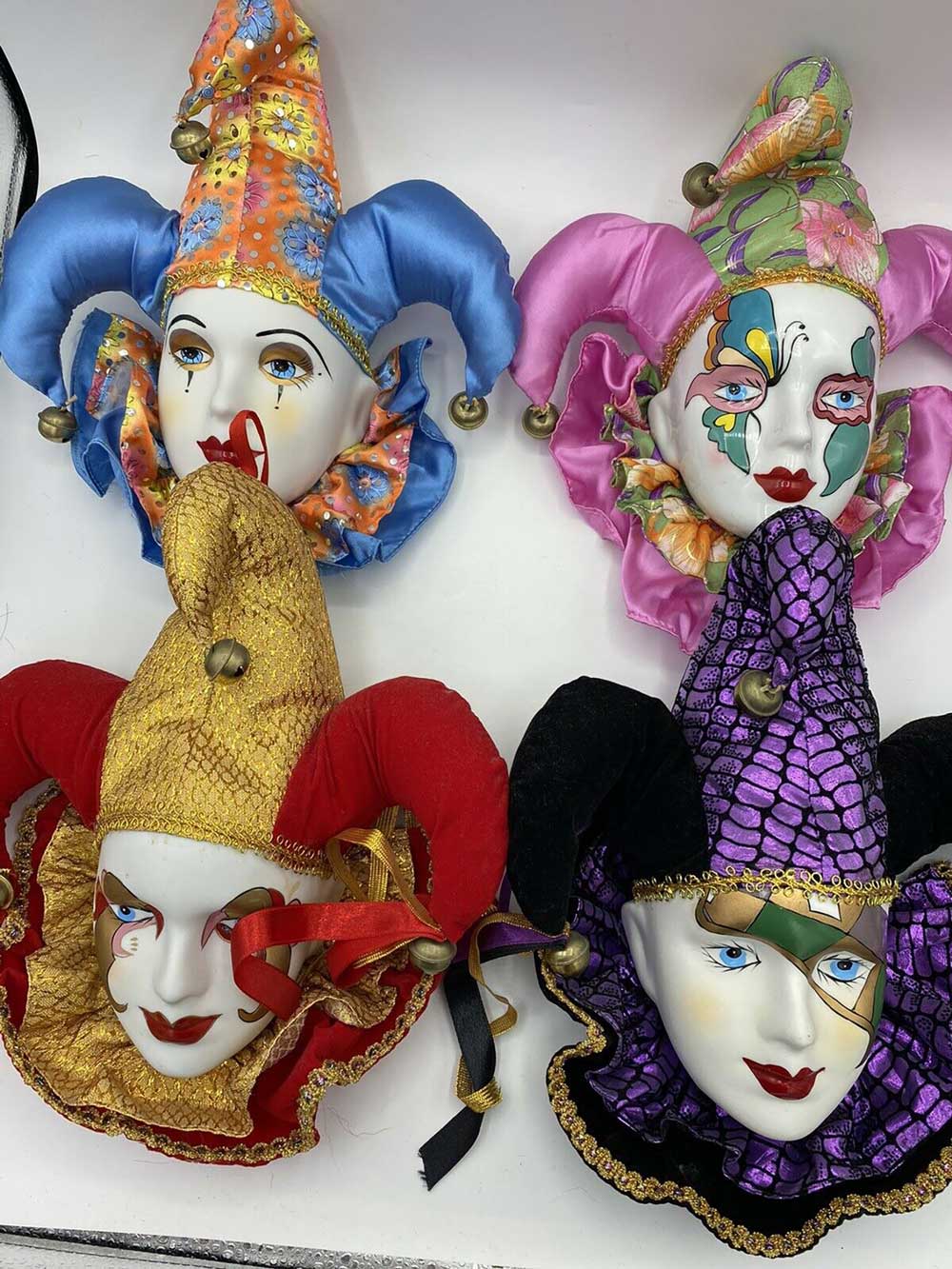 Four porcelain Mardi Gras masks
Four porcelain Mardi Gras masks in the style of jesters. (Image courtesy of Collectors Weekly)
Those masks manufactured in Venice are festooned with gold and silver embellishments in the Baroque style; they are intended to appear more comedic in nature. Other Venetian masks known as "Bauta" covered not just the upper half of one's face, but the entire face. These masks usually had no mouth, but included a prominent brow and an elongated nose. This style of mask would usually be worn with a cape and tricorne-style hat.
A third style, the Colombiana, was a half-mask held up to the wearer's eye level, usually affixed to a stick with ribbon; they also could simply be tied to one's head. Meant to convey the wearer's elevated social status and elegance, the Colombiana mask was usually decorated with jewels, gold and even feathers.
One style of mask that has made its way into pop culture in this current global pandemic era is the "medico della peste," or plague doctor mask. With a curved beak that covered the nose and mouth, the mask was filled with fragrant items like dried flowers, cloves, and herbs thought to purify the air. The mask was invented in the 1600s by a French doctor who thought it would prevent physicians from catching the plague; in Mardi Gras celebrations, meanwhile, the plague doctor mask is meant to serve as a somber reminder of the revelers' mortality.
Finally, a modern Venetian mask, simply referred to as the "volto" ("face") mask, is crafted from porcelain, simply painted, with simple expressions on the mask's sealed lips. This type of mask is able to be tied on with a ribbon.
Today's masks used in Mardi Gras celebrations in New Orleans have taken the concept of these classic Venetian masks and expanded upon them to include portrayals of animals, angels, beasts, devils, and clowns, among other characters.
"Through this all, it is shown that masks are deeply personal. A Mardi Gras mask is not confined to any specific set of rules, colors, shapes, or accessories; it is simply confined to one's own imagination and boldness," Ortiz writes. "(People create) masks of all sorts, from simple, elegant masks, to masks depicting animals, to masks used to convey a message." 
In addition to being found online on auction sites as full-sized versions, smaller versions of every style of mask also can be found, as a brooch, earrings, or as a wall decoration in your home. Let these items express your colorful personality and imagination during this Mardi Gras season.
Source: Collectors Weekly