Picture book was a 1917 railroad souvenir
Rocky Mountain Views
One of my relatives who traveled through the Western states by rail in the early 1900s came home with a souvenir book of "Rocky Mountain Views. The origin of my book is unclear, but it may have come from one of several relatives, including an uncle who lived in Oakland, CA, and made several trips with his wife to visit her relatives in the Midwest.
The book, "Rocky Mountain Views on the Rio Grande, the Scenic Line of the World," reveals by its grandiose title that it was a souvenir of the Denver and Rio Grande Western Railroad. A note on the title page indicates it was for sale only on that route.
According to Wikipedia, the Van Noy Railway News and Hotel Co., publishers of the book, was founded by brothers Ira Clinton and Charles S. Van Noy, of Kansas City to provide services aboard passenger trains. Among their early employees was 15-year-old Walt Disney, who in 1916 worked as a "news butch," walking through passenger cars, selling magazines and other merchandise to travelers.
In the years before dining cars were common on trains, the Van Noy brothers secured contracts with railway lines and built restaurants and hotels along major rail stops. Along with their two other brothers, they became hugely successful, both Ira and Charles building homes in Kansas City at 6700-6800 Elmwood that are now on the National Register of Historic Places.
In 1926, the company began operating as the Interstate Co., and expanded its publishing business. My book, copyrighted in 1917 and printed in Denver, is one of their products.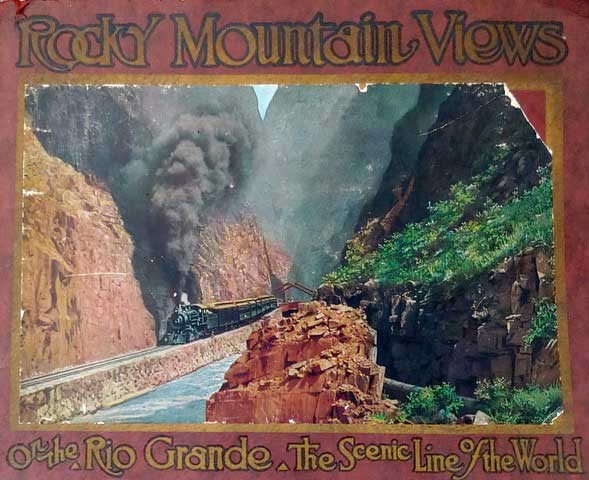 Souvenir book of Rocky Mountain Views
Souvenir book of "Rocky Mountain Views," copyrighted in 1917, was marketed as a railroad souvenir. My copy is fascinating, if not in perfect condition (Images courtesy of the author)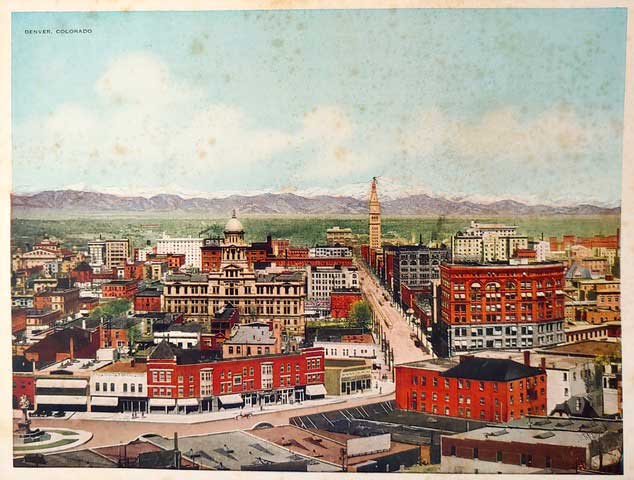 Denver of the past
View of Denver contrasts with today's bustling city.
The Denver & Rio Grande Western Railroad was an outgrowth of the Denver & Rio Grande Railroad, founded in 1870 by Gen. William Palmer, a Union Civil War veteran. The original line was the largest narrow gauge line in America and served Colorado and Utah primarily. According to "Railroads of America," an online source, the railroad built some of the most tracks in existence, including the highest mainline railroad in the U.S. (over 10,000 feet) at Tennessee Pass in Colorado.
A map at the back of my book shows the Denver & Rio Grande Western Railroad and connecting routes as they appeared in 1917. The line later became the Southern Pacific Railroad, and was merged into the Union Pacific Railroad in 1996.
Ken Weyand is the original owner/publisher of Discover Vintage America,  founded in July 1973 under the name of Discover North.
Ken Weyand can be contacted at kweyand1@kc.rr.com Ken is self-publishing a series of non-fiction E-books. Go to www.smashwords.com and enter Ken Weyand in the search box.