Old tennis racket shows how much sport has changed
Old tennis racket
Since I was a youngster, an old tennis racket has been part of our family's collection of "never thrown-away treasures." One of the few sporting items owned by my dad, it was made by Norvell, and sold through Shapleigh Hardware.
In 1910, my dad (orphaned a decade earlier and taken in by an uncle), struggled to put himself through three years of college at what was then known as Kirksville Normal School in Kirksville, MO. Few items survive from those days, including the certificate he received authorizing him to teach "in rural schools," and a few faded photographs. The tennis racket is the one exception.
Made of several woods, including cedar, ash and mahogany, the racket was the least expensive of three models the company listed in a 1910 Shapleigh Hardware catalog, at $13.00. It was said to have been "strung with the Best Grade White English Gut," and available in weights of 13, 13 ½, 14, 14 ½, and 15 ounces.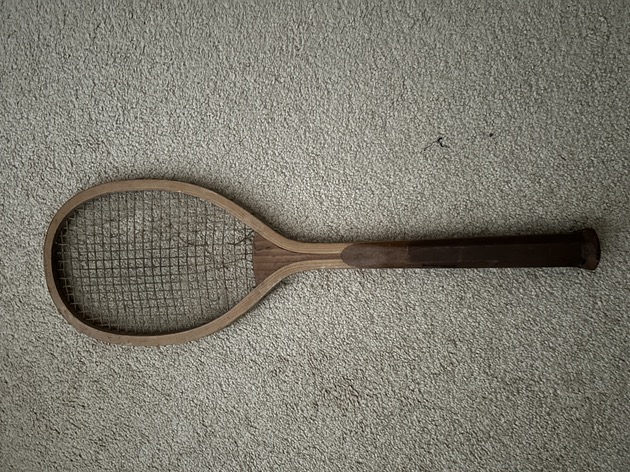 Early day wooden tennis racket, marketed through Norvell-Shapleigh Hardware Co. in St. Louis, was made sometime before 1910. (Ken Weyand collection)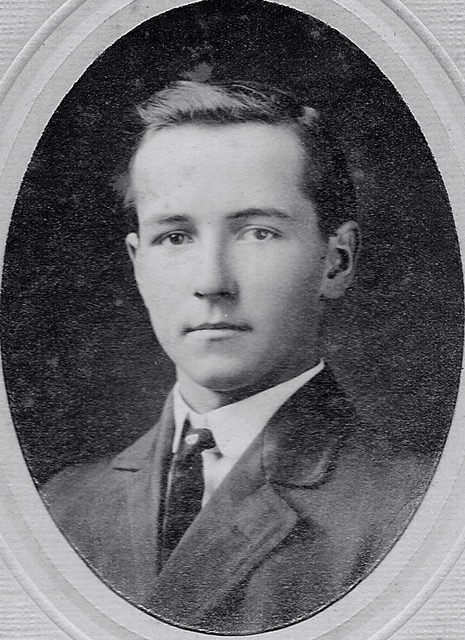 My Father
Elmer J. Weyand, the writer's father, age 18, in a 1910 college photo.
In its ad copy, the company stressed the need to keep its rackets in a cool, dry place. "Moisture will either cause the strings could break or the frame to warp." The company refused to be held responsible for any resulting damage.
The Norvell-Shapleigh Hardware Co. in St. Louis took its name from Saunders Norvell, who became president of A. F. Shapleigh Hardware when its founder, Augustus Shapleigh, retired in 1900. Norvell continued as president for 10 years, and his name was attached to the company until 1918, when the company name reverted to Shapleigh Hardware Co. The company closed in the early 1960s.
In 1949, when I left home for a summer boys' choir camp in New Mexico at the age of 12, my mother dutifully stamped my name on the end of the racket handle, and included the artifact in my luggage. I don't remember using the racket at camp, but a portion of my name is still visible on the handle.
Nearly identical rackets from the same time period have been offered online, priced at $200 or more. Mine is nearly in its original condition, except for the string being broken in a couple of places. My racket probably will join other items I have donated to the Clay County Historical Museum in Liberty, MO.
Ken Weyand is the original owner/publisher of Discover Vintage America,  founded in July 1973 under the name of Discover North.
Ken Weyand can be contacted at kweyand1@kc.rr.com Ken is self-publishing a series of non-fiction E-books. Go to www.smashwords.com and enter Ken Weyand in the search box.