Mementos of a trip to Paris: 1921-22
Sailing on the Aquitania
My aunt, Ruth May Weyand, was the youngest of eight siblings orphaned in 1899 and farmed out to various relatives. By 1917, she had graduated from Illinois College, and became the "family historian" in charge of keeping the family together. Over the next three years she qualified to be a practical nurse, and took a job in Chicago as a social worker.
But her work in Chicago took a toll on her emotional health. Ruth's doctor said she was suffering from nervous exhaustion, and needed a change of pace.
It was a big change. After helping a sister in Chicago care for two young children, she headed for Brooklyn, N.Y., to visit a brother. Using his address as her "home base," she boarded a ship and headed for France for an extended visit with another brother and his family in Nanterre, a village near Paris.
In May, 1921, Ruth sailed on the "Aquitania," at the time the largest liner in the Cunard fleet. According to Wikipedia, the ship was first launched April 21, 1913, barely a year after the sinking of the Titanic. Converted to a troop carrier during World War I, it returned to passenger service in 1920, and continued as a troop transport in World War II.
Unlike the Titanic, the Aquitania carried lifeboats for all passengers and crew, including two motorized launches with wireless equipment to enable rescue. Passenger amenities included extra-large cabins, smoking rooms, a gymnasium, and more, with open areas for walkers and joggers. On the back of a ship's menu, my aunt wrote: "It's well over a quarter-mile walk around the ship."
In France, Ruth stayed with her brother, Charles, and his family, which included two daughters — Ginevra, who turned 7 in 1921, and Odette, born the previous September. When she wasn't babysitting, Ruth took time out to see Paris, including visits to the Palace of Versailles, the Chateau de la Maimaison (Napoleon's home), the St. Germain area, and the Palace of Fontainebleau. A map of World War I battlefields indicates she may have included them in her schedule. Nightlife included an evening at the Folies Bergere.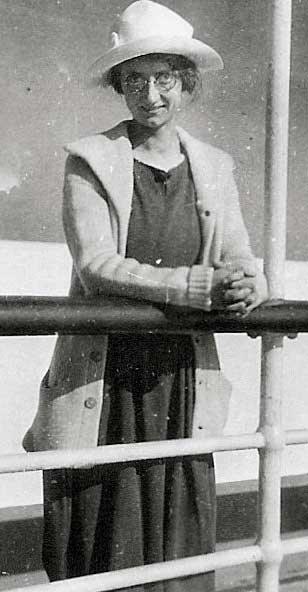 My aunt Ruth Weyand
Ruth Weyand, my aunt, on the Aquitania, en route to France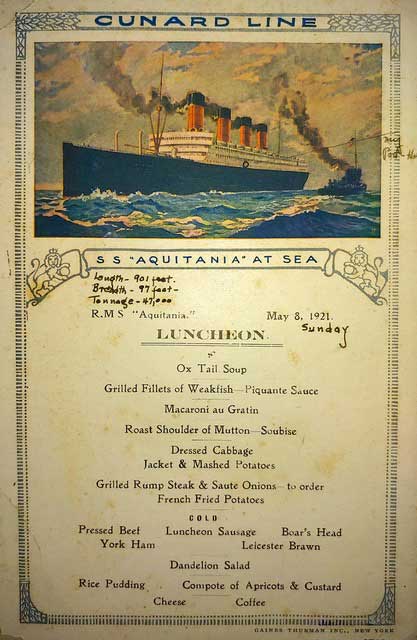 Aquitania menu
Aquitania menu, with memo from Ruth showing location of her cabin
In October, Ruth sailed back to the U.S. on the S.S. President Adams, of the United States Lines. Launched a year earlier under the name President Grant, the 10,495-ton ship later re-assumed that name and served as a troop transport in World War II.
After reaching New York, Ruth continued her trip with a visit to Niagara Falls. She brought home several tour folders of the area that are included in her collection of souvenirs.
Eventually my aunt settled into the routine of managing the family home in Hamilton, IL and caring for her stepmother, Lucy. Our family often visited, and as a youngster I occasionally stayed overnight. In the morning, Aunt Ruth often treated me to one of her favorite breakfast treats from her Paris days – a "French egg," soft-boiled and served in a special eggcup. Great memories.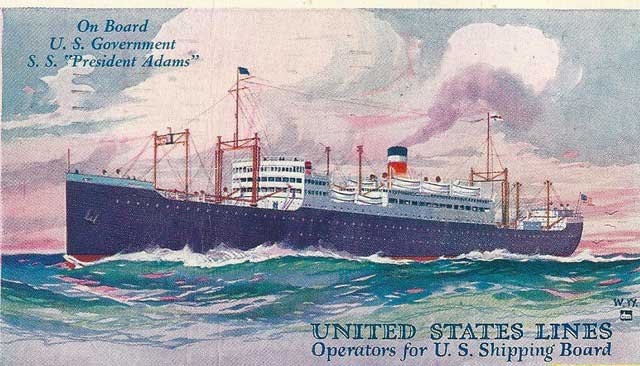 Returning to the U.S., Ruth sailed on the President Adams
Ken Weyand is the original owner/publisher of Discover Vintage America,  founded in July 1973 under the name of Discover North.
Ken Weyand can be contacted at kweyand1@kc.rr.com Ken is self-publishing a series of non-fiction E-books. Go to www.smashwords.com and enter Ken Weyand in the search box.