Get a glimpse at pioneer life at farming, historical craft days event
Various farm animals will help attendees take a peek at pioneer life on the farm at the 24th annual Mid-Missouri Horse, Mule and Ox Farming and Historical Craft Days.
The event, scheduled for Oct. 2 and 3 in Gerald, offers a wide array of family-friendly activities and the opportunity to make furry new friends. Activities and demonstrations throughout both days will include sorghum pressing, molasses cooking, corn grinding, spinning, soapmaking, blacksmithing, basket making, and dry stone masonry.
In addition, Walter Schlemper, mule man, author and woodcarver, will be on hand for a meet and greet; the Missouri Prairie Foundation will have native plants on display; Terry Lipel will be performing live bluegrass and gospel music; and, of course, there will be plenty of mules, horses, and oxen on the grounds.
Admission to the event is $6 for those ages 6 and older; children 5 and younger get in for free.
For more information, call 573-764-2629 or e-mail tenacity2fidnet.com.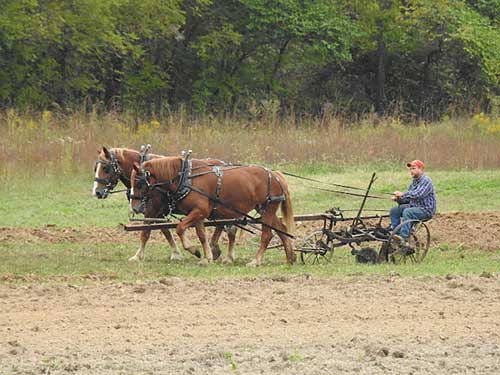 A man demonstrates how to plow a field at the 20th annual Mid-Missouri Horse, Mule and Ox Farming and Historical Craft Days. This year's event is set for Oct. 2 and 3 in Gerald, MO.
(Image courtesy of txwaywardwind.blogspot.com.)