What's hot in antiques and collectibles for 2022?
What's new and what's not
Each year, my column revisits this theme for any changes from prior year in the popularity of various antiques and collectibles. There were some surprises in trends for 2021-2022 over those for 2019-2020, but perhaps most surprising were categories unchanged by the pandemic.
Furniture, for instance, from Art Deco to Mid-Century Modern, has remained a popular seller across buyer age groups although it would seem to involve buyer pickup rather than shipping.
For 2021, I want to cite again the listing by the Asheford Institute of Antiques (www.asheford.com/2021-survey-results.html), which breaks down nationwide popular buying trends by three age groups, 20-40, 30-60, and 60-80. Although the survey notes that some categories may have experienced a drop in buying popularity as a result of the pandemic, Mid-Century Modern furniture still remained popular across all three age groups, despite the pandemic and despite predictions of a waning interest.
Costume jewelry was popular among the youngest two groups, whereas Art Deco was sought after by the older two groups. Youngest buyers shared with the oldest group an interest in lighting items. Other categories of collectible were more age-dependent.
Youngest buyers liked outer space collectibles, toys (especially toy cars and vintage board games), kitchen and barware, and "the 1970s" (especially furniture). The 40-60 age group liked antique and vintage watches, ephemera, Victoriana, paintings and sculpture, automobilia and petrolina, and glass (i.e., art glass and milk glass). It shared with the older age group an attraction to Victorian furniture as a particular opportunity for cash-strapped buyers. Also attractive for the oldest age group were vintage outdoor furniture, Georgian style furniture, Chinese antiques, lighting, Victorian paintings, Art Nouveau, and silver (especially flatware and belt buckles).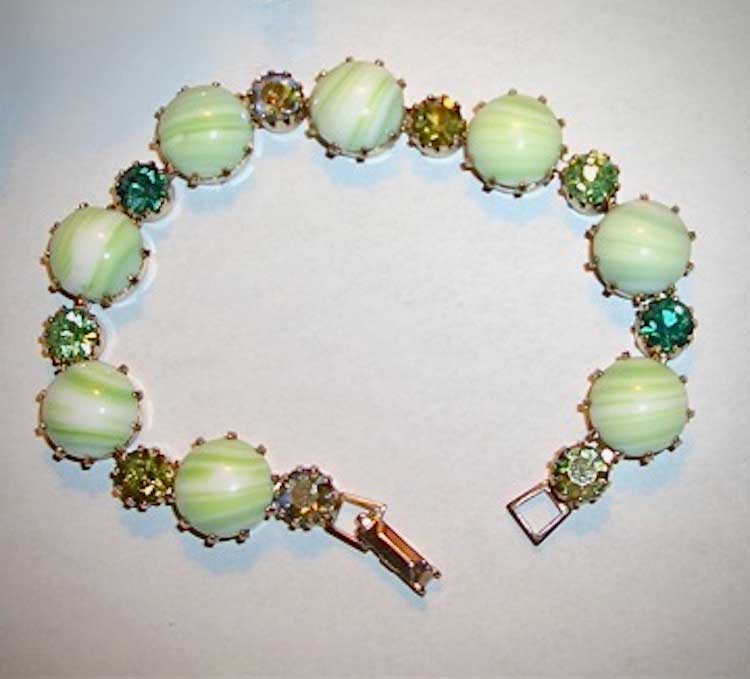 Fenton Wheat Vase in a deep Wild Rose
Name-maker costume jewelry remained popular in 2022 as it had in 2021. Shown here, a bracelet with emerald rhinestones and faux green-striated agate marked WEISS on the clasp. Caution: Weiss and other name costume jewelers have been subject to counterfeiting. Modern costume jewelry, including fakes attributed to famous makers, will have a textured back; authentic items will generally have flat, smooth backs. Image courtesy of the author
In other sources, sales reports depended on types of inventory particular shops offer. According to Sandy Erdman, columnist for the online Post Bulletin in Minnesota (www.postbulletin.com/lifestyle/what-was-hot-in-2021-should-remain-hot-in-2022), "farmhouse style" is especially popular in the Midwest. The following categories were also popular with her readers: automobile and petrol-related items, vintage Pyrex, farm and other toys from the '80s, older advertising pieces, cast iron pans and toys, stoneware crocks, vinyl records, camping and hunting items, fishing-related items, vintage clothing, and Fenton Art Glass.
Terry Kovel's take
No consideration of recent trends in sales would be complete without reference to Terry Kovel. On her website (www.kovels.com), she notes what's hot in antiques and collectibles for 2022, some of which echoes the Asheford survey but others of which are unique to her (probably because her list is more item-specific):
• Copper pots and pans
• Modern copper jewelry
• Name-brand costume jewelry
• Very early Meissen porcelain
• Anything by Georg Jensen (silver), L. C. Tiffany (glass, metal, lamps, jewelry), and Georg Ohr (pottery)
• Photographs by name artists like Edward S. Curtis (1868-1952) and Ansel Adams (1902-1984
• Neon signs
• Early American blown glass flasks
• Fashion handbags by Chanel, Judith Lieber, Hermès, etc.
• Pedal cars
• 1930s oak furniture (for repainting!)
Some of the categories that appeal especially to younger collectors aren't mentioned on these other websites, illustrating that "what's hot" is a judgment that depends on the inventory of the evaluators as well as their shops' position in the national geography.
For the younger collectors
According to the American Collectors Community website (www.americancollectors.com), what's hot among the youngest collectors includes coins and currencies, stamps, and sports cards. It's interesting to note how consistently popular these have been, across generations, with younger collectors.According to the website Adirondack Girl at Heart (www.adirondackgirlatheart.com), the top trends include practical items that can actually be used by the buyer and not just displayed:
• ironstone
• costume jewelry
• baskets
• canning jars
• tools
• farmhouse style furniture
• leather books
• flower frogs
• toothpick holders
• old luggage
• Christmas decorations
• Pyrex
• cookbooks
This particular list is focused on practical household use, as would be consistent with the cultural impact of having lived for two years with a COVID epidemic that kept so many of us restricted to our homes. We'll have to see how 2023, with its own challenges, shakes out.
Peggy Whiteneck is a writer, collector, and dealer living in East Randolph, VT. If you would like to suggest a subject that she can address in her column, email her at  allwritealready2000@gmail.com. ​