The abiding appeal of Depression Glass
Depression glass is one example of a collector category that, despite its historic denigration by many in the antiques trade, has staying power with collectors even though it was cheaply made and wasn't considered worth much at the time of its manufacture. It must have been better made than intended, though, as much of it has survived long enough to have approached the classic definition of an antique (i.e., at least 100 years old). Entire sets of this glass (produced during the Great Depression, 1929-1939, hence the name "Depression") are available today in various colors and patterns through such sources as auctions and antique malls. Individual pieces available on the secondary market can help a collector build or fill out a set.
Some patterns are rarer than others, though, and large sets in any pattern aren't as easy to find as they were a few years ago. Some collectors may want to collect just a piece or place setting of multiple patterns or colors rather than trying to assemble an entire set. Imagine the striking impact of a table with a pattern in a different color of Depression glass set at each place!
I have two sets of Depression glass, American Sweetheart and Petalware, made in the 1930s in the milky white Monax color. They were given to me by my Depression glass collector mom well before she died. I prefer these two patterns because their white color shows up well on any print tablecloth of whatever season. Both sets had been assembled piece by piece whenever my parents found cups or plates at reasonable prices on the secondary market. For my parents, giving me these sets had a double positive effect: they got to experience my obvious pleasure in them and made more room for their own several other antique and not-quite-antique collections!
A Brief History of Depression Glass
Because of the time period in which this tableware was produced, an inexpensive cost to consumers at retail was tantamount. Much of Depression glass was actually given away – entire sets as premiums in sale of larger items such as appliances and others just piece by piece in oatmeal or other kitchen product boxes. According to an article in the online shop Vip Art Fair (www.vipartfair.com/most-valuable-depression-glass-patterns), American Sweetheart was an exception to this giveaway distribution as every piece in that pattern was sold.
Cheaply acquired meant one of two ultimate fates for this glass: retention for passing down in families or consignment to the trash heap. Collectors of this glass shudder to think of the vast number of pieces that ended up shattered in dumps and landfills.
It's interesting to note that we don't see many sets of glass tableware produced today, when most of this market is made in china, other ceramics, or plastic. In part, this is a function of relative durability of those materials – making the survival of Depression glass to the present day all that much more impressive.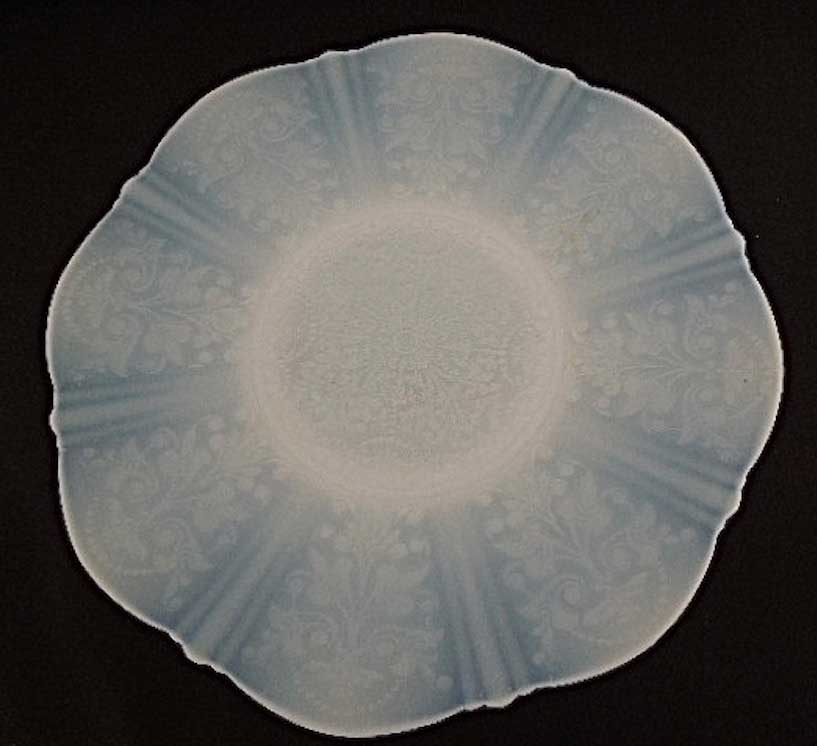 Monax American Sweetheart plate
Large dinner plates in this Monax American Sweetheart pattern are hard to find. Smaller plates and bowls keep the pattern to the rims while the pattern on the large pieces such as dinner plates continues to the center. This color is opalescent with a see-through effect on the rims. (Image courtesy of the author)
Price Considerations
Most Depression glass was produced in lighter colors such as pink, yellow, and light green. My theory about this is that lighter colors tended to show the glass decoration to best advantage. Darker colors such as amber and (especially) cobalt tend to be a bit more expensive today because they weren't made as often.
Color can matter in availability even within each pattern or set. While pink in MacBeth Evans Glass Co.'s American Sweetheart pattern was the color produced at retail in the greatest amount, the opposite is true in the Cameo pattern produced by Anchor Hocking, where pink and yellow are today considered expensive colors since they were produced in limited amounts.
Actually, though, you can find online citations for "rare" Depression colors that run the gamut of just about any color imaginable. So, as with all purchases of antiques and collectibles, instead of focusing on "value," just buy what you like – if you can find it!
Peggy Whiteneck is a writer, collector, and dealer living in East Randolph, VT. If you would like to suggest a subject that she can address in her column, email her at  allwritealready2000@gmail.com. ​