Growing Asian dominance in a global marketplace
Asia-based buyers
For this month's column, I've been especially interested to see the impact of Asia-based buyers on the market for American-made antiques and collectibles. While you can find articles documenting the highs and lows of this impact from as far back as 10 years or more, Asia-based buyers retain a very current impact on the global secondary market, including here in the U.S. Today's Asian buyers buy what they like regardless of cost, often paying exorbitant "Buy It Now" prices on eBay for items posted by crafty sellers who have already noticed what Asian buyers are willing to pay. And those buyers are picking up everything from art glass to real estate, not just within China but beyond it. In online auctions, most Chinese bidders "tend to be younger Millennials and Gen-Zers with higher disposable incomes or wealthier social backgrounds" ("Why Online Auction Marketplaces Could Become Key to Chinese e-Commerce," The China Guys, 11/4/21).
What's going on with Asia?
With the loosening of restrictions on private wealth as communist China seeks to grow its economy, private affluence has become a real possibility. According to the online journal "The Art Newspaper, " In March [2021] there were 626 billionaires in mainland China, a 62% increase from 2020, according to Forbes's Billionaires 2021 report. There were a further 71 in Hong Kong, bringing the total number of billionaires in greater China to just 26 fewer than in the U.S. And then, of course, there is South Korea (43), Taiwan (47), Singapore (27) and Japan (49)" ("Young, monied, and keen to gamble on art: the super power of Asian collectors," The Art Newspaper).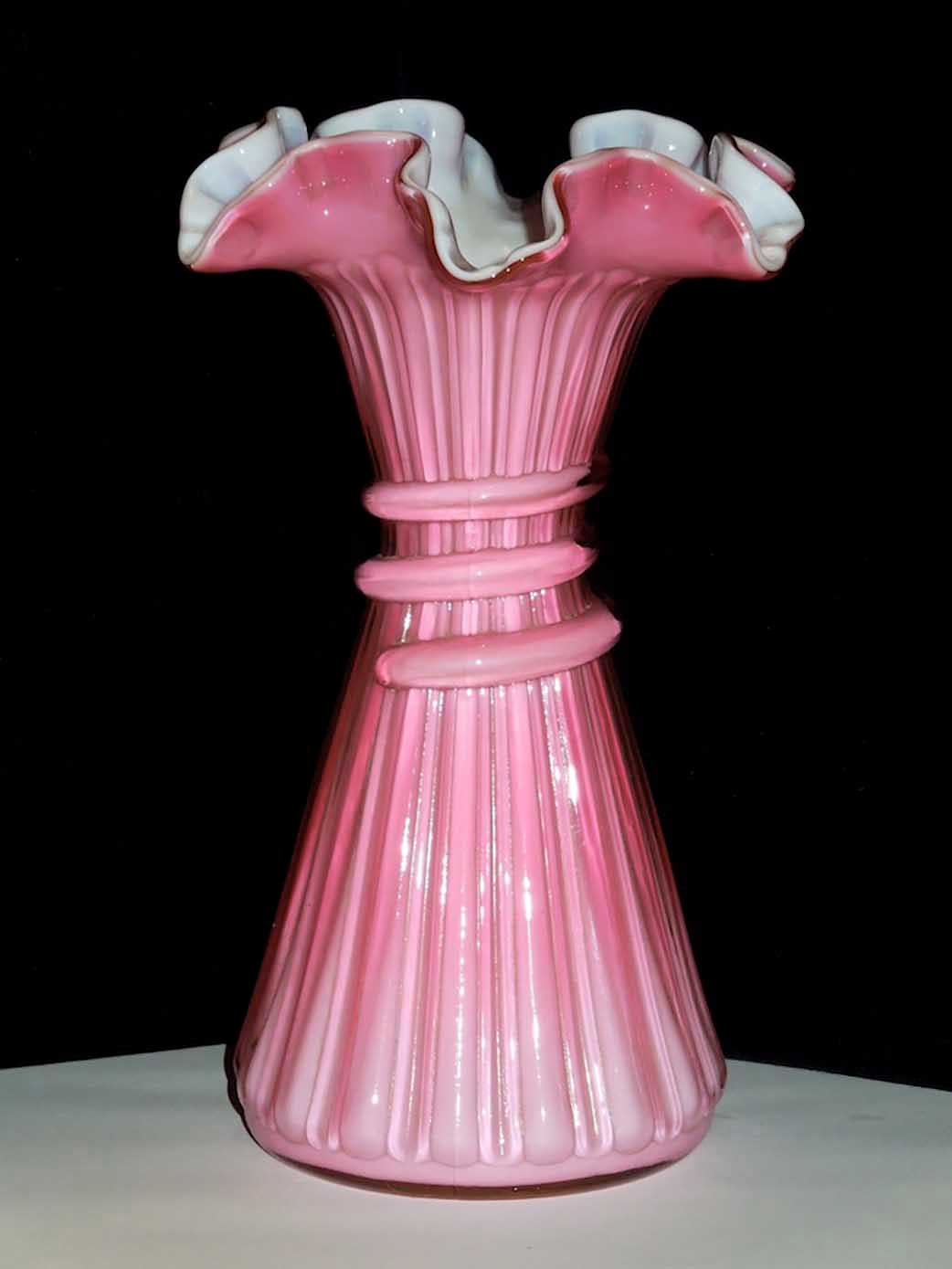 Fenton Wheat Vase in a deep Wild Rose
This Fenton Wheat Vase in a deep Wild Rose color is among the two items from the earlier issue of this shape that have been most highly sought by American collectors. Once considered pricey at $60-$80, this item now goes out at well into three figures, driven by the interests from Asian buyers. In fact, a search of Fenton wheat vases that have recently sold on eBay will show several examples of various colored wheat vases in the $300-$400 range! In private seller online auctions elsewhere, the winners of wheat vases often have Asian surnames, and while names are hidden on eBay, we can probably safely assume high prices are driven by Asian buyers there as well. Image courtesy of the author
Buyers interested in Asian antiques
These buyers remain interested in Asian antiques in porcelain and furniture, but as authenticity issues abound in porcelain and the available supply of genuine Asian antiques has tightened, young buyers have begun to look elsewhere. Online auctions for Fenton Art Glass, for example, have seen prices jacked up by hungry Asian buyers, sometimes well beyond U.S.-based collectors' willingness to pay. As recently as earlier this year, items such as Fenton wheat vases were considered "pricey" in the U.S. at half or much less of what Asian buyers are today bidding on them at eBay auctions. These vases were produced in two different batches at different times and distinguished by color. In the 1960s, they were made in Wild Rose and Coral (the two hardest colors to find), Powder Blue, Honey Amber, and Apple Green. This first series is not labeled on the bottom with the Fenton oval mark, which wasn't used until 1970. A set of lighter colors was issued with the Fenton mark in the 1980s. Traditionally, collectors were willing to pay high prices only for the scarcer colors in the early edition. More recently, even the commonly available colors in the later issue are selling in three figures. Affluent Asian millennials are simply bidding up what they like until they win it, without regard to color, scarcity, age, and history that have usually mattered to older collectors.
The same Asia-dominated trend is observable for antique paintings and sculptures at affluent auction houses such as Sotheby, Christie, and Phillips. Dr. Clare McAndrew of Art Economics, a research and consulting firm, reports on what she understatedly describes as a "dynamism in collecting by global millennials" ("Crazy Rich Asian Millennials Pounce on Art Markets, As Most Young People Are 'Looking' Before Buying," Forbes).
Permanent trend – or just a bubble?
Is this Asia-induced price inflation in some secondary market antiques and collectibles a bubble or a long-term trend? Right now, it's hard to say. The media have been predicting an imminent bubble burst for nearly two decades. There's no way to predict how the fortunes of affluent young Asians will be affected by economic conditions at home – any more than economic conditions in the U.S. are predictable. For Americans still hoping to buy antiques and collectibles at affordable prices, hold onto your hats!
Peggy Whiteneck is a writer, collector, and dealer living in East Randolph, VT. If you would like to suggest a subject that she can address in her column, email her at  allwritealready2000@gmail.com. ​