Feathered nests – in glass!
In May, we celebrate Mother's Day, not just for human moms but for birds – and not just feathered birds on twigged and grassy nests but moulded birds on glassy nests! In my last column, I shared a photo of my Caramel Slag Westmoreland hen on its nest. I thought I'd continue exploring that nesting theme in my article for this month's column.
Birds and animals on nests were produced by a variety of companies, going at least as far back as the 19th century. Some of these seem odd to those of us with actual farming backgrounds since most of us never saw real animals, such as a cow, lambs, rabbits, cats, dogs – and even a frog – sitting on nests, so I'll stick to the birds for this article!
Many older glass companies, most of them no longer working, made hens or other birds on nests, notably Atterbury, Westmoreland, Fenton, Imperial, and Indiana. There are a few examples of the form from even older companies, such as Coudersport Glass in Pennsylvania (in business for only four years, 1900-1904), whose operations were cut short, often by factory fires. Birds on nests were also made by newer glass companies, such as Summit Art Glass (founded in 1972 and closed in 2006), Boyd's Crystal Art Glass (founded in 1978 and closed in 2014), and Mosser Glass (still very much alive and operating in Cambridge, OH, and still using some of the old methods of producing decorative glass).
Fenton appears to have been the most prolific maker of hens on nest, usually coming out with them annually for the company's spring catalogs. In fact, until recently, I've avoided many of the hens on nest because I really wanted to focus my collection on Fenton glass (in order to have living space for myself!) and didn't trust myself to be able to distinguish older, unmarked Fenton versions rom those produced by other companies. Then I was alerted to the existence of an online source that allows one to distinguish even the older, unmarked Fenton from those of other makers (www.fentonaddict.com/FeaturesandCharacteristics.html). This site has a lot of information, and it can be tough to distill from it the essential differences between Fenton hens and those made by other companies, so I'll review some of the most obvious differences here.
The Fenton hen's tail is smooth at the rear edge and splits into a sharp inverted "V" at the back (Other makers' hens have scalloped edges to the tail feathers).
A pair of eggs appears on each side of the front of the Fenton hen with one egg on both sides at the rear.
The comb on the Fenton hen has a cluster of round balls in the back that continue into a recognizable comb at the front (although I do have a Westmoreland hen on nest with the same feature).
The eyes on Fenton hens tend to be large with a pronounced outward bulge.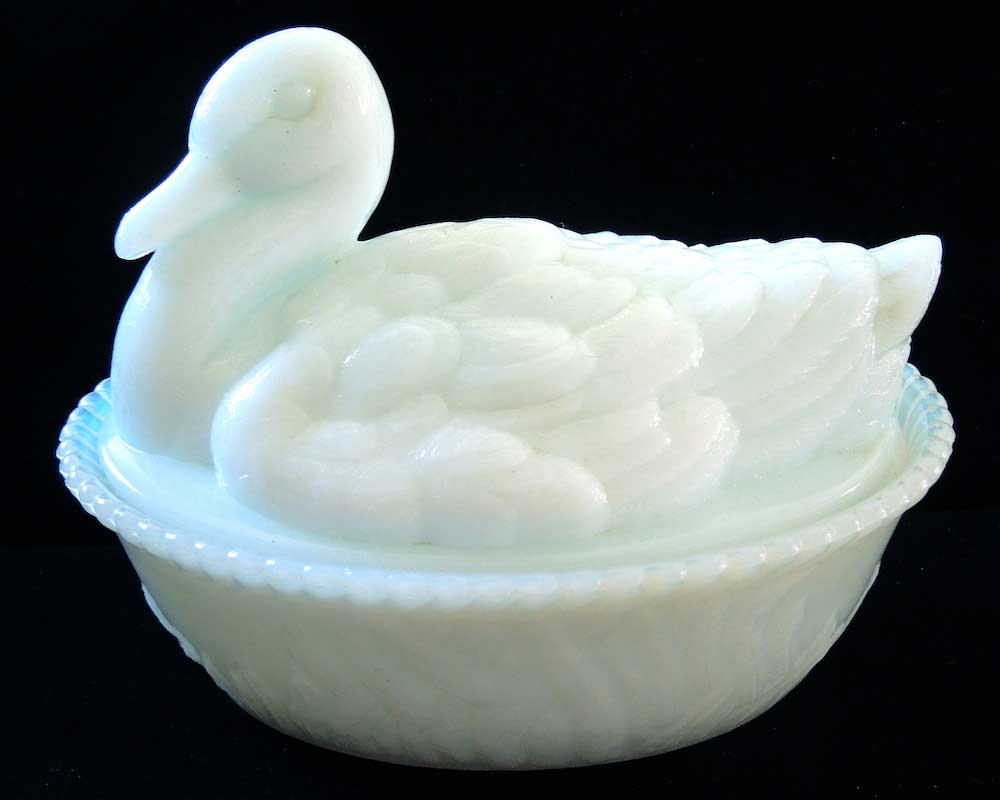 Coudersport Duck on Nest
This Coudersport Duck on Nest was made in the very early 20th century (as the factory opened in 1900 and went out of business when it burned down in 1904). Note the opalescent edges, as typical of old milk glass. (Image courtesy of the author)
One of the challenges for collectors of this and other decorative glass is distinguishing which company made an item produced in any given form. American art glass companies often sold their heavy, metal glass-making moulds when they went out of business, and these were bought by other then-existing decorative art glass companies to make glass of their own. That's how, for example, one can find a Fenton swan on nest that was made from a mould that came from Imperial Glass and another differently modeled swan on nest, also Fenton, that I believe was acquired from Westmoreland.
It seems a bit odd to see roosters on nest, but they were made, too, by Fenton Art Glass and Imperial Glass. Imperial versions were done in the company's popular slag glass colors, including caramel, purple, and jade green. The Imperial nests had lovely reticulated edges (While Imperial also made a red slag, I don't believe it made nested birds in that color).
Peggy Whiteneck is a writer, collector, and dealer living in East Randolph, VT. If you would like to suggest a subject that she can address in her column, email her at  allwritealready2000@gmail.com. ​