Collecting Rosenthal Figurines
Rosenthal Co.
Some of the most finely modeled porcelain figurines have been produced under the name Rosenthal. There are many sold examples on eBay and live auction sites in a very wide price range, from the low two figures for smaller animals to the mid-three figures for larger items. The company, still in business today, has a fascinating history.
The Rosenthal Co. was founded in 1884 by Phillip Rosenthal. It started out buying porcelain from the Hutschenreuther company (which Rosenthal actually acquired in 2000) and painting it at its own Rosenthal facilities. By 1891, Rosenthal was making its own porcelain.
The family was Jewish in name and family history if not in practice (some sources say Phillippe Rosenthal, Sr. was actually Catholic) and was identified as Jewish by the powers that be in the National Socialist takeover of Germany. The Rosenthals were forced into exile in the 1930s during the rise of Nazism. The company continued operating, with deteriorating results, through World War II under the dubious leadership of the Nazi party while the founder's son, Phillippe Rosenthal, Jr., fought against the Nazis as a soldier during the war. At the end of the war, the Rosenthal family returned to Germany in an effort to regain control of their company, which they were finally able to achieve in 1950.
The company went permanently out of family control in the 1990s and is now run by Sambonet. The company retains the Rosenthal name and today produces mostly fine china such as dishware, but many buyers knowledgeable about Rosenthal continue to collect its older figurines. Like many of the German and Scandinavian porcelain companies, production year is identified by evolved changes in the mark itself and by a system of dots within the mark (photos of which marks evolution can be found in an online search).
Most information publicly available about Rosenthal figurines comes from the Internet. I've found only two books that cover the company, and they typically focus on the dinnerware and other household items: Rosenthal Dining Services, Figurines, Ornaments and Art by Dieter Struss, published by Schiffer in 1997; and Rosenthal, Excellence for All Times; Dinnerware, Accessories, Cutlery, and Glass by Ann Kerr in 1998, also published by Schiffer. Rosenthal figurines are not a significant part of either book, both of which focus primarily on dinnerware and other household porcelains.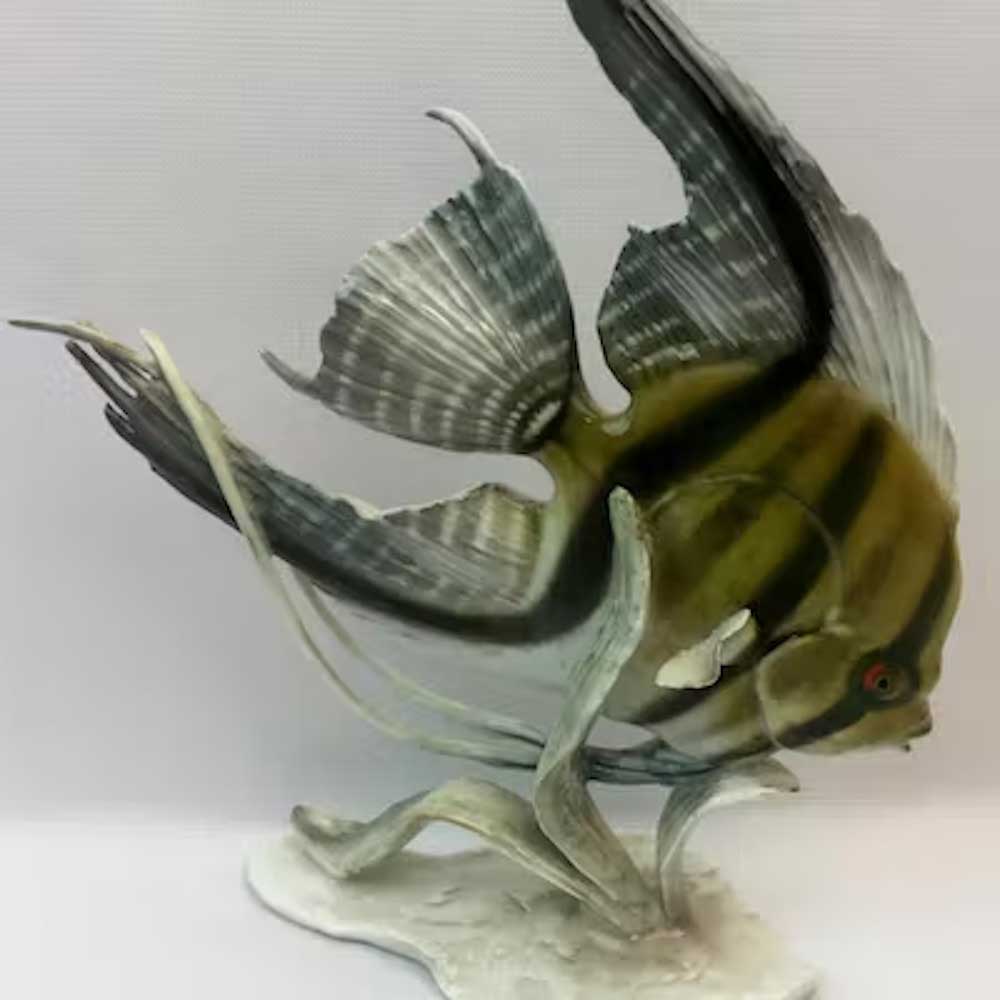 Rosenthal Angelfish
A rare and exquisitely detailed Rosenthal angelfish issued in 1947 and titled "Scolare Fleeing," model #1766 by designer Fritz Heidenreich, sold at a Barnaby's auction on May 25, 2020, for a smashing $550. Image courtesy of the author
Animal Figurines
Rosenthal is known not only for its animal figurines but for its Art Nouveau and Art Deco-style figurines of humans, many of them done entirely in white (unpainted) porcelain. Human figurines have a market all their own, and it is not unusual for Rosenthal renditions to sell in three figures.
Rosenthal's nature figurines consist of animals (wild and domestic), fish, and birds, and these natural figurines are my own favorites. Some of the more complex groupings of animals, fish and birds appear amid very delicate moldings of water reeds, land plants, and flowers which may be subject to breakage, thereby reducing their value as long as pristine examples remain available. However, Rosenthal is not easy to find on the secondary market compared to availability of other porcelain figurines, which makes unbroken examples of the more complex and delicate models that much more difficult to find.
When it comes up for auction, the smaller figurines can be purchased affordably at $20 to $45, but larger or more complex figurines/figurine groupings can go well into the three-figure range. Auction prices seem to me slightly lowered from prices in, say, 2015 (www.barnebys.com/realized-prices/rosenthal_porcelain_figurines.html), but as always, rarer figurines will command high prices on those few occasions when they appear at auction.
Perhaps Rosenthal's most well-known figurine group is the series of white Laughing Rabbits standing upright and made in three graduated sizes ranging from 5" tall to about 1". Over time, I've managed to collect all three of the sizes, and when I look at them, they make me laugh out loud!
Peggy Whiteneck is a writer, collector, and dealer living in East Randolph, VT. If you would like to suggest a subject that she can address in her column, email her at  allwritealready2000@gmail.com. ​