Collecting California Figural Pottery
Even though most of the best-known are no longer operating, the sheer number of potteries born in California could well have made it the ceramic capitol of America. The earliest California company was Pacific Clay Products, founded as early as 1892, but even it didn't begin making figurines until the early 1930s. While it's the oldest, Pacific Clay is also one of the few potteries still open in that state today.
Pottery is distinguished from porcelain and other ceramics by appearance and manufacturer. Generally speaking, pottery is heavier and more opaque than porcelain and tends also to be visually distinct from porcelain. It has been said that porcelain "allows the light to pass through it," but I haven't found that distinction to be especially helpful (perhaps except for dinnerware) as most figurines and vases tend to be too dense and solid for light to pass through them.
The Big Names in Figural California Pottery
Among the California potteries that made at least some figurines were Metlox Manufacturing, Kay Finch, and Sasha Brastoff. But the best known of the figural potters were Freeman-McFarlin, Hagen-Renaker, and Josef Originals.
Freeman-McFarlin Pottery, named for its owners Maynard Anthony Freeman and Gerald McFarlin, operated from 1951 through 1980 (when it was sold to Hagen-Renaker, which operated it until 1985). Among Freeman McFarland's most iconic and easily identifiable models are its cats, from the very large to the quite tiny. Characterized by large ears and eyes, a few of these were designed by Maynard Anthony Freeman, sometimes identified by the name "Anthony" in the impressed mark.
Larger Freeman McFarlin cat models were sometimes gilded entirely in gold, while others had a more natural glaze. The smaller models were sometimes made as bobble heads.
Hagen-Renaker was founded in 1944 and is one of the few California potteries still operating today. It is perhaps best known for its miniature animal models. Retail price points on its miniature animals are accessible to a child's pocketbook at $3-$5 for many of those models, and even the more expensive of them can cost as little as $15-$20. Larger models can sell anywhere from $50 to a few hundred dollars. H-R had an entire stable of talented artists working for it. In addition to animal figurines, H-R also made some wonderful bird models.
Many of the most desirable Hagen-Renaker figurines can now be found only on the secondary market. For example, H-R made several models commissioned by the Walt Disney Co., including a tiny Thumper figurine, issued in fall 1956 and closed in spring 1960, that I bought at an antique shop for $2. Designed by Helen Perrin Farnlund, it can be priced as high as $65 to a seller who recognizes it.
Some Hagen-Renaker figurines have been counterfeited (for example, the miniature spotted fawn reclining model with big eyes made at HR in 1949-52 and 1965), and it can be difficult to authenticate them if they are separated from the cardboard H-R tags glued to their underside at retail sale. As the genuine versions of copied H-R models generally retail for less than $10 on the secondary market, it may be that these were copies made by hobbyists for their own use rather than by counterfeiters for profit.
Although it is perhaps best known for its small ceramic doll models, Josef Originals, in business from 1946 to 1985, also made some small miniature animals and birds. Among them is a series of cartoon brown mouse models in various positions and holding various objects. These cuties can be found on the secondary market for $10 or less apiece.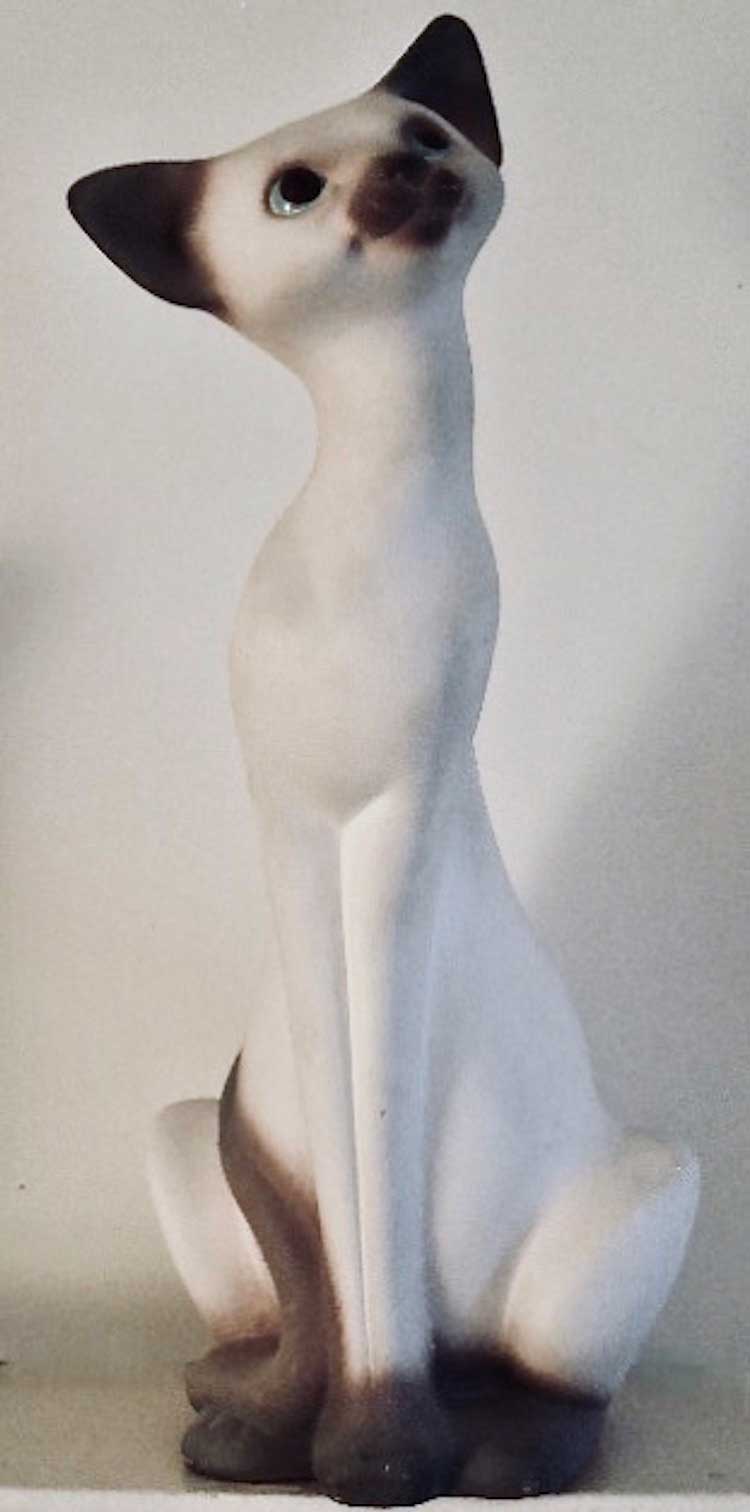 Freeman McFarlin Cat
I purchased this very tall (14") Freeman McFarlin Cat for $10 in 1999 at an antique store. The large cat has very thin walls, and surviving models are nearly impossible to find undamaged. This one has a tiny paint chip on the back tip of one ear, making its condition unusually good. Incised mark, Freeman McFarlin Potteries, c1958. Conservative value: $50-$100. (Image courtesy of the author)
Take Advantage!
California Pottery figurines can be especially attractive to and affordable for kids. Adults can look for "vintage" collections for their kitchen and dining areas; many of the California potteries, such as Bauer, Gladding-McBean, and Metlox, made colorful housewares. Whatever their shape, items made by California potteries are definitely "have fun" collectibles!
And… Happy Anniversary Discover Vintage America!
I'm privileged to have been a columnist for this publication for just a year shy of 20 of those years. Didn't want to miss this opportunity to express my gratitude and congratulations to Editor Corbin Crable and his staff for keeping this periodical alive and flourishing!
Peggy Whiteneck is a writer, collector, and dealer living in East Randolph, VT. If you would like to suggest a subject that she can address in her column, email her at  allwritealready2000@gmail.com. ​