Collectibles Commemorating British Royalty
The year 2022 was the 70th anniversary of the coronation of Queen Elizabeth II, who was still mentally robust but, at age 96, physically frail in the few photos taken of her this year. As it turned out, and as so often happens with close couples, she also died that same year, after losing her husband, Prince Philip, the year before. Not many have lived, as they did, to celebrate 74 years of marriage!
Elizabeth reigned for 70 years, nearly the lifetime of many Discover Vintage America readers, including me! That made her the longest reigning monarch in British history. As we know, those seven decades were tumultuous, not just in terms of what was happening in the world in general (first hydrogen bomb test, discovery of DNA, the Berlin Wall, etc.) but also within the royal family itself (divorce, tragedy, castle fire, etc.). Amid all the controversies, consternations, and calamities that would befall her family during her reign, Queen Elizabeth kept her royal counsel and her self-possession. Her unflappability, not to be confused for a moment with a lack of feeling, appears to have been part of what endeared her to so many of her countrymen: she was an emblem of stability even amidst unstable times.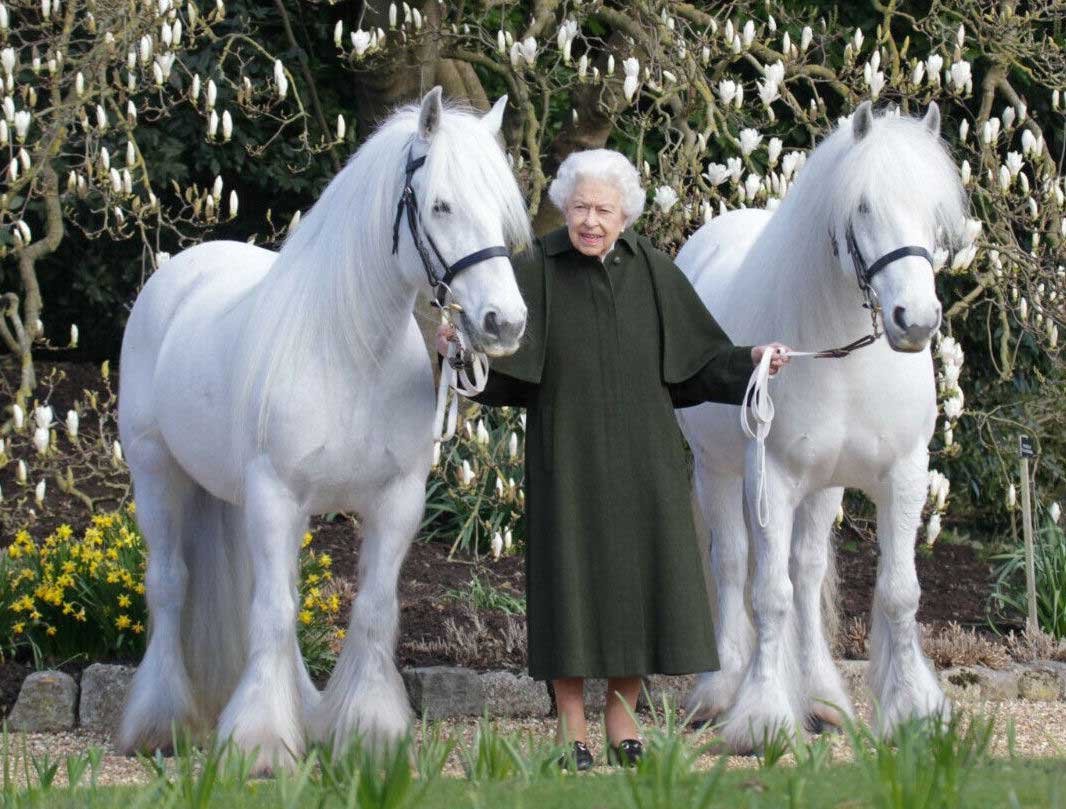 Queen Elizabeth's photo on memorabilia
Queen Elizabeth's photo can be found on everything from tree ornaments to fridge magnets. This photo was taken not long before her death. She famously owned and loved horses and Corgi dogs. Image courtesy of Henry Ballal/Twitter
Royal Collectibles
Collectibles devoted to British royalty have long graced the antique trade. In fact, Queen Victoria and her lifelong devotion to her deceased husband, Prince Albert, whose life departed from hers after 21 years of marriage, inspired an entire era in the latter 19th century that was named after her. Victoria had one of England's longest reigns, although, at 63 years, still short of Elizabeth's. Examples of Victoriana can still be found in the antique trade, ranging from china to furniture. Victorian furniture even has a distinct look, heavy and made of dark wood and wood stains, that seems to reflect Victoria's grief.
Among the commemorative items most found in antique stores are plates and mugs celebrating coronations, marriages, and royal births. Somewhat less often seen are pieces of commemorative silverware. There is also a collecting market for images of British kings and queens adorning coins minted in the era in which they reigned. Then, of course, there is the ephemera related to royals, from photographs to autographs. Due in no small part to both her glamor and her early demise, Princess Diana commemoratives are especially popular.
Because Elizabeth is the only British monarch to have reached the milestone of a Platinum Jubilee on the throne, collectibles related to that milestone are expected to increase in value. Second to her image in future value are collectibles celebrating the marriage of Prince Charles (now King Charles III) and the late Princess Diana. Biscuit tins, however, are common and not terribly valuable, though they could still be an interesting collectible for those more interested in what they commemorate than what they cost (https://www.hobbsonlinenews.net/most-demand-royal-memorabilia/).
Even Stamps!
Queen Victoria's son was the first royal known to have collected stamps. The collection came down through Victoria's heirs, who were often indifferent to it, until it reached King George V, who was quite passionate about adding to it. Eventually, the collection was bequeathed to our own Queen Elizabeth, who made occasional gifts from it to other prominent philatelists. But even with such departures, the Royal Philatelic Collection remains the largest single collection of stamps from Great Britain and the Commonwealth (https://www.catawiki.com/en/stories/4083-celebrity-collections-queen-elizabeth-and-her-passion-for-stamps).
Unusual Collectibles
Some royal collectibles can be unusual. A bicycle owned by Princess Diana when she was still Lady Di, before her marriage to Charles, sold in 2018 for 10,400 pounds ($11,500 in U.S. dollars) – and a pair of bloomers attributed to Queen Victoria sold for 12,000 pounds ($13,300) in 2012 (Not sure how a collector would display a pair of royal bloomers for which the buyer had paid that much, but "whatever!"). Despite these singular items, royal memorabilia celebrating coronations and jubilees remains both available and (mostly!) still affordable.
Peggy Whiteneck is a writer, collector, and dealer living in East Randolph, VT. If you would like to suggest a subject that she can address in her column, email her at  allwritealready2000@gmail.com. ​