Adventures in antique selling
She was not your typical buyer. She looked more like my inner stereotype of a "biker chick" in her leather jacket, boots, and dark makeup. I had my doubts that she'd be a paying customer when she came into the Antiques Collaborative, where I was temporarily working as a desk manager and cashier while the owners, Bill and Isabel Bradley (featured in my last month's article), were away attending a family wedding in Isabel's homeland, Great Britain.
The young woman – let's call her Sally – seemed scattered and unfocused. Adding to the impression she gave of flightiness were the number of pieces she wanted me to call the dealer and "make an offer" on. But I made it a point to be courteous and friendly to her as I and the other staffer opened cases for her to inspect merchandise.
The offers weren't a small annoyance; as we neared closing time, a couple of other customers heard her making offers and saw me and my fellow staffer making phone calls to dealers. So they decided they'd like to make offers, too (In those cases, we could not reach the dealer, and the customers bought the items anyway).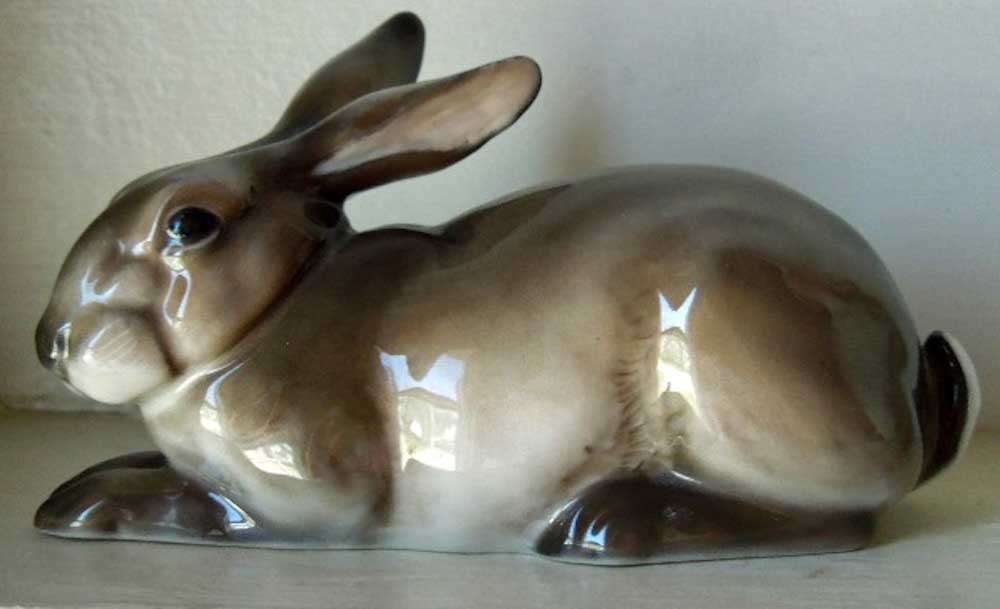 Rosenthal bunny
I bought this Rosenthal bunny, #H252 modeled by E. Karl Himmelstoss around 1940, for a very affordable $30 when I was working at the Collab this month. The dealer from whose case I bought it had many high-quality, modestly priced items interspersed with his high-ticket items. This consistent quality within broad appeal may have much to do with his month-to-month status as one of the Collab's top sellers. (Image courtesy of the author)
Meanwhile, Sally left the building to chat with her husband, a few times and for lengthy periods, about the things she was considering buying. Once or twice, she seemed to disappear altogether from the parking lot! We had just about decided that she'd left without buying anything at all when she finally returned with her husband and his checkbook – and bought just under $2,000 worth of items! For me, the experience was a lesson in not making assumptions about other people based on their appearance or behavioral quirks.
Younger Buyers
I also learned a few other things about the state of the trade while I was there running the shop for a few days. While the visitors were mostly lookers and "tire kickers," there were quite a few young buyers, a trend that has recently been remarked upon in the trade journals. In fact, the two four-figure sales I made, the one just mentioned and one other, by a couple with an infant and a five-year-old in tow, were both to couples in their 20s to early 30s. There didn't seem to be a pattern to what they were buying, which was pretty eclectic; if they liked it, they bought it.
Merchandise Vetting Matters
I made it a point to greet everyone who came through the door, to welcome them, and to ask if they'd ever been in before so that I could direct their traffic to all three floors if they were first-timers. And, as it turned out, more than half of them were new to the shop.
I also made it a point to say a cordial goodbye and thanks to browsers as they left, and several told me, in commenting on the merchandise, how much they appreciated seeing an antique shop that actually is one. They said they'd never seen anything like it for the age and quality of the offerings. This is consistent with my own shopping experience, where the majority of antique shops I've visited are actually not much above an old-time second-hand shop, where "antique" just means more than five years old. (I've written at length on this topic in other articles for this column, so I won't beat the hobby horse to death again now!)
Fewer Dealers, More Consignors
There were fewer dealers and more consignors at the shop as the Bradleys continue fighting to maintain the quality of what the shop offers. This also means that good quality smalls were also more affordable than I remember them from when I first worked full-time at the Antiques Collaborative many years ago.
All things considered, it was a great experience to be back in the Collab again – even just for a limited time only…now that I'm retired!
Peggy Whiteneck is a writer, collector, and dealer living in East Randolph, VT. If you would like to suggest a subject that she can address in her column, email her at  allwritealready2000@gmail.com. ​