Antique Watches
Antique watches are a popular collectible – especially those made of gold. My dad had a watch like that, one that he wore each night when he dressed for his job as a security guard. The watch was solid gold, in good working order, and had belonged to his grandfather.
Dad worked the 3-11 shift, and when we kids were little, we'd ask as he was going off to work, "Daddy, can we hear the tick-tick?" My dad would take out his grandfather's pocket watch and hold it to the ear of each child. Unfortunately, we were too small to remember the decorative detail on the case, which was less important to us than the sound.
Collecting antique watches
Watches with some age on them, especially pocket watches, used to be a popular collectible. Pocket watches were made in larger sizes for men and smaller for women. Some were made with sterling silver cases and can command prices in the low four figures. A solid gold pocket watch in working order is rarer and can command anywhere from four to six figures at auction, although some antique pocket watches in reasonable condition can still be found at prices in the low three figures. Much of what would be found and collected today, though, is plated and may not be in good working order.
Cases are usually decorated, and not all have the gold face cover that my dad's had. Decoration on the case can have depictions of trains and other scenes but more commonly have Art Nouveau floral and leaf designs. Today, even the best antique pocket watches may show some minor wear on the case consistent with their age and use.
Wrist watches from the 19th and early 20th centuries and even earlier can cost as much as an antique pocket watch, especially wrist watches made by companies with names such as Rolex, Piaget, Patek Phillipe, and Breguet. The latter company dates from 1775 and produced timepieces for Marie Antoinette and Napoleon Bonaparte.
Pocket watches were also made by American companies with more familiar and well-known names such as Elgin, Illinois, and Waltham. Abe Lincoln reportedly was given a Waltham pocket watch after his Gettysburg Address.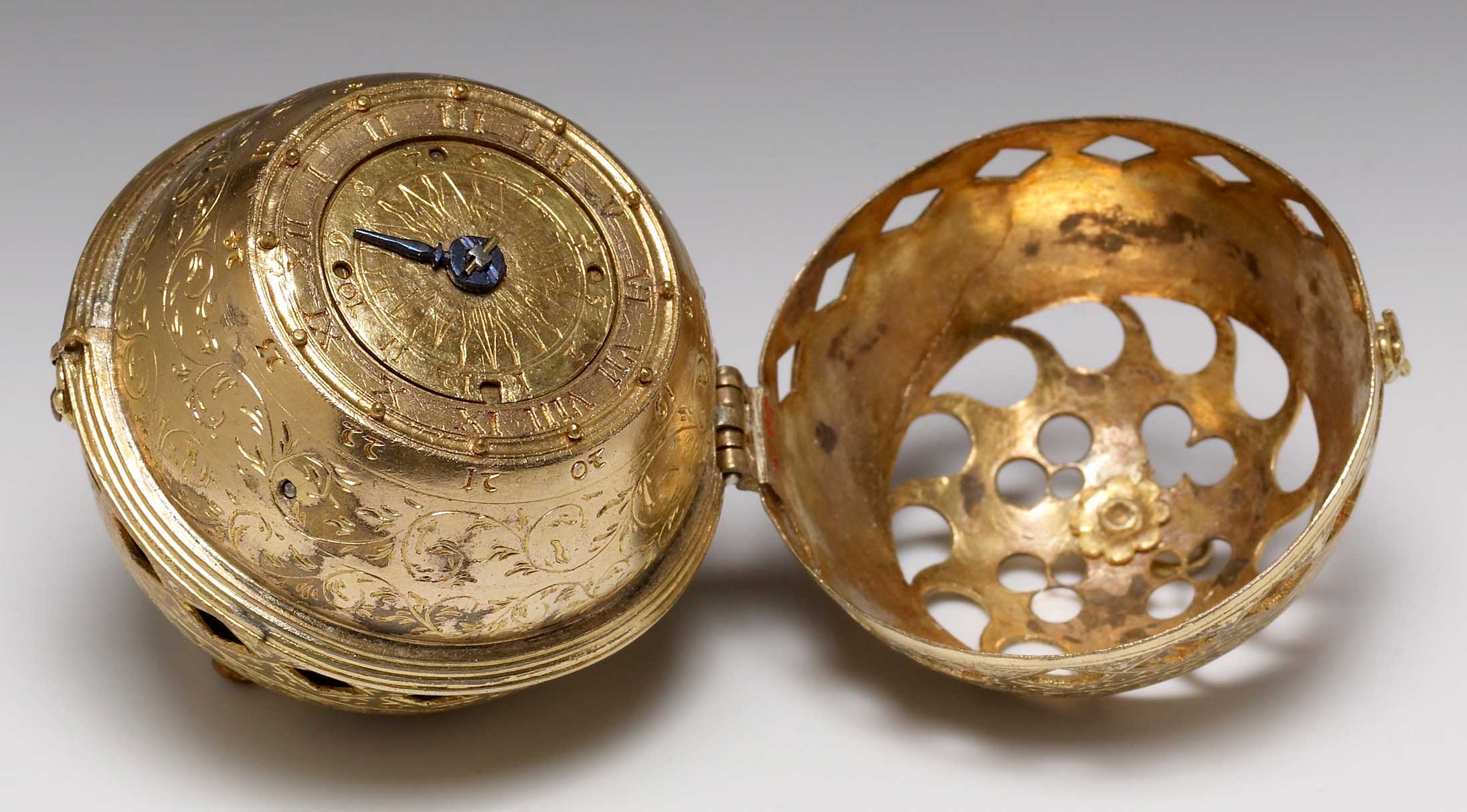 Melancthon's Watch
Melancthon's Watch is the earliest watch known, c. 1530, and was more appropriately a small table watch rather than a pocket watch. Perforations on the top allowed one to see the time without opening the watch. The case was gilded brass with iron movement. Image courtesy of the Walters Art Museum
About my father's watch
If you have an antique watch you think you may want to sell, be sure that's what you really want to do so you won't suffer seller's remorse later, especially if the watch is a family heirloom. Have the watch appraised and if you're sure you want to sell it, try selling to a reputable jeweler. Broken watches can also be saleable for parts.
One day, my dad had cause to take his watch to a jeweler for a minor adjustment or a cleaning or some such. After remarking on what a fabulous piece it was, the jeweler asked my dad where he kept the watch. "What do you mean where do I keep it?" Dad said. "I wear it."
The jeweler was horrified. "Oh, no, no, no. You don't wear a watch like this! You keep it in a safe deposit box!"
After my dad died, and my mom three years later, one of the things their children searched the house for was my father's pocket watch. We knew of one place where they had told us they'd hidden a variety of jewelry and other smalls, a place in the kitchen accessible by ladder and behind a wooden panel.
We were able to retrieve those items, but my dad's watch was not among them. Nor was it in the deposit box at their local bank.
It's doubtful Dad would have parted with it, so I hope we'll find it someday in some hidden corner of my parents' house. I also hope this tale will serve as an object lesson to readers: if you have small antique items of special value, economically or sentimentally or both, let your heirs know where those can be found!
Peggy Whiteneck is a writer, collector, and dealer living in East Randolph, VT. If you would like to suggest a subject that she can address in her column, email her at  allwritealready2000@gmail.com. ​