This month: 'Heads Up! Character Wall Masks by Bossons'
Ever wanted to study a "Tyrolean" up close? How about a "Smuggler?" A "Fisherman?" A "Fiji Islander?"
For collectors of Bossons Character Masks, opportunities like those are as close as checking out what's hanging on the wall. There, in all their ethnic or character-inspired glory, are three-dimensional "heads," celebrating the world's diversity. There are characters from countries read about, yet still to be visited ("The Himalayan"; "The Corsican"; "The Rumanian"). Denizens of the Wild West ("Rawhide"; "The Old Timer"; "Tecumseh"). Working folk from all walks of life ("The Chef"; "The Lifeboatman"; "The Clown"). Ray Bossons' intricately-detailed depictions run the global gamut, each encapsulating, in just about 6 inches, the essence of their subjects.
Unlike wall-mount "lady head vases," which have an opening for flowers in the crown of the lady's oversize hat, Bossons heads are solid plaster. The firm's publicity referred to them as "wall masks," which hits it right on the head. Not Halloween masks. Not pandemic masks. These are "life masks," capturing facial likenesses with as much precision as possible.
Based in Congleton, England, the company was founded shortly after World War II by W. H. Bossons. With an extensive background in ceramics and tile work, W.H. saw a future in the manufacture of decorative plaster items. Following military service, son W. "Ray" Bossons joined the firm. A trained potter with considerable marketing experience, Ray became Bossons' principal designer.
Plaster art had long been dismissed as a "poor man's marble," especially by those who could afford the real thing. For those who couldn't (which included most prospective Bossons customers), attractive home décor items at attractive prices were just the ticket. Not "the real thing?" They were the next best thing, and that was good enough.
Bossons early success came with the release of high-relief plaques celebrating "Beautiful Britain," from "Shakespeare's Birthplace" to "Salisbury Cathedral." Ranging in size from small "plaquettes" to whopping 14" rounds, the hand-painted plaques, with their sculpted three-dimensional highlights, brought a touch of class to any home (Most of those homes, incidentally, were outside of Great Britain. Due to a domestic sales tax of 125 percent, exports over the years accounted for almost 75 percent of Bossons' business).
Bossons plaques and products were easy to find. If fine jewelry stores turned up their noses, there were plenty of other options: gift and collectible shops, tobacco shops, and souvenir shops on cruise ships. There was soon a bounty of Bossons products to choose from, including shelf ornaments, mirrors, barometers, thermometers, book ends, and lamp bases. In addition to scenic views, the 3-D variety encompassed everything from floral groupings to hunting scenes. And then, of course, there were the heads.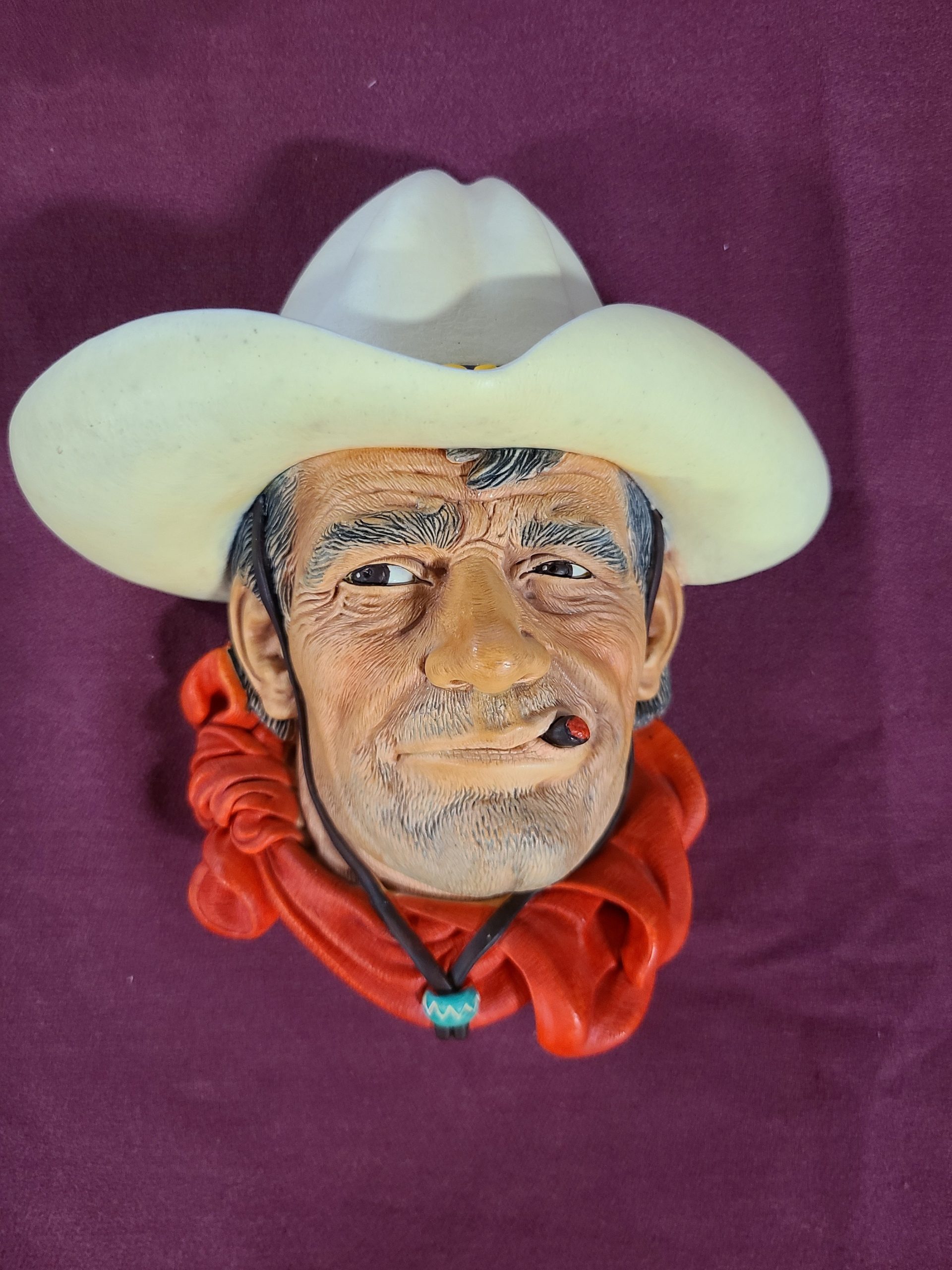 Rawhide
"Rawhide," 1968. Image courtesy of the author and Hank Kuhlmann. Bossons heads courtesy of Doug (Pete) Petersen (djtoysandtreasures@gmail.com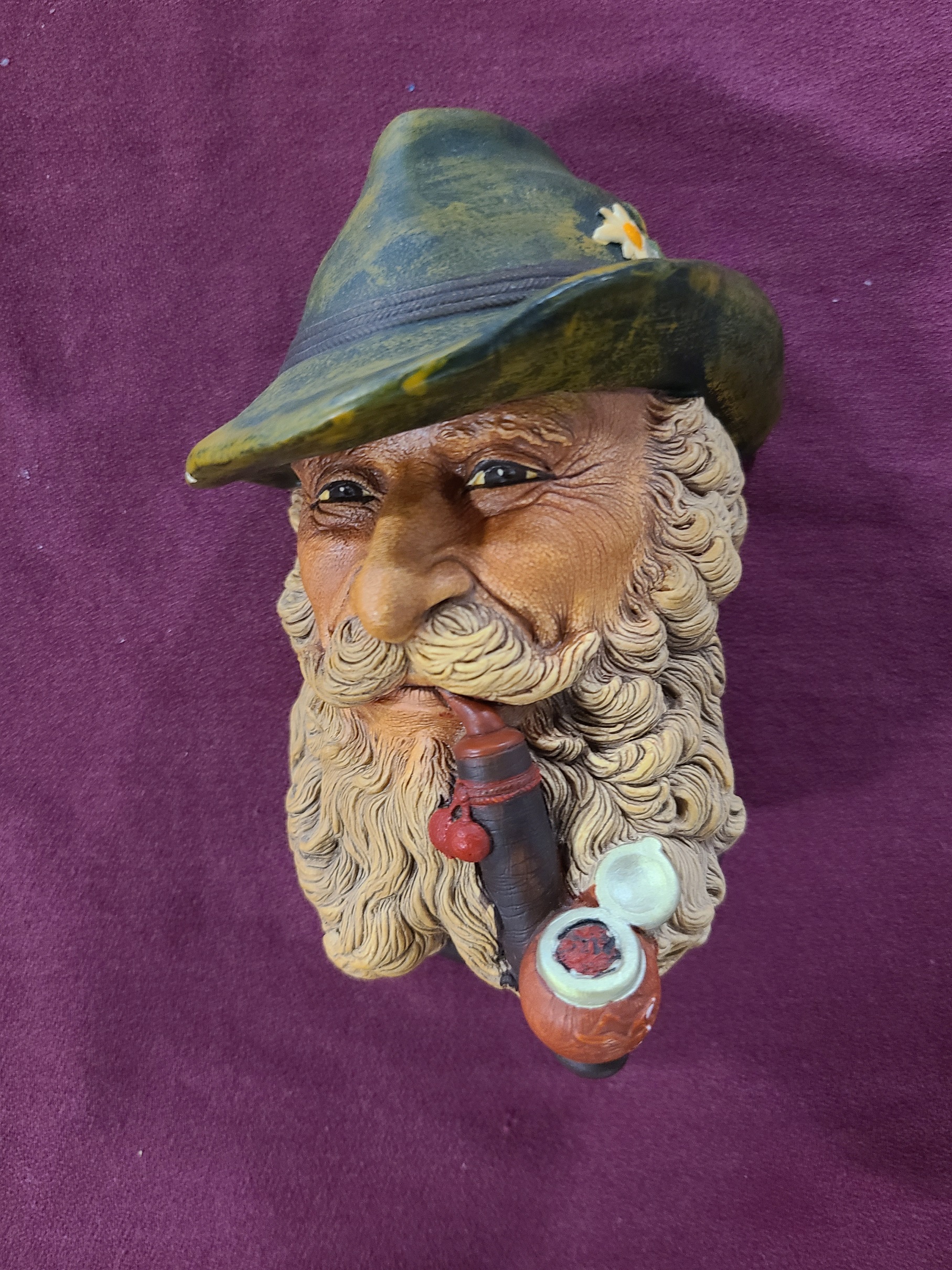 Tyrolean
"Tyrolean," 1972. Image courtesy of the author and Hank Kuhlmann. Bossons heads courtesy of Doug (Pete) Petersen (djtoysandtreasures@gmail.com).
Ray Bossons designed his initial "Character Wall Mask" in 1958 (a "Snake Charmer"). The masks made their official debut in the 1959 catalog. From then on, Bossons masks were at the head of the company line. Each year's catalog introduced new members of the Bossons community, and consumers couldn't get enough. In addition to character and ethnic heads, there were animal and bird heads; heads modeled after fictional characters (including a generous assortment of Charles Dickens' all-stars, from "Mr. Pickwick" to "Ebenezer Scrooge"); and even the occasional historical favorite, such as Sir Winston Churchill. While other modelers were employed over the years, the design impetus always came from Ray Bossons. If a mask wasn't yet deemed ready for release, it was held back.
In 1996, Bossons ceased operations. Since then, appreciation for Bossons masks, and the company's other plaster and pottery products, has been the realm of a devoted band of collectors. Annual conventions are held, two Bossons books have been written, and nearly 1,500 Bossons heads are available on eBay each day. Of those, the majority have a "buy-it-now" price of under $50. As in the past, Bossons prices remain as attractive as Bossons masks. In other words, head and shoulders above the competition.
Donald-Brian Johnson is the co-author of numerous Schiffer books on design and collectibles, including "Postwar Pop," a collection of his columns. Please address inquiries to: donaldbrian@msn.com